Amidst the rain, Rico brings in sunshine from California.
Amidst the rain, Rico brings in sunshine from California.
Tuesday, July 15, 2008 - 12:46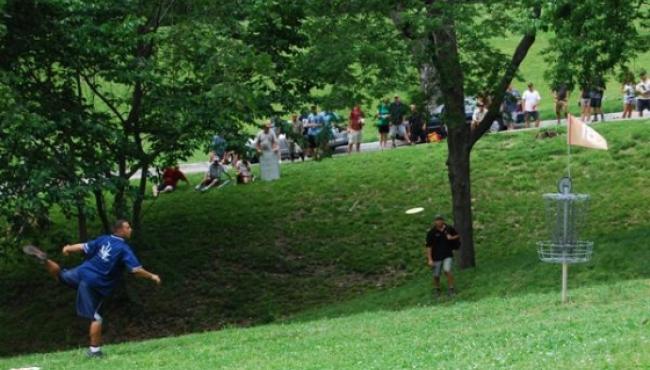 Well the Kansas City Wide Open started off on Friday, and Thursday night provided rain and wind in excess of 50 mph, but when the sun rose on Friday, the ground was soggy, but Steve Rico's game was hot! Steve Rico shot out in front at Water Works with a hot round (1052 rated) of 47, and would never look back. Steve would remain in the pole position the entire weekend, and when the day ended Sunday he would take home the hardware, and the lions share of the $16,000 pro purse. Thankfully he brought that California sun with him, because with the weather coming in fast, about 2 hours after the event the sky opened and the deluge of rain hit, one can only wonder if he got on the plane home, and said, ok wash KC clean now folks, I have had my fun!
Des Reading would return to Kansas City and take no prisoners, as she won the Wide Open for the first time in 5 years, besting the past Champ Angela Tschiggfrie by 5 strokes. Des was proud of her victory, and was determined to take it home, as Des would not let Angela pick up a stroke on her all weekend long. She started off the first round at Water Works tied, then jumped ahead at Rosedale by four then picked up a stroke on Sunday. Des finished the Midwestern swing with victories in Kansas City, and Tulsa, and close finishes in Des Moines and Minnesota where she took 2nd place. Ever the disc golfer, she was getting ready for the long trip to Japan Sunday night, and had to grab Jay to get ready as they jump into the tournament scene fast and furious on a world wide disc golf trip. Great to see them back in KC after a few years of scheduling prevented the pair from coming.
On the Masters side, local boy Brian Guthrie won his first Kansas City Wide Open. It was Brian's first PDGA victory of the year, and his fifth victory of his PDGA career. Brian has been a solid player on the KC scene for the last few years, and the determination to win finally held true with his victory over Jim Haagen and Downtown Randall Brown. In the Grandmasters Leroy Jenkins shot 3 strokes better than Daryl Johnson to take over the winning slot by shooting his highest rated round of the weekend (984), and he needed all the stroke saving he should get, as he won a squeaker by a stroke. Peter Shive again continued to show dominance in the Kansas City courses as he showed that age is not something that can prevent you from playing excellent. Peter would have cashed in the division above his, but then again is that not what makes him a World Champ?
The final round at Water Works saw a lot of changing of the guard. Rico had the lead the entire day, but it came close quite a few times but Rico who felt as though he had to prove to people that even though he lost on his home course the previous week, he was going to have none of that here in KC! Steve Brinster kept applying pressure on every hole. Rico did not play his best round at Water Works on Sunday, and it got tighter and tighter, as Brinster kept on getting closer and closer.
On hole #6 at Waterworks, it is a 390' shot through a tunnel, relatively easy enough for these guys at this level, but right off the Tee, Brinster smacked a tree about 40' in front. He then followed it up with a perfectly placed upshot that left him with a 40' that he canned to save par, and that was a momentum changer for sure. Rico misplayed the slope of the green, and rolled long on his putt, and then missed the comebacker to take a 5, Rico was now at +2 on the round, and Brinster was -1, Cale was -2, and McCabe was +2. Rico picked it up fast though carding 2's on 7, 9, 10, 12. Brinster was able to pick up 2's on 8, 9, 11, 13, but hole #14, with a 485' hole downhill slightly, with an OB debatably close to the wall and stairs were OB this year. Rico's drive headed towards #17's pad, and his upshot, some felt was safe, because it did not fall off the wall, well it was on the wall, and was considered OB, he missed the come back attempt again, and took a 5. Brinster and the rest of the group were all able to hit the basket in 3, and now it was closer than ever, as Brinster had just one stroke separating him and Rico, Brinster -5, and Rico was dead even on the day. Brinster had a solid drive on 16, but missed his putt to tie, as it rattled the cage, everyone took a 3, then on 17, Brinster again had a chance to tie, but missed the putt, again getting metal, but no finish.
Brings us up to 18, where Brinster's drive was better than Rico's, but Rico made the his upshot about 30' out, and Brinster slipped on his jump putt going away high, like his score for the day, just a little off. It should be noted, that Cale, and local boy Kevin Babbit played exceptional on the final Round. Babbit's 1049 rated 48 was the hottest of the top 2 cards, and showed that Kevin is not to be taken lightly on the field. Cale matched Brinster's shots all round, and were close a few times to making a move on Rico, but just couldn't get there. Barry Schultz who rolled his ankle Saturday at #7 on Blue Valley played remarkably well considering his ankle looked like a fan from the Vikings had painted it purple and yellow, his 51 was a testament to his desire to finish the Wide Open this year, and hobbling on Saturday was painful to watch.
Most of these players all deserve to be at the top of the game for their play. For this event though, Steve Rico displayed class, and dignity that champions exude, he kept it together the last round, even with carding two 5's and was able to secure another victory in his storied career. The Wide Open may not have crowned a new champion with their first NT victory, but it did crown Steve Rico with his first Wide Open victory, and it also brought in some local boys to the USDGC, Arturo Villarreal, and David Hemmeline. Folks from KC home of the 2009 worlds, if the action is this cool next year, it will make the hot months of August and July seem cool to watch. We look forward to seeing everyone here, and are very thankful for those that came to play this weekend!