Allen and Hokom Striving for 2nd USWDGC Victory
Allen and Hokom Striving for 2nd USWDGC Victory
Saturday, September 26, 2015 - 23:32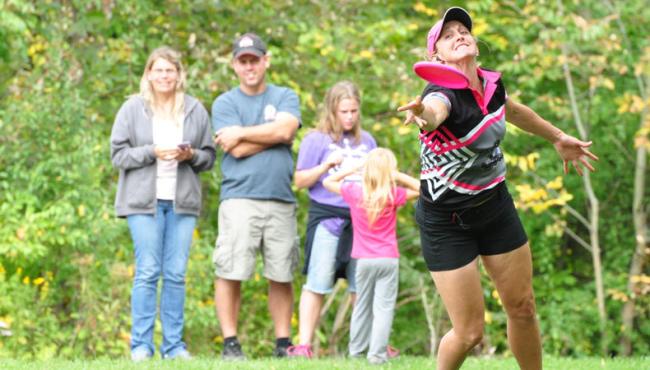 With two rounds being played at the short but technical Alum Creek, AKA The Players Course at Alum Creek Park, there was no way to predict the outcome for the second day of the 2015 United States Women's Disc Golf Championships. With only one round of 19 holes remaining tomorrow, one thing was certain. For each of the women playing this weekend, today was certainly "moving day".
The day began with Val Jenkins #17495 and Catrina Allen #44184 tied for the lead, three ahead of Sarah Hokom #34563 and Michelle Frazer #24536 on the lead card. Hannah Leatherman #45396 was also tied for 3rd place but would be playing from the chase card. Meanwhile, Paige Pierce #29190 was just one stroke behind the three-way tie.
By the end of the morning round at Alum Creek, Paige was already working her way up the ranks to secure a spot on the lad card for the afternoon's Round 3. Paige would eventually accomplish her goal, overtaking Michelle Frazer's spot. Leatherman had a less than favorable second round and it seemed that the all too familiar lead card of Allen, Jenkins, Hokom, and Pierce had been reestablished perhaps for the remainder of the event.
Round 3 shook things up a bit as Val Jenkins, who teed off in the afternoon as the leader, slowly but surely lost her lead to the women behind her. Val's front nine left her in a battle for a lead card position for tomorrow's final round at Gordon Holton, and although her back nine was a huge improvement, it wasn't enough to fend off Hannah Leatherman. Hannah birdied five straight (13-17) to earn a spot on the lead card for the final round tomorrow.
Fun angle for Cat's tee shot on Hole 8. #USWDGC #TPCAlum pic.twitter.com/rquHCjA91o

— PDGA Live Scoring (@pdgalive) September 26, 2015
In that same time frame, 2012 USWDGC winner Catrina Allen pulled into the lead. She'll tee off first tomorrow morning as the overall leader in the Open Women's division, one ahead of 2013 USWDGC winner Sarah Hokom, and three ahead of 2014 USWDGC winner Paige Pierce. Hannah and Val are still well within range of not only catching the leaders, but becoming the winners outright, as they are both tied for 4th place, just one stroke behind Paige.
Live scores will be up and running on pdgalive.com starting at 9:0am EDT tomorrow for the final round as all the divisions take on the 19-hole layout of Gordon Holton Memorial DGC one last time. Follow @pdgalive on Twitter for updates, pictures, and videos and stop by the PDGA Flickr page to view and/or download pictures from Friday and Saturday.
Only one day of the 2015 United States Women's Disc Golf Championships remains here in Delaware, OH. See you at Delaware State Park tomorrow morning!
Great birdie putt for Paige Pierce on Hole 11. Fearless. #USWDGC #TPCAlum pic.twitter.com/6aBMWkBw0g

— PDGA Live Scoring (@pdgalive) September 26, 2015