Five Champs Crowned, Six to Go at 2019 Pro Masters Worlds
Five Champs Crowned, Six to Go at 2019 Pro Masters Worlds
Only the semifinals and finals remain
Friday, June 28, 2019 - 18:49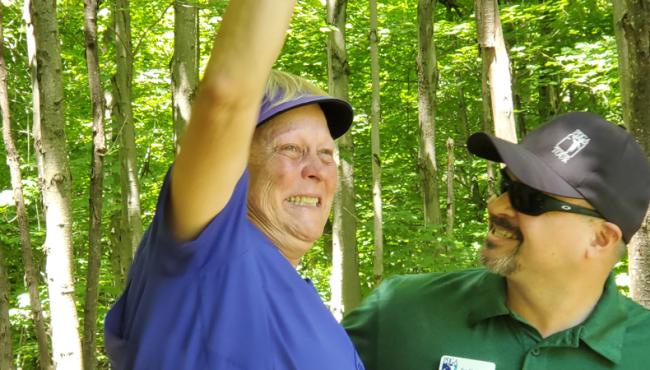 The first three rounds of the 2019 PDGA Pro Masters Disc Golf World Championships left many of the 11 divisions with heated battles at the top of the leaderboard heading into Friday's round four. For some, it meant that moving day was coming, as the larger divisions face a cut for the semis or simply face a cut straight to the finals on Saturday. For the smaller divisions, Friday's round four served as the final showdown for a world title. By the time the last groups of the day were teeing off on Fox Run Meadows, five world champions had already been crowned on Brewster Ridge.
The ladies of the Pro Masters Women 55+ division were first to finish this morning and they did so as the only group to come down to the last putt. After starting the day one ahead of Pam Reineke, Germany's Christine Hellstern faced a back-and-forth fight to the finish with Reineke throughout the round.
A two-stroke swing on hole 7 gave Reineke the edge and the flip-flopping continued as the round progressed. Hellstern would eventually tie it up by gaining a stroke on Reineke on holes 16 and 17. After shaking hands and exchanging hugs with each other and their cardmate Sheila Kirkham, Hellstern teed off on the 190' 18th, leaving herself with a putt on the edge of the circle. Reineke teed off last and ripped a driver to beyond the basket, leaving her with a 35' putt through the trees that surround the green.
Just before she watched Hellstern miss her putt left, she asked Tournament Director Jeff Spring, who was standing by to announce the winner, "How much am I up by?". "You're tied," Spring replied. It came as a shock to Reineke, but it gave her the added motivation she needed to slam in her putt for the win.
What a finish! Pam Reineke hits a birdie putt on the last hole of the round to become the 2019 PDGA Pro Masters Women 55+ World Champion! #2019MastersWorlds #discgolf pic.twitter.com/lDa23266pt

— PDGA (@PDGA) June 28, 2019
Masters Women 60+ & Masters 75+
The group that followed was a foursome consisting of two different two-person divisions. The first duo was Laurie Cloyes-Chupa and Suzette Simons of the Pro Masters Women 60+ division and they were joined by Dr. Rick Voakes and John Parcak of the Pro Masters 75+ division.
Cloyes-Chupa and Simons never had a round with scores that were more than two strokes apart throughout the week and headed into their final round two strokes apart with the advantage to Cloyes-Chupa. Once again, it would come down to the wire, as the two were tied up with just two holes to go. Cloyes-Chupa quickly gained an edge with a perfectly placed drive on hole 17 for a tap-in two. The incredible sport and person that she is, Simons seemed to serve more as Cloyes-Chupa cheerleader than her competitor. When she left her drive short and missed her birdie putt on 18, Simons was the loudest supporter for Cloyes-Chupa as she tossed in a birdie putt from inside the circle after another perfectly placed drive. It was an emotional moment for Cloyes-Chupa, a well-deserved one.   
In another heated battle, Laurie Cloyes-Chupa finished deuce=deuce to become the 2019 PDGA Pro Masters Disc Golf World Champion in the Masters Women 60+ division! #2019MastersWorlds #discgolf pic.twitter.com/HJQwP67mil

— PDGA (@PDGA) June 28, 2019
Disc Golf Hall of Fame member Dr. Rick Voakes pulled away early in the week on a mission to finally achieve his 10th professional world championships title after losing to Kenny Lee in the Pro Masters 60+ division in what ended up being a brutal, 7-hole sudden death playoff at the 2018 Pro Masters World Championships in Kansas City.
Only three other PDGA members have reached the double-digit mark for professional world championship titles: Ken Climo (15), Peter Shive (13), and Ralph Williamson (10). It's a nearly unimaginable status to achieve for most and we have a feeling he's not done racking them up just yet.
Congrats to Dr Rick Voakes, now a 10x World Champion after his win today in the Pro Masters 70+ division! #2019MastersWorlds #discgolf pic.twitter.com/Y02LMvAcsf

— PDGA (@PDGA) June 28, 2019
Pro Masters 75+ & Pro Masters 80+
Last but not least came another foursome containing two different two-person divisions. Pete May and Barry Fischer comprised the Pro Masters 75+ division joined by Carlos Rigby and Donald Stephens of the Pro Masters 80+ division.
May teed off with a lead of six over Fischer and with the goal of winning his fourth straight world title in the Masters 75+ division, which would be his sixth overall. May stayed calm and collected throughout the round and slowly added more and more of a cushion to his lead. By the time they stepped up to tee off on 18, May had amassed a lead of 11. It remained that way as both May and Fischer tapped in for par.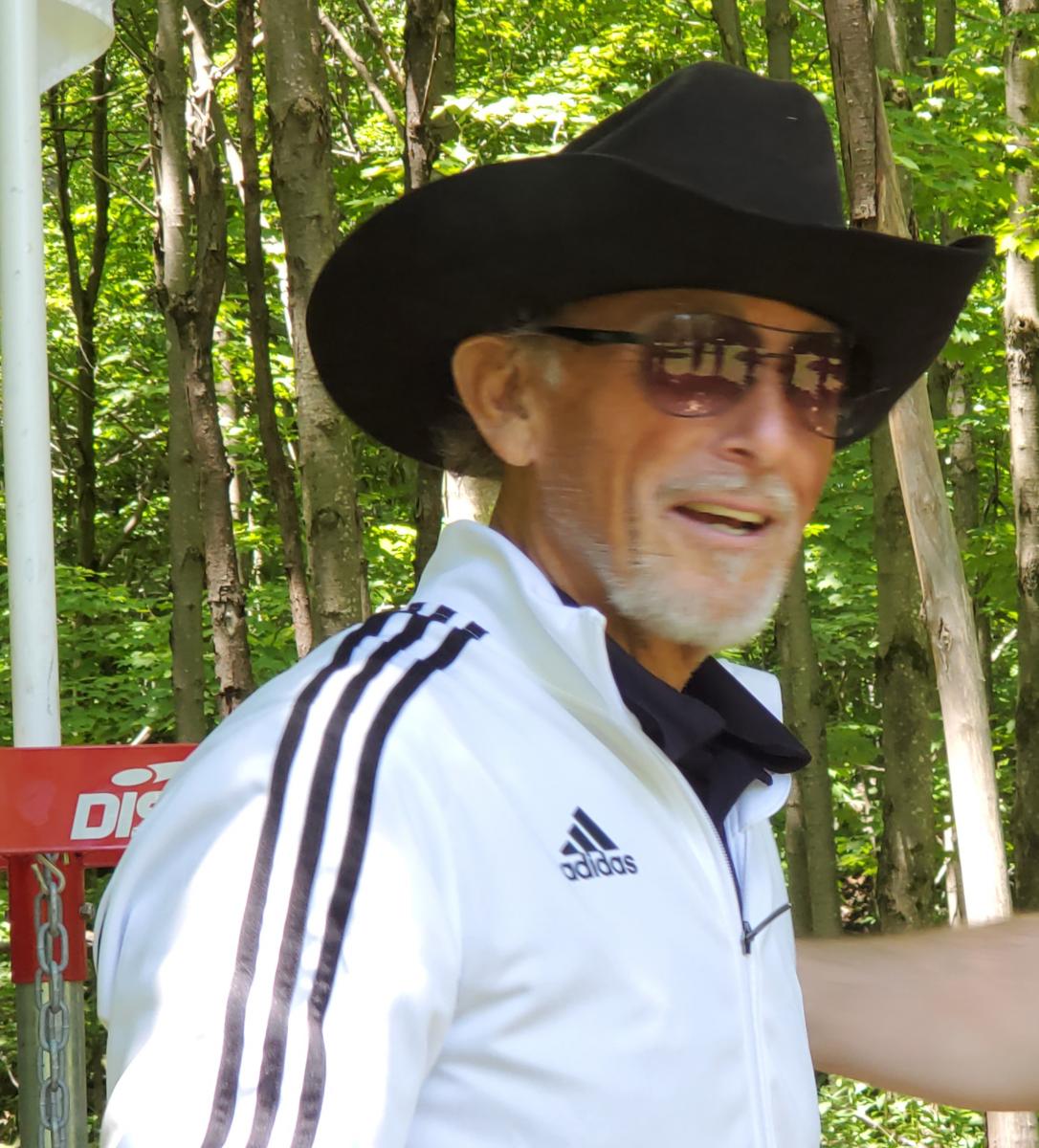 In a similar story, 82-year-old Rigby was on a quest for his fifth world championships title. Unlike May, Rigby didn't have too much to worry about heading into the final round this afternoon, as he had already earned himself a comfortable lead of 24 over Stephens. The self-proclaimed "oldest best disc golfer" added four more to the margin of victory by the round's end and tapped in for his fifth world title overall, his second in the Masters 80+ division.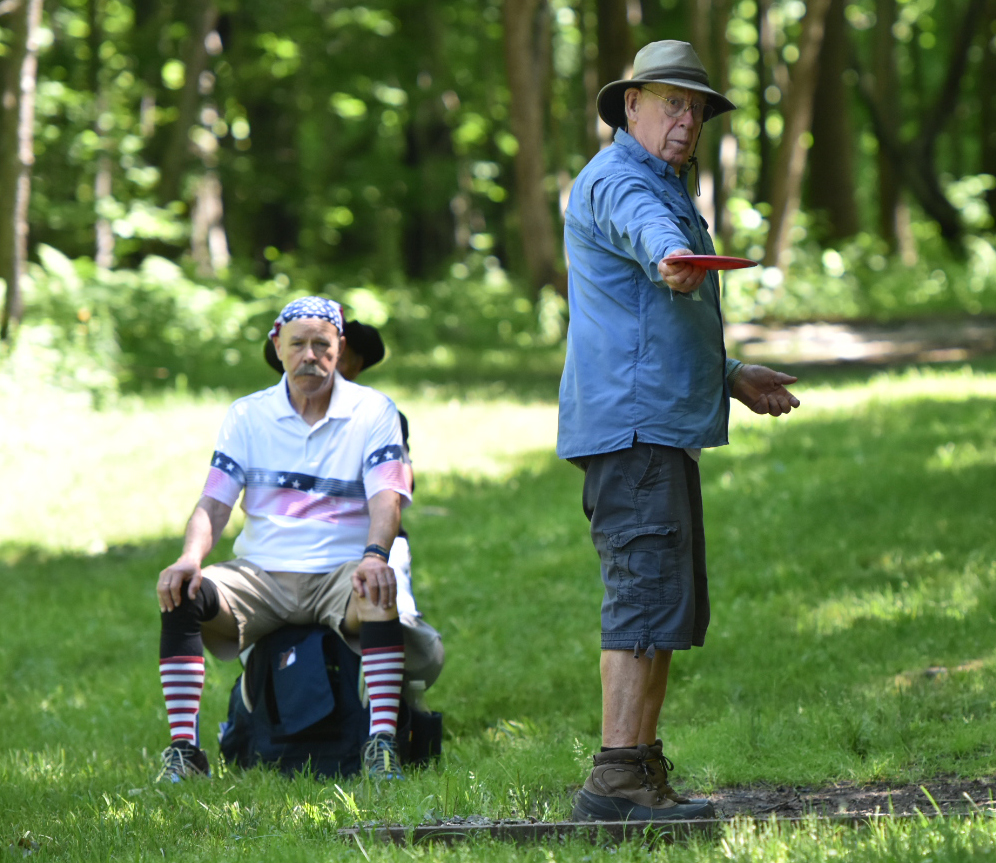 Cuts Made for Semifinals & Finals
While the champions were being crowned in the morning on Brewster Ridge, the coveted spots for the semifinals and finals were being fought for on the Fox Run Meadows course. Only the top 40% of the four largest divisions (Pro Masters 40+, Pro Masters 50+, Pro Masters 55+, Pro Masters 60+) would make the cut for a full semifinal round on Saturday morning while Pro Masters 65+ and Pro Masters Women 40+ were fighting to be one of the top four.
Everything went smoothly throughout the day, and to the surprise of most, there were no playoffs for the bottom spots for any division for the semifinals or finals. That is, of course, until the very last group of the day came in. The eight-person division of Pro Masters 65+ would give only the top four competitors a spot for the finals. After assuming he was out of reach, despite shooting a solid 3-under par 58 on the chase card, Kevin Rounds left the course not realizing he would have to come back quickly to be part of a sudden-death playoff between not just one other competitor, but two.
Rounds made it back quickly and eventually snagged one of the two spots up for grabs. He was playing the round four lead card's Jake Thorp and Glenn Henry whose rounds of 3-over par and 9-over par, respectively, meant they both would have to compete against Rounds, and that one of the three of them would be missing out the final round on Saturday.
It took three holes to determine which two would advance and it came down to a missed putt at the circle's edge by Jake Thorp that left him tapping in for bogey while Rounds and Henry happily earned their finals spots with putts from well inside the circle.    
A similar but less dramatic story took place in the Pro Masters Women 40+ division, where the field of nine was also set to be cut down to just the top four. With all nine women playing as threesomes and wild swings in scores taking place on both the lead and chase card, it was impossible to know how it would all come to an end.
After starting the week as the leader of the division overall, Natalie Holloköi started the round this morning on the lead card in a tie for second place with Susan Stephens, four off the leader Elaine King. Meanwhile, just two more strokes behind, Sandy Gast held the fourth place position solely, two ahead of Kristiina Sylman and 10 ahead of Courtney McCoy on the chase card.
A rough front nine from Holloköi and a nearly flawless front nine by Gast quickly put Gast into the third place position, meaning Holloköi was now fighting to keep her spot for the finals against competitors from a different card. After a bogey followed by a double-bogey by Holloköi on holes 13 and 14, Sylman was now in the running. Thanks to a strong finish on the last four holes, including a birdie to end the day, Holloköi managed to hold down the fourth place spot, edging out Sylman by one.
Despite a majority of the field being either cut or finished completely, there's still a ton of excitement to come during the semifinals and finals on Saturday. Follow the scores on pdgalive.com and stay tuned for video coverage from Central Coast Disc Golf.  
Congratulations to our new PDGA Pro Masters Disc Golf World Champions! Five down, six to go!
2019 Pro Masters World Championships