Good Throws at Bad Rock
Good Throws at Bad Rock
Feldberg jumps to the top of the leaderboard after Masters Worlds Round Three
Friday, August 17, 2018 - 10:26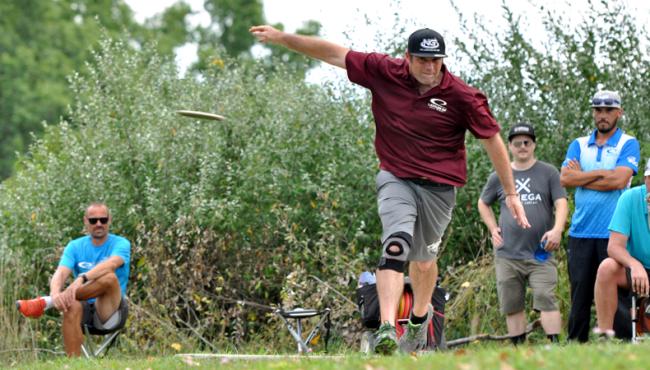 With one last chance to take on Bad Rock Creek DGC at Stocksdale Park and a deeply stacked field of incredibly talented golfers within striking range, staying at or near the top of the leaderboard requires a nearly perfect round. This sentiment was well understood for the top contenders of the Masters 40+ division, and the four that rose to the occasion to make the lead card for Friday's round four put on a clinic. The 2018 Professional Masters Disc Golf World Championships is shaping up to be one of epic proportions as we get closer and closer to Saturday's semifinals and finals.
Carding a combined two bogeys between the four of them, Dave Feldberg, Brian Schweberger, JohnE McCray, and Barry Schultz showcased their world-class skills, slicing and dicing their way through narrow gaps, over water hazards, and down long fairways. Feldberg finished with the hot round, a bogey-free 13 under par 49, besting both Schweberger and Schultz by one to assume the role of the lone leader. As they head into their last preliminary round of the event at Waterworks, Feldberg now sits one ahead of Schweberger, four ahead of McCray and five ahead of Schultz.
As the Masters 40+ men were finishing up at Bad Rock, the Masters 50+ lead card of Patrick Brown, Ron Covers, Kevin Couch, and Eric Rainey were just getting started. Brown and Convers have been in a close battle since the opening round of the event, and they remained that way throughout most of the round on Thursday. Brown began the round two ahead, but Convers managed to tie it up 11 holes later. An errant second throw that put Convers' disc in an OB pond left Brown with a chance to gain two strokes, and he quickly threw in for birdie to do just that.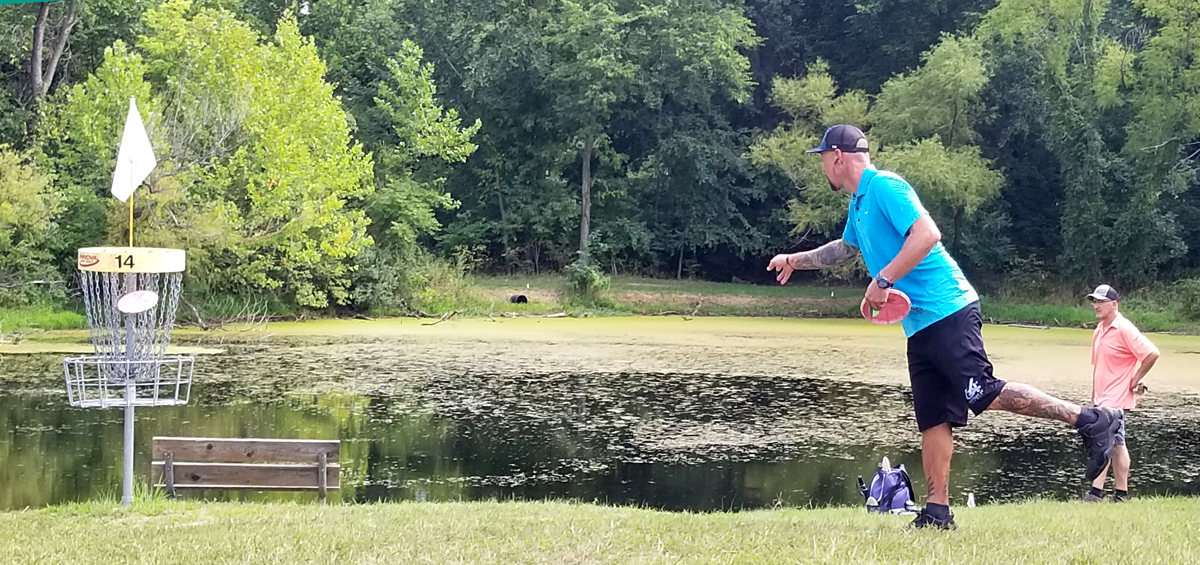 Convers kept his composure and matched Brown throw-for-throw on holes 15 and 16, but Brown wasn't finished pulling away. A beautiful birdie on 17 was followed by an absolutely amazing eagle on 18 added three more to his lead, putting Brown six ahead of Convers, and 11 ahead of Couch and Roger Reyes, who jumped from the fourth card to the lead card by matching Feldberg's hot round of 49.
On the other side of the city, Courtney McCoy was making moves in the Masters Women 40+ division, shooting a two-over-par 58 at Rosedale Park to tighten up the battle. Missouri's own Kimberly Giannola finished four ahead of McCoy after their opening round at Rosedale, and added two more during round two at Heritage Park. Now with only Friday's round remaining at Heritage Park before the semifinals at Waterworks, McCoy will be chasing down the leader starting the round just two strokes back.
While most will be trying to make the cut for semifinals on Friday, there are two divisions where world champions will be crowned at the end of their round. It's fair to say at this point that Tavish Carduff of the Masters Women 50+ and Pete May of the Masters 75+ division are just 18 holes away from becoming world champions, as they're now leading their division by 21 and 28 respectively.
Stay tuned as we crown world champions in Kansas City, and make sure to follow the scores on pdgalive.com to see who makes the cut for semis!
2018 Masters World Championships