McCray Moves Into Lead, Scores Tightening Up at Masters Worlds
McCray Moves Into Lead, Scores Tightening Up at Masters Worlds
Thursday, August 17, 2017 - 09:51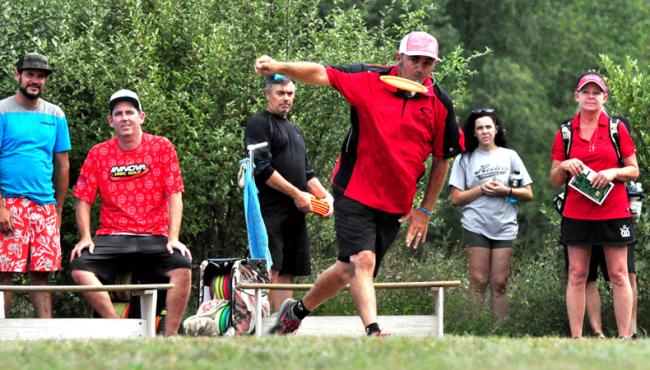 Two days and three rounds later, the inaugural Pro Masters Disc Golf World Championships presented by Innova is well on its way to a nail-biting finish in its biggest divisions. Masters, Masters Women, and Senior Grandmasters have leaders sitting just one ahead of second place, while Grandmasters now have a three-way tie for the top position as we head into the morning rounds in the greater Grand Rapids, Michigan area.
JohnE McCray put in work yesterday during his rounds at Fallasburg Park, doing everything he could to catch the then leader Robert Bainbridge. A bogey-free nine under par during the morning that included an eagle on hole 16 still wasn't enough to secure the lead, as Bainbridge continued to fight and finished with nine down of his own.
The afternoon round is where JohnE made his move, carding 11 birdies and one bogey to finish with a round of 10 under par against Bainbridge's seven down. Barry Schultz, despite feeling a bit under the weather for most of the day, put on a clinic during the afternoon round, carding a bogey-free 12 under par that included a run of six in a row to finish the day.
Oklahoma's Larry Gardner will join McCray, Bainbridge, Schultz, and Gardner on the lead card this afternoon for their fourth round which will take place once again at Mark LaFleur's punishing 20-hole private course; Black Falcon. The group is scheduled to tee off at 1:00pm EDT and will be filmed for post-production by Central Coast Disc Golf.
After playing two rounds at Grand Rapids Rotary on Tuesday to open the event, the Masters Women headed to another private property for their one and only round on Wednesday. Joe Gill's Blue Gill DGC is known by many as one of the best private courses around, and with 24 holes that include every type of shot, water hazards, elevation changes, and more, it's easy to see why.
Des Reading teed off as the leader when the shotgun-start round began, two ahead of both Elaine King and Lesli Todd, who were both one ahead of Courtney McCoy. The round was a nonstop back-and-forth between the four of them. It seemed that every time someone gained a stroke on the others, it would be given right back. It was impossible to predict who would emerge as the leader by the end of the round on the 24-hole layout.
However, as the round progressed, it was Lesli Todd that was playing the cleanest round. Her run of pars on holes 7-13 is a great example of how she eventually came out of the round as the overall leader. The Masters Women will be taking on Fallasburg Park for back-to-back rounds this morning and afternoon, and Lesli will tee off one ahead of Elaine King, two ahead of Des Reading, and five ahead of Courtney McCoy.

Click the image to see all of the Masters Women Round 3 hole-by-hole scores.
The Grandmasters and Senior Grandmasters both have extremely tight battles going on at the top of the leaderboard, including a three-way tie for the lead in the latter. With three rounds in the books, Ron Convers has pulled ahead of Jim Oates by one in Grandmasters as they head into back-to-back rounds at Brewer Park today.
The three-way tie between Dave Greenwell, Johnny Sias, and Kenny Lee in Senior Grandmasters will be fought out at Fallasburg Park with the Masters Women, Grandmaster Women, Legends, and Senior Legends divisions spread out around the course.
The Grandmasters Women division is home to the only competitor who has pulled into a double-digit lead; Michigan's own Susan Stephens. Despite starting her round at Blue Gill just four ahead of Pam Reineke, she now leads by 13 after an impressive round that left her as the only woman in the division to stay in single-digits over par.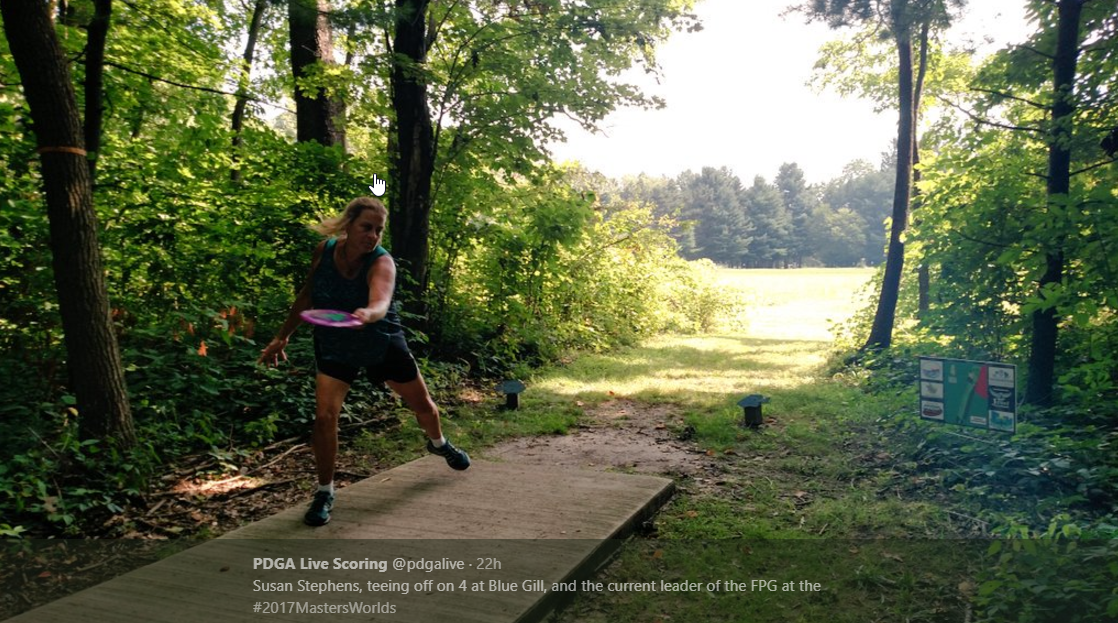 Last but not least, the Legends and Senior Legends continue to fight for their respective titles as well, with Terry Calhoun now leading by two over Carlos Rigby in Legends and Pete May now leading by six over Donald Stephens in Senior Legends. Both of said divisions will play only one round once again today, throwing from the short tees at Fallasburg.
Weather could be an issue today in Grand Rapids, so we'll be keeping a close eye on the conditions as they develop with help from disc golf's favorite meteorologist, Jacob Wilkins. Follow along using the links below as the 2017 Professional Masters Disc Golf World Championships continue to unfold here in Grand Rapids, Michigan!
2017 Masters World Championships