2016 WGE - An International Success Story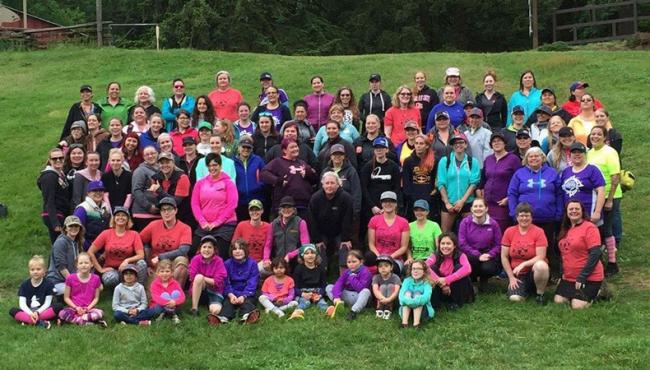 *NOTE: Results in the article below should be considered tentative, as we are still awaiting scores from Japan.
Women's disc golf made waves across the world this past Saturday, May 14th, 2016, as the 3rd biennial PDGA Women's Global Event (WGE) once again broke records in disc golf. At the start of the WGE, we had over 1,651 registered female competitors in 63 events across 11 countries and 28 states. Collectively, this created the largest PDGA sanctioned event for a single demographic ever. With WGE events held in the United States, Canada, Finland, Sweden, Norway, Australia, Estonia, Iceland, United Kingdom, Germany, and Japan, the WGE reached more new countries and countless new players from around the world. With an event of this scale, it takes a global effort to compile scores and process all of the results.
The PDGA Women's Global Event is a PDGA Rating-Based event created from a collection of women's disc golf tournaments that are run on the same day around the world. The player's scores from their two rounds are rated against the difficulty of the course and their competitors' ratings and scores. These two ratings are then combined to create each player's "Global Score", which are compared to the other players in their respective divisions around the world.
"One of the most remarkable things is that these ladies can virtually compete against players they may never physically meet and see how they stack up against similar competition," notes Women's Global Event Co-­Tournament Director and PDGA Women's Committee Chairwoman, Valarie Jenkins #17495.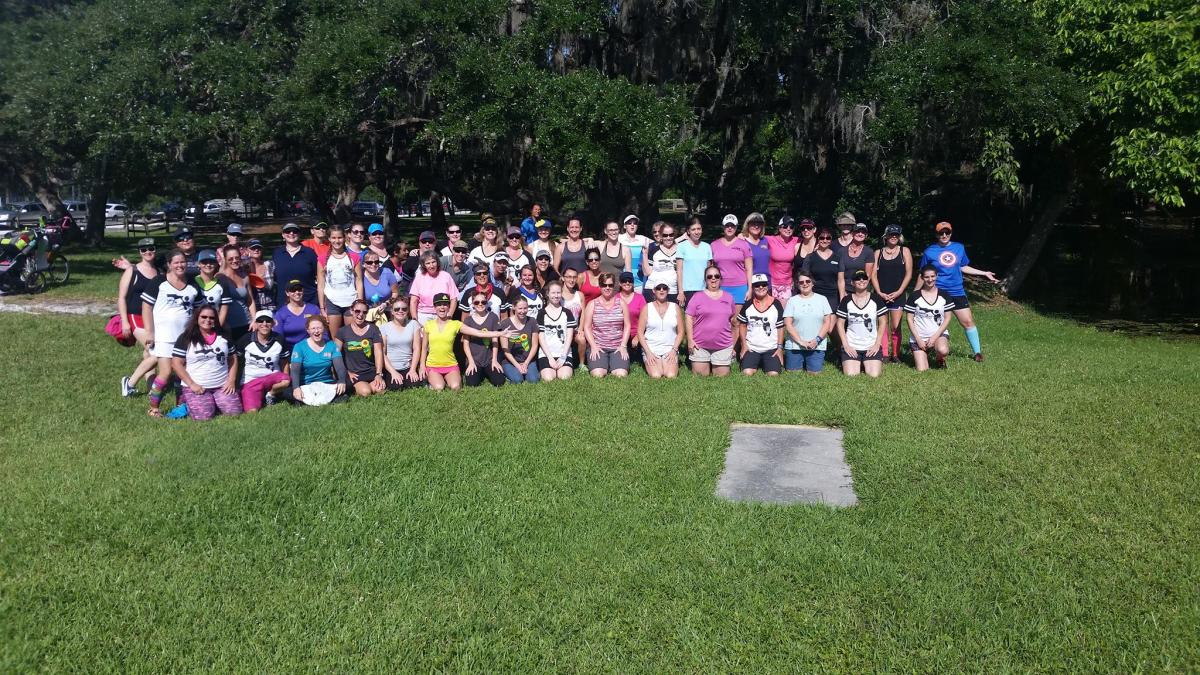 The Chick Flick and Women of DGOD of North Plains, Oregon joined forces to host the largest WGE tournament with a total of 97 female competitors. Following closely behind those numbers was the KC Diva Spring Feeva in Kansas City, Missouri with 89. The WGE had 103 juniors competing across the six Junior divisions available for girls 18 years old and under.
On the other end of the spectrum, we had 251 ladies playing in amateur and professional age ­protected divisions that were 40 years and older. Disc Golf Hall of Fame member Sylvia Voakes #3360 competed as the solo competitor in the Legends Women's division (70 years and older) with four other women competing in the Advanced Legends Women's division. 19 total PDGA divisions were competed in, with the largest division overall being the Recreational division with a combined 350+ competitors.
Results
Professional Divisions
Top 10 honors in the Open Women's division included competitors in California, Pennsylvania, Georgia, Colorado along with two representing from the United Kingdom. Paige Pierce #29190 captured her second Women's Global Event title this year, edging out the previous WGE Champion and Co-WGE Coordinator, Valarie Jenkins #17495. While Pierce and Jenkins competed on this virtual scale, they were both physically competing at the Daisy Chains Women's Tournament in Watsonville, California.
Taking 3rd in the Open Women's division was our current United States Women's Champion, Hannah Leatherman #45396. Hannah finished just one point behind Jenkins at the WGE­ Eagles Wings Disc Golf Mid­Atlantic Ladies Throw Down in Sellersville, PA.
Our professional age ­protected divisions were the largest and strongest fields for the WGE yet. The lead in the Masters Women's division changed hands several times as the scores were being updated. As per the final tallies, Debbie Scott #43896 claimed her second WGE title, with her first being the Advanced Women's division in the 2012 WGE. Perhaps it was fate, as Debbie was the main contributor to the WGE logo used for this year's event. Taking 2nd was current Masters Women World Champion Barrett White #16737, followed by Nancy Morgan #37820 of Washington in 3rd.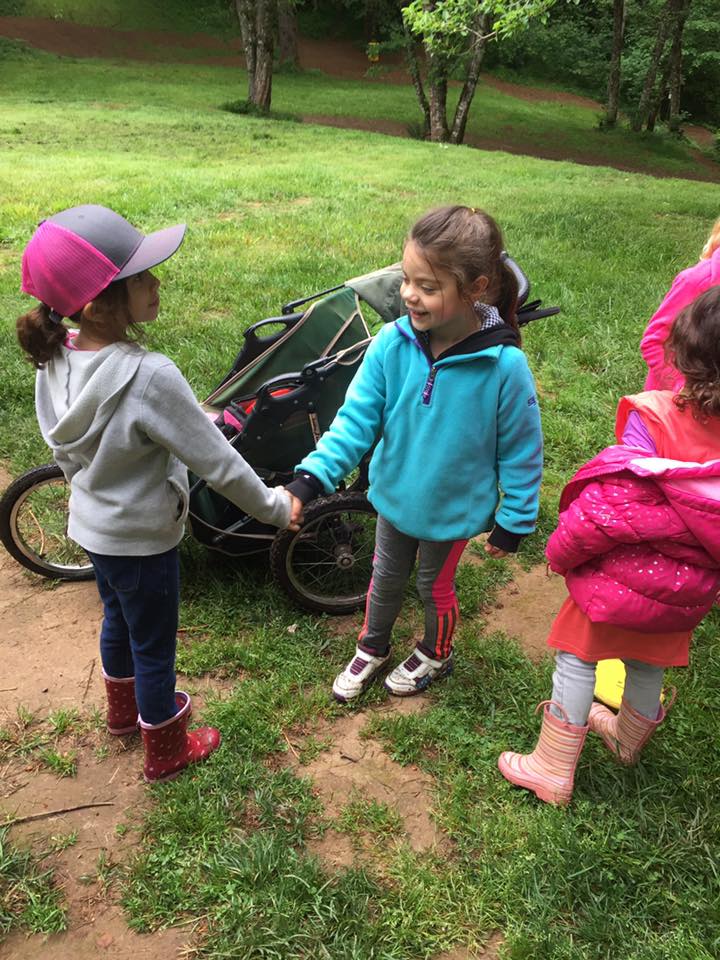 In the Grandmasters division, Deb Renner #11193 had a hot first round rated 953, an astonishing 173 points above her PDGA Player Rating, which bumped her to the top of the list. Deb finished with a Global Score of 885 and an average of 100 points above her Player Rating. Sue Stephens #10977 and Elfriede Eberly #43474 took 2nd and 3rd respectively by shooting round rating averages within five points of their actual Player Ratings.
The Senior Grandmasters Champion, Sandy Gast #6440 was the highest rated player in the division leading up to the event and started out on top after the first round, but she didn't stop there! Sandy came back even stronger in the second round of the event and improved by 64 points to earn the title over Kathy Hardyman #19150. Toni Hoyman #18823 played above her Player Rating for the two rounds to easily claim 3rd place.
As we mentioned above, only one brave woman played in the Pro Legends divisions this year, but we'll happily accept quality over quantity. Thank you to Sylvia Voakes #3360 who came out to play in the 2016 Women's Global Event to represent for the women disc golfers of her age! Age is nothing but a number, as you'll see below.
Amateur Divisions
It was just incredible to see the number of ladies stepping up their game to play in the Advanced Women division this year, charging to the top of this year's deep and extensive leaderboard. Topping the field this year for Advanced Women was Sheryl Johnson #51934, an 842 rated player from Melbourne, FL. Sheryl shot two rounds averaging 100 points above her Player Rating to capture the title, winning by 16 points over 2nd place finisher Valerie Mandujano #62879. Valerie played solid, shooting both rounds above her Player Rating. In 3rd was Taylor Forth #43995 who played the WGE­ Peninsula Ladies Extravaganza, run by Co-WGE Coordinator and former PDGA Memberships Manager, Sara Nicholson #33589.
Our age­ protected divisions acquired some huge numbers on the amateur side as well. There were 72 in Advanced Masters Women, 82 in Advanced Grandmasters Women, 19 in Advanced Senior Grandmasters Women, and four in Advanced Legends Women combining for an unprecedented 177!
In the highly contested Advanced Masters Women division, Jennifer Johnstone #40066 shot two rounds equally rated 46 points above her rating which put her on top with a 39­point cushion over the next best competitor. Former PDGA Women's Committee member, Kari Dainich #43876, also gave herself a large lead over the field after the first round by shooting 146 points above her rating and took down the title in the Advanced Grandmasters Women division.
Denise Gentry #54867 crushed it again this year to win her third WGE title, this time in the Advanced Senior Grandmasters Women division. This year she won with a 47.5 point differential over 2nd place.
And in our final age division, Judy Gipson, a non-PDGA member with no Player Rating, won the Advanced Legends Women division, finishing with an outstanding score that was 173 points above her closest competition.
The largest showing inevitably comes from the Intermediate Women and Recreational Women divisions. The field numbers were impressive and the battles were fiercely fought. Scratching and clawing her way to the top of the Intermediate Women's division was Robyn Turner #43819, followed by Becky Edwards #63398 in 2nd, and Joann Boskoffsky Partridge #71310 in 3rd. Joann shot around 70 points higher than her rating to take third place against the two unrated players above her ­ very impressive!
In the humungous Recreational Women's Division, there was a clear-cut winner, Andrea Becker #78471. Andrea shot an average round rating of 884 to finish on top, beating out two women who tied for 2nd place: Angel Brown #83388 and Laura Mattila.
In the Novice division, Jessi Monte #82106 who played in the Scarlet Open in Hudon, Ohio shot an average 77 points higher than her player rating to take down the title. Placing 2nd in Novice was Satu Ylipuranen #80397, playing in Karjaa, Finland.
Junior Divisions
We had an impressive amount of Junior girls competing this year and an excellent international representation as well. Karin Pisa #79491 from Estonia won the Junior I Girls (18 & Under) division, followed by Anna Sofia­Haipus #84782 of Finland in 2nd, and Sequoia Hart #85891 Karin Pisa #79491 of Arizona in 3rd. In 4th and 5th place were Maite Maido and Loviisa Vahenurm #84358, two young ladies also hailing from Estonia. That's what makes the WGE so great. It gives young ladies the opportunity to compete against disc golfers their age from all over the world!
Joleigh Miller took first in Junior II Girls (15 & Under), playing in The Chick Flick & Women of DGOD event in North Plains, Oregon. Joleigh and the rest of the top five girls in the Junior II division could have all won the Junior I Girls division, as they shot some incredible round averages!
Rounding out our Junior Girls divisions, Ginny Heltsley, took the title in the Junior III Girls division (12 & Under), Aria Castruita won the Junior IV Girls division (10 & Under), Kylie Schenavar #82914 won the Junior V Girls division (8 & Under), and last but not least, Jaycee Robles won the Junior VI Girls division (6 & Under).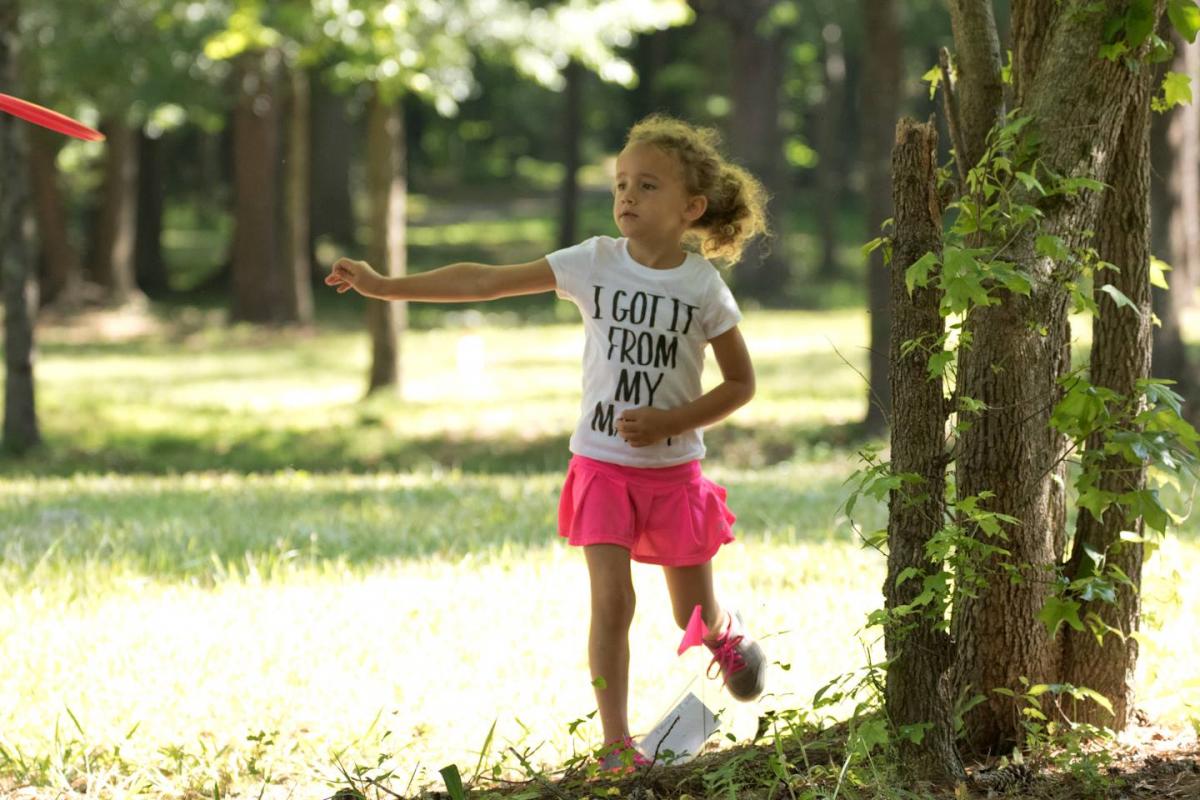 Prizes
To reward those all those who at the top of the competition, we will be giving out some incredible prizes for the top three finishers in every full division (three or more players). If you are one of our top placing finishers, you can expect to receive your fantastic prizes thanks to the incredibly generous sponsors: Disc Diva, GRIP Equipment, KEEN Footwear, & Discraft. We can't thank all of them enough!
3rd Place Finishers
Disc Diva engraved bag tag
Special gift from Discraft
2nd Place Finishers
FREE pair of shoes from KEEN Footwear
Disc Diva engraved bag tag
Special gift from Discraft
1st Place Finishers
GRIP Equipment C15 Bag
Disc Diva engraved mini­disc necklace trophy and
Disc Diva engraved bag tag
Special gift from Discraft
Fundraising for Right To Play
In addition to the global competition, the WGE has also been part of a fundraising effort benefiting Right To Play, a nonprofit that helps educate and empower children and youth to overcome the effects of poverty, conflict, and disease in disadvantaged communities. If you;ve been part of the fundraising effort, there are still a few days left to earn prizes for being the top fundraising team or for being one of the top three fundraising individuals. There are incredible incentives donated by the PDGA, Discmania, Throw Pink, Huk Lab, and Keen Footwear up for grabs. Set up your Right To Play fundraising individual or team account on the WGE Right To Play website. Hurry! The fundraising competition ends on May 21st at 11:59pm EST!
Thank you to our incredible sponsors who stepped up in a big way to make this event the best yet and to the PDGA for their tireless efforts in making this all possible. We had incredible player's packages available to the first 800 players, endless social media giveaways, beautiful trophies, and prizes to envy over.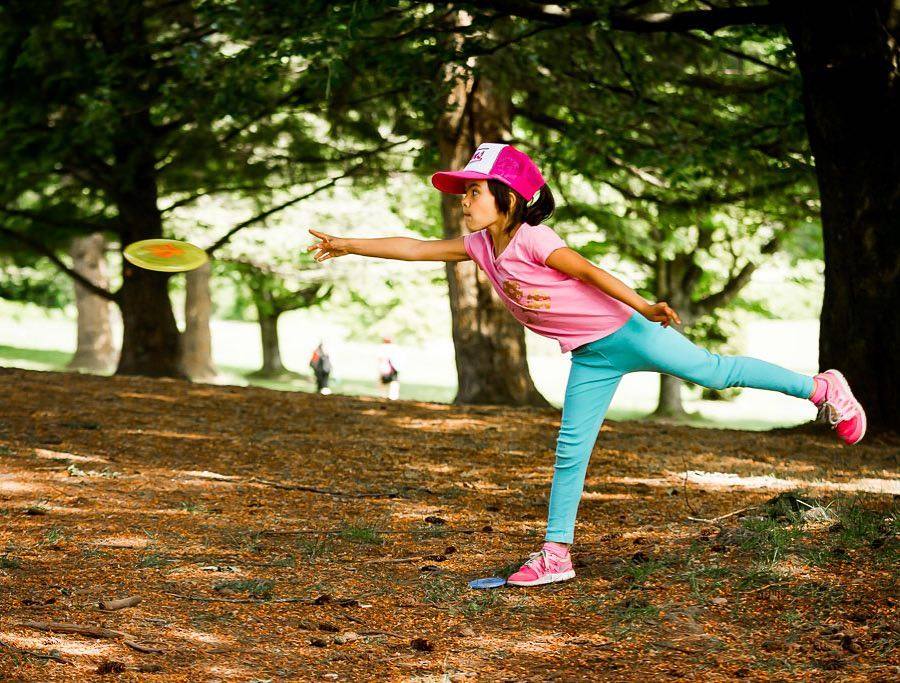 Regardless of how ladies placed at their local or world­wide event, the camaraderie was contagious, and fun was had by all. Use #2016WGE and/or #WGE2016 to search social media for pictures and videos taken from events around the globe. You can also check the 2016 WGE album on the PDGA Flickr page.
We cannot give enough praise to the 63 hardworking volunteer Tournament Directors, without which this event would have never been possible. "Most of our Tournament Directors are volunteers working evenings and weekends on top of their family and job obligations to make PDGA events in their communities a success for the players and for the growth of the competitive game. Running a WGE event adds extra work to the already hard working TDs and we appreciate their commitment," says PDGA Women's Committee member Sara Nicholson, who just finished up running her 3rd biannual WGE event. Sara has now run a WGE event in three different states: North Carolina in 2012, Georgia in 2014, and Washington in 2016.
Thank you to all of the competitors, staff, volunteers, and sponsors for making the 2016 PDGA Women's Global Event such an amazing experience. We can't wait to see what the future holds for 2018!
2016 WGE Champions
Comments
Congratulations to everyone!! <3