2015 NT Season Starts and Ends in Dramatic Fashion
2015 NT Season Starts and Ends in Dramatic Fashion
Monday, September 14, 2015 - 12:58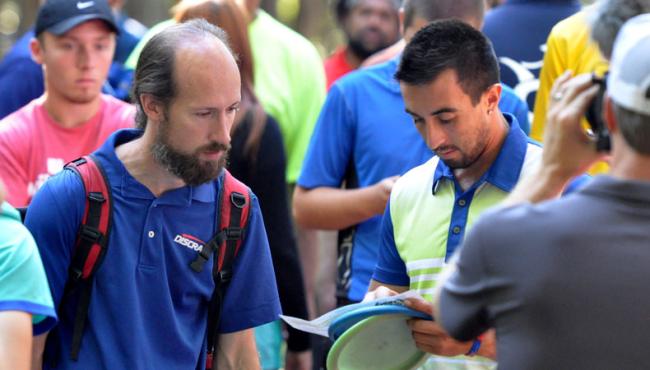 "The National Tour started with a playoff and ended with a playoff", said Paul McBeth #27523 as we walked up to the tee pad of Hole 2 with the gallery just behind us. At that moment, the reality of the 2015 National Tour coming to an end finally hit me. Has it really been six months since The Memorial Championships where Mcbeth faced another North Carolinian in a playoff?
It has, and to be honest, it feels like it's been years since then, not months. It's been a very long and extremely exhausting season. With the playoff between McBeth and Michael Johansen finally coming to an end on Hole 4 at the 2015 Hall of Fame Classic presented by MVP Disc Sports, the National Tour finally came to an end as well.
Paige Pierce Shoots Hot Round for the Win
The Open Women's division was a nonstop back-and-forth battle all weekend long. Round 2 for example, saw five different women take the lead at some point across the 18 holes of the W.R. Jackson Memorial Course. The final round on Sunday morning, which also took place on the Jackson, was exactly the roller coaster ride we expected.
At the start of the round, Val Jenkins #17495 and Sarah Hokom #34563 were tied for the lead and were only one throw ahead of both Paige Pierce #29190 and Elaine King #3090. With 13 world titles between four women on a single card, it was bound to be interesting.
For the first seven holes, Paige and Sarah matched each other throw for throw. Val and Elaine had dropped back to 3rd and 4th after a couple of bogeys, but they were still right there with them. Hole 8 saw a change in momentum as Sarah's bogey allowed Paige to tie it up, and Val's triple bogey dropped her to 4th place.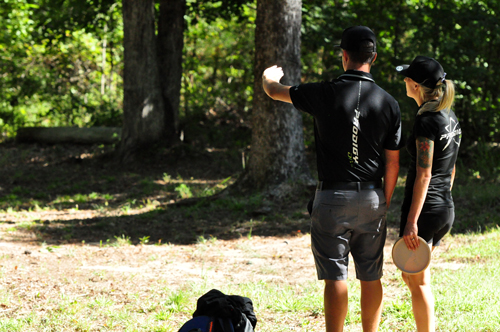 It wasn't until Hole 12 that the momentum would change again. Sarah's drive went out of bounds and she was forced to take a bogey against Paige's birdie. With Paige now leading by two over Sarah, it happened again on Hole 13. Sarah went OB and carded a bogey while Paige canned another birdie. And unfortunately the story doesn't end there.
On the par 4 Hole 14, Paige's ability to throw farther than any other woman in the world gave her an edge.  She would finish the hole with a birdie while Sarah again finished with a bogey. In just three holes, Paige had gained six on Sarah. Val had gained four on Sarah during the same period, and heading into Hole 15, Paige was now leading by four over Val, with Catrina Allen #44184 fighting back from the chase card to make a run at Sarah and Elaine's ranks.
Paige tapped in on the 18th hole, finishing with a double bogey after going OB off the tee, and was still able to win her fifth NT of the year by two. Her score of 67 for the round was three better than any other woman's score on the WR Jackson all weekend.
Val's triple bogey on Hole 8 must have motivated her, as she finished three under par on the 10 holes that followed, far and away the best of the entire field. Catrina fought back to tie for 3rd place with Sarah, and Elaine King took 5th place, one throw back.
That'll do it folks. Paige Pierce is officially the #2015HOFC Champ and the National Tour Points Champ! What a year! pic.twitter.com/jz4uVZWNu8

— PDGA Live Scoring (@pdgalive) September 13, 2015
Johansen Defeats McBeth in Playoff for First NT Win
We all knew it was coming. The more the round progressed, the more obvious it became. There was absolutely going to be a playoff and the 2015 Hall of Fame Classic presented by MVP Disc Sports was going to end in the most dramatic and exciting way possible.
While Paul McBeth #27523, Michael Johansen #20300, Will Schusterick #29064, and Barry Schultz #6840 were duking it out on the lead card, players like Ricky Wysocki #38008, Matt Orum #18330 were making big moves on the chase card, and JohnE McCray #9852 was making even bigger moves on the third card.
At no point during the four hour round on the WR Jackson was there ever a point where any one competitor held a lead of more than one throw. In fact, it was almost always tied. To add to that, it was almost always a 2-way or 3-way tie for the lead, followed by a group of two or three more players also tied, one stroke behind.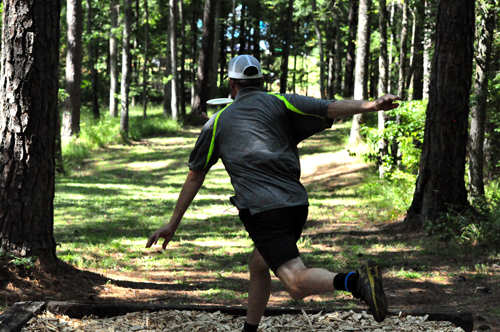 As the lead card was heading up the 18th fairway, the third card and chase card players had already finished their rounds. JohnE McCray lit up the course, turning in a ridiculous bogey-free 13 under par for the round, leaving him at -32 overall. McBeth and Johansen teed off on the 18th hole at -32.
With the 18th being a par 5, a birdie (or even an eagle) was certainly possible, if not likely. As expected, McBeth and Johansen both put their third throws into the circle, leaving them with gimme putts for birdie. It was playoff time.
Sudden Death
The playoff would bring McBeth, Johansen, and the gallery right back to Hole 1 of the Jackson. After they teed off, McBeth said, "This is the third time I've walked this fairway today", joking about his mishap on Hole 10 that forced him to play up Hole 1's fairway to get to 10's green.
McBeth and MJ went throw for throw for the first three holes. There were no huge putts or big saves. They were just out there having fun, doing what they do best; playing an incredibly difficult course like it was nothing.
Hole 4 is when the course starts getting tricky. It's a classic John Houck design that forces players to get to a designated landing area off the tee and assuming they do, they'll have to choose from one of two fairways that lead to the green, divided by a thick of trees and brush. The tee shots were similar, with Johansen left near the center of the landing area and McBeth being closer to the green but farther left.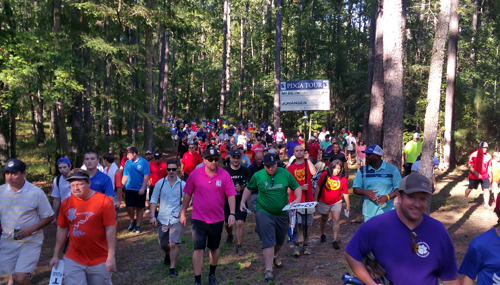 Johansen stepped up first and threw an anhyzer that left him 80' out and left of the green. From where it landed, he would no other choice but to lay up for a par putt. With a ways to go but not out of his range by any means, McBeth went for it, only to be stopped short by a tree that knocked his disc straight down.
Now throwing for birdie and still a ways out, McBeth needed to get into putting range to save par. Johansen had already laid up and was inside of 20 feet, essentially a gimme putt for par. McBeth's next attempt was headed to the right side and looked on target, but the disc clipped some leaves causing it to then pinball off several tree trunks.
McBeth was left with one last chance to save par; a steep uphill 70' putt. The gallery held their breath as he let it go. It looked on target as it flew through the air, but hit off the top of the cage, and fell to the ground below.
Johansen had it in the bag. He stepped up to his mini, and as usual, nailed it, winning his first National Tour event and defeating the #1 ranked player in the world to do so. It was an amazing moment. Johansen's father passed away earlier in the year, and he dedicated the tournament to him. He was playing for bigger things than the game itself.
That'll do it! Michael Johansen wins the playoff and becomes the #2015HOFC CHAMPION! pic.twitter.com/ue7XPhJzuF

— PDGA Live Scoring (@pdgalive) September 13, 2015
Disc Golf Hall of Famers at the HOFC Classic
This event is held every other year to celebrate the members of the Disc Golf Hall of Fame, which is an integral part of the International Disc Golf Center. We were honored several of them here at the IDGC competing in the event, because without men and women like themselves, the sport wouldn't be where it is today.
The following Disc Golf Hall of Fame inductees competed in the Hall of Fame Classic presented by MVP Disc Sports, but we were lucky enough to have a few others stop by as well.
2015 National Tour Champions
Pro Women
As far as the race for the title of National Tour Elite Series champion goes, by the time we got to this weekend's event, there wasn't much of a race left.
Paige Pierce won five of the six National Tour events she competed in other than the Ledgestone Insurance Open, where she took 2nd place in a sudden death playoff. With her win this weekend, Paige finished with a total of 595 points, 34.5 points ahead of Valarie Jenkins.
Val's 2nd place finish in the NT points race was a direct result of how the Hall of Fame Classic (HOFC) played out this weekend here at the IDGC. Heading into the event, Val held the 3rd place points total at 465.5 with Catrina Allen ahead of her by 4.5 at 470. This is where it gets a little crazy.
NT points are awarded as follows:
1st Place: 100 points
2nd Place: 95 points
3rd Place: 91 points
4th Place: 88 points
Points are split across tied places. Points are awarded all the way to 40th place, but those don't apply to this particular story.
Val finished in 2nd place this weekend, earning 95 points, for a grand total of 560.5. During the final round, Catrina's round of 70 (+1) allowed her to move from 5th to 3rd . A 3rd place finish would earn 91 points, which would have given Catrina a grand total of 561, .5 more points than Val.
Unfortunately for Catrina, her finish at the HOFC was shared with Sarah Hokom, both of whom finished with an overall score of 203 to TIE for 3rd place. The tie for 3rd meant they would have to split the 91 points and 88 points earned in the NT Series for 3rd and 4th, giving them each 89.5 points. Catrina's 470 added to her 89.5, is what gave Val the one point edge.
Amazingly, Val and Cat's overall score in the NT Series, after both having competed in all seven events around the country, came down to a difference of just a single point.     
Pro Men
Paul McBeth competed in all seven NT events, winning three of them outright, with three 2nd place finishes and one 3rd place finish. It noteworthy that two of his three 2nd place finishes came in sudden death playoffs.
With the field of men having a vast number of competitors with the ability to finish in the top 10 at each event, Paul's numbers put him well ahead of anyone else. Paul's grand total for the series was 585, a whopping 81.5 points ahead of 2nd place finisher Ricky Wysocki.
One interesting note on the men's side is that of Nikko Locastro's absence at the HOFC. Heading into the HOFC, Nikko had the fourth highest points total overall. After earning zero points at the HOFC his grand total of 416 dropped him from 4th to 8th, a difference of $350 in prize money. Not to mention the fact that had he played in the HOFC, and played well, there's a chance he could have moved up to 3rd or even 2nd place in the overall points race.
Thank you to everyone who helped make this such a great event. Without sponsors like MVP Disc Sports, amazing people like the Hall of Fame members themselves, the IDGC staff, and the volunteers that came out to spot and help with live scoring, there would be no event. Only the US Women's Disc Golf Championship and the US Disc Golf Championships remain for the year as far as the disc golf tour goes!
Congratulations to the 2015 PDGA National Tour Champions, Paul McBeth #27523 and Paige Pierce #29190! We look forward to next year's National Tour Elite Series, the schedule for which will be released in the weeks to come!