Worlds Begins with a Bang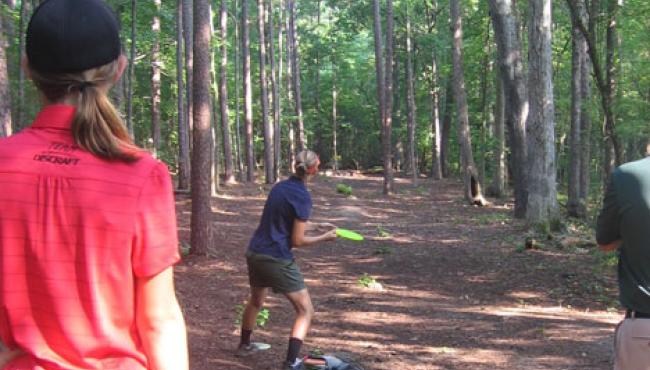 The 2012 PDGA Disc Golf World Championships officially began with the Opening Ceremonies on Monday night, July 16, and the tournament in full swing on Tuesday. 
Between the myriad of excellent speeches, "Crazy" John Brooks was especially inspirational as he talked about the heartbeat of disc golf right in that very room, referring to the disc golfers as what makes the sport as great as it truly is, while President of the PDGA Board of Directors, Rebecca Duffy, sang a beautiful rendition of the National Anthem.
PDGA members from each country with players competing in the Worlds carried their respective flags down the aisle to the podium, proving that disc golf has quickly spread across the globe. Just a few of the many nations represented include Sweden, Finland, Germany, France, Japan, Norway, Australia and New Zealand. Later this week, two PDGA members will be inducted into the Hall of Fame, including Jeff Homburg of Tucson, Arizona and Bob Gentil, here all the way from New Zealand. 
Following the Opening Ceremonies, players had just a little time to relax and hang out before the main event got underway, and it started off in a big way Tuesday morning with four Women's World Champions.  2011 Pro Women's World Champion, Paige Pierce, three-time Women's World Champion Valarie Jenkins, 2010 Pro Women's World Champion, Sarah Stanhope Cunningham, and three-time Pro Women's World Champion, Des Reading took to the Idlewild Park Disc Golf Course just outside Charlotte in Matthews, North Carolina.
The women may have had a slight advantage playing earlier the day, and before the most intense heat of the sun really came out. It also helped that the course included lots of wooded areas for cover to keep the extreme temperatures from being as bothersome while they tried to make some tough shots. Unfortunately for Valarie Jenkins, she lost a disc in the water on a rather difficult Hole #9, where a lake comes into play. 
At the end of the day, it was both Pierce and Jenkins who came out on top of the four, with a final score of 3-under par, while Cunningham finished with a score of even par and Reading ended at 3-over par.
Overall in the women's open division, 2012 Masters Cup NT winner, Sarah Hokom, currently has the lead with a final score of 9-under par. Five-time Women's World Champion, Elaine King follows at second place scoring 6-under par and Jessie Westphal of Shoreline, Washington is at third with a final score of 5-under par today with Jenkins and Pierce tied at fourth place. The 2011 PDGA Rookie of the Year, Catrina Allen, is currently sitting in a four-way tie for fifth place with Melynda Apton, Courtney McCoy and Melody King.
While it's still early in the game, we could end up with a surprise winner in the Women's Open division this year.  Who will be the 2012 PDGA Women's World Champion?  At this point anything could happen, but there is no doubt that all of these ladies are working extremely hard and have an amazing dedication to the sport of disc golf.