Worlds Leaders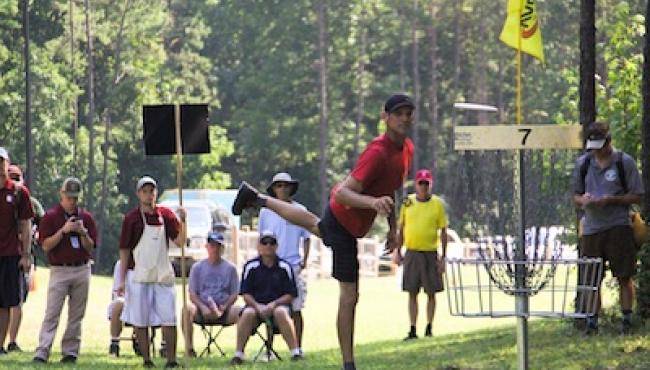 Michael Johansen has been the talk of the town in Charlotte, and he managed to hold onto to his lead in the Men's Open division Thursday, currently sitting at 44-under par, but Paul McBeth is now just one throw behind him while Ricky Wysocki and Cale Leiviska are right on his heels at 40-under par. Just behind them is Will Schusterick at 39-under par.
McBeth is doing an amazing job and could very well be a surprise winner here, although at this point the World Championship title is still almost anyone's to win.  McBeth officially relocated to Clearwater, Florida, but he's spent very little time there as he's been touring all over the country. He captured a big victory at the "Steady" Ed Memorial Masters Cup in May as well as the prestigious Memorial Championship held in Arizona late this winter. 
I asked McBeth if he did anything different to prepare for the Worlds and he remarked, "I really focused on being healthy. I've been dealing with some injuries for the past month and a half, but being healthy for the Worlds has been key so far."
2009 World Champion Avery Jenkins is still experiencing difficulties, as many players are, with the high temperatures. He posted on Facebook this afternoon, "Extreme Heat + 100% Humidity + Wooded Disc Golf Courses = Loss of Patience and Focus for me this week!!" Jenkins is currently at 21-under par.
In the Women's Open division, there was a lot of drama going on today at Bradford Park.  Hokom has remained solid and continues to be on the top of her division at 21-under par. On Thursday afternoon, Valarie Jenkins really gave her a run for the money, coming as close as four throws, but by the end of today's rounds, Hokum came out six throws ahead with Jenkins at 15-under par.  This is the first major that Hokum has ever had the lead on; if she can manage the pressure, she's likely to take it all, but Jenkins is definitely a difficult player to beat and is looking for her fourth world title. 
Especially impressive was Courtney McCoy. McCoy has not played disc golf for six years, yet she's currently sitting at third place in the Women's Open division at 9-under par. She went into Hole #12 at 11-under but suffered some bad luck this afternoon with her disc catapulting 40 feet ahead, and ultimately rolling into OB.  As she attempted to throw it out, McCoy fell, making things even worse, ending up with an eight on the hole in the end. What was impressive, as Rebecca Duffy noted, was that she gathered herself on the next hole for a birdie and had some other great shots throughout the rest of the round. 
Hole #12 may be the nemesis of more than a few players, as Catrina Allen unfortunately lost her disc in the water there and lost another one in the same pond as well, including one of her "go-to" discs. Allen is currently at 8-under par in fourth place, and doing an amazing job especially considering this is really her first year as a pro.
Over in the Master's division, Kenny Climo also holds onto his lead at 50-under par, while Barry Schultz remains in second, but fell six throws behind. JohnE McRay keeps his third place rank at 43-under par. Climo is doing his best to keep to his word to become the "greatest Masters Champion ever to play the game."
Will McBeth continue his momentum and overtake Johansen, can Schusterick orWysocki come through in the end, or will Johansen hang on to become the 2012 World Champion? Can Hokum hold up to the pressure and capture her first world title or will Jenkins grab her fourth? Will Climo begin yet another winning streak in the Master's division or will Schultz deny him the pleasure?
So many questions, but this Saturday we'll finally get all the answers when the 24 World Champions are crowned.
Written by: K.C. Dermody
Photo Credit: Lauren E. Lakeberg