BG Ams Day One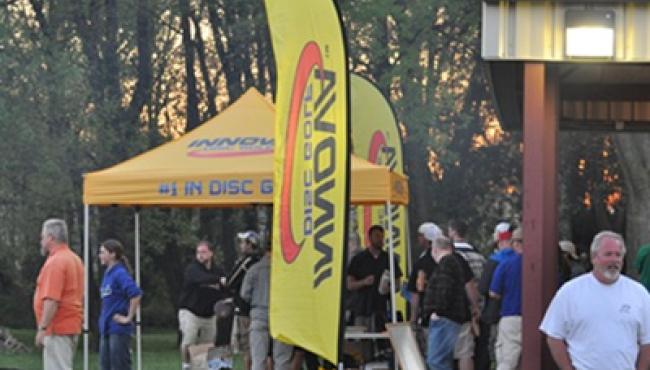 The Amateur Championship at Bowling Green officially started today at 2pm Central time. There were over 450 amateurs in attendance representing 28 different states. Bowling Green is an ideal place to host an event of this magnitude because of the ideal geographic location (approximately 65% of the US population is within a day's drive) and the fact that it has more than a dozen courses capable of challenging the country's top amateurs.
The weather was sunny and beautiful today. It may have been cool during parts of the day but the scores were hot and the aces were abundant. There were a total of four aces recorded today two were by Advanced players Clayton Drake (Metropolis, IL) and Macky Owen (Gallatin, TN) in the B pool. The other two aces were actually handed in by two players on the same card by Jerry Williams (Brownsville, TN) and Drew Dickerson (Louisville, KY) who where competing in the Recreational division.
Matt Travis of Park Forest, Illinios is leading the Advanced divsion and turned in an amazing 10-under round at Kereiakes. Matt's round comes in unofficially at 1051 along with eight other 1000+ rated rounds.
Tonight was Manufacturer's Night where players were able to meet the disc manufacturers, pick up player packages if they haven't done so yet, and take advantage of a great free meal. Tomorrow is The Vibram Moving Day which promises to have plenty of drama and excitement. Keep checking PDGA.com for scoring updates, coverage, and photos from the event.
Links
Amatuer Championship at Bowling Green Leaderboard
Photo Galleries
Official Event Website
DiscGolf365's On the Road Coverage from the Amateur Championship at Bowling Green