2009 PDGA Tour Announced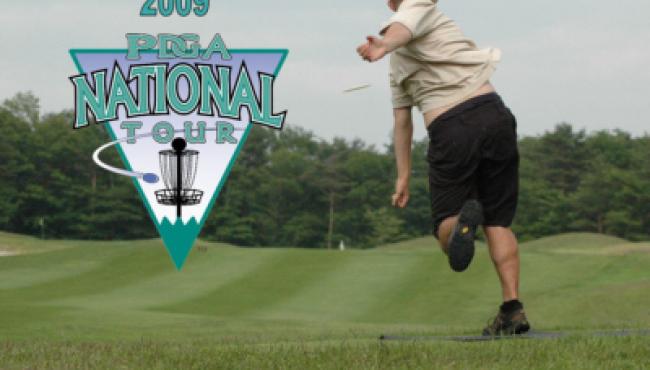 The Professional Disc Golf Association (PDGA) is proud to announce its 2009 schedule of eight Major, 10 National Tour and 52 SuperTour events.
The schedule will soon grow to almost 1000 events as the lower-tiered tournaments choose their dates. The major event schedule is highlighted by the 28th Annual Disc Golf World Championships in July in Kansas City, the European Open in Tampere Finland in August, and the 11th United Stated State Disc Golf Championship in Rock Hill, South Carolina in October. The PDGA sanctions events in 47 states, 3 provinces, and 17 other countries.
As more events are sanctioned, find them at
http://pdga.com/tour-schedule
2009 is shaping up to be yet another record breaking year for the PDGA and the sport of Disc Golf. We look forward to your participation and to seeing you all at an event near you!
2009 Major & National Tour Schedule
Date
Tier
Event

Location

Mar 5-7

NT

The Memorial presented by Discraft

Scottsdale, AZ

Mar 14-15

M

PDGA Amateur World Doubles Championships

Wimberley, TX

Mar 28-29

NT

Atlanta Open

Cumming/Roswell, GA

Apr 25-26

NT

Green Country Open

Pawhuska, OK

May 15-17

NT

Steady Ed Memorial Masters Cup

Santa Cruz, CA

May 22-24

NT

Beaver State Fling

Portland, OR

Jun 12-14

M

United States Amateur Disc Golf Championship

Milford, MI

Jun 19-21

NT

Minnesota Majestic

Twin Cities, MN

Jun 26-28

NT

Kalamazoo

Kalamazoo, MI

Jul 10-12

NT

Brent Hambrick Memorial Open

Columbus, OH

Jul 17-19

NT

First Class Challenge

Des Moines, IA

Jul 27-Aug 1

M

PDGA Pro/Am Disc Golf World Championships

Kansas City, MO

Aug 14-16

NT

The Vibram Open at Maple Hill

Leicester, MA

Aug 27-30

M

European Open

Tampere

Finland

Sep 11-13

M

United States Masters Disc Golf Championships

Los Angeles, CA

Sep 18-20

M

United States Women's Disc Golf Championships

Quad City, IA

Oct 7-10

M

United States Disc Golf Championship

Rock Hill, SC

Nov 20-22

M

The Players Cup

Crystal River, FL
2009 PDGA SuperTour Schedule
| | | | |
| --- | --- | --- | --- |
| Date | Tier | Event | Location |
| Feb 14-15 | A | La Vie en Rose | Live Oak, FL |
| Feb 27-Mar 1 | A | Gentlemen's Club Challenge IX | Las Vegas, NV |
| Mar 5-7 | A | The Memorial presented by Discraft | Scottsdale, AZ |
| Mar 13-15 | A | St. Patrick's Classic | Orangevale, CA |
| Mar 14-15 | A | 26th Dogwood Crosstown Classic (Amateur) | Raleigh/Zebulon, NC |
| Mar 14-15 | A | Melbourne Open | Melbourne, FL |
| Mar 21-22 | A | St. Patrick's Classic | Orangevale, CA |
| Mar 21-22 | A | Carolina Clash | Charlotte, NC |
| Apr 3-5 | A | Bowling Green Amateur Championships | Bowling Green, KY |
| Apr 4-5 | A | 14th Texas State Championships | Missouri City, TX |
| Apr 18-19 | A | 7th Glass Blown Open | Emporia, KS |
| Apr 18-19 | A | Texas Women's Championship | Round Rock, TX |
| Apr 25-26 | A | 26th Dogwood Crosstown Classic | Raleigh, NC |
| May 1-3 | A | Steady Ed Memorial Amateur Masters Cup | Santa Cruz, CA |
| May 2-3 | A | Alabama Disc Golf Championship | Athens/Huntsville, AL |
| May 2-3 | A | Red Hawk Amateur Championship | Crystal River, FL |
| Jun 6-7 | A | Disc 'n Dat Bluegrass Open | Independence/Burlington, KY |
| May 16-17 | A | Greater Milwaukee Open (Am only) | Milwaukee, WI |
| May 16-17 | A | CCR Open | Lansing / Grand Ledge, MI |
| May 23-24 | A | Virginia Open (Pro only) | Spotsylvania, VA |
| May 30-31 | A | Disc Golf Hall of Fame Classic | Appling, GA |
| May 30-31 | A | Greater Peoria open | Peoria, IL |
| Jun 6-7 | A | Aspen Sports Treebash Open | Flagstaff, AZ |
| Jun 13-14 | A | High Plains Challenge VI | Fort Morgan, CO |
| Jun 13-14 | A | Discraft Great Lakes Open (Pro only) | Dexter, MI |
| Jun 19-21 | A | Minnesota Majestic | Twin Cities, MN |
| Jun 20-21 | A | Solstice Summer Sizzler | Birmingham/Trussville, AL |
| Jul 4-5 | A | Ft. Steilacoom Open | Lakewood, WA |
| Jul 11-12 | A | Brent Hambrick Memorial Open | Columbus, OH |
| Aug 8-9 | A | Scholl's Bicycle Center Pittsburgh Flying Disc Open | Portersville/Warrendale, PA |
| Aug 8-9 | A | Mad City Open | Madison, WI |
| Aug 21-23 | A | Full Throttle Challenge at Solitude Mountain Resort | Solitude, UT |
| Aug 22-23 | A | Cranbury Classic | Norwalk, CT |
| Sep 5-6 | A | Charlie Vettiner Strikes Back | Louisville, KY |
| Sep 5-6 | A | Northwoods Open @ Sandy Point Resort | Lac du Flambeau, WI |
| Sep 5-6 | A | West Virginia Open | Paw Paw, WV |
| Sep 5-6 | A | End of the Trail Classic 2009 | Visalia, CA |
| Sep 12-13 | A | Eric C. Yetter Champions Cup | Newtown, PA |
| Sep 12-13 | A | Colorado State Championships | Fort Collins, CO |
| Sep 19-20 | A | Augusta Classic | Augusta, GA |
| Sep 19-20 | A | Par 72 Fall Open at Telemark Resort | Cable, WI |
| Sep 26-27 | A | Hamilton Wildcat Springs Open | Hamilton, IL |
| Oct 3-4 | A | US Doubles Chamionship | Rock Hill, SC |
| Oct 10-11 | A | 2009 NorCal Series Championships | Auburn/Orangevale/Rocklin, CA |
| Oct 10-11 | A | Flying Eye Open (Am only) | Athens, GA |
| Apr 18-19 | A | NJCPR Lexington Open X | Lexington, KY |
| Oct 24-25 | A | 2009 Orlando Open | Orlando, FL |
| Oct 24-25 | A | Flying Eye Open (Pro only) | Athens, GA |
| Oct 24-25 | A | Oklahoma Open | Tulsa, OK |
| Oct 31-Nov 1 | A | 18th Veterans Park Open | Arlington, TX |
| Nov 7-8 | A | HOTT Final (Heart of Texas Tour) | Wimberley, TX |
| Nov 14-15 | A | Moccasin Lake Open | Clearwater, FL |