USDGC Preview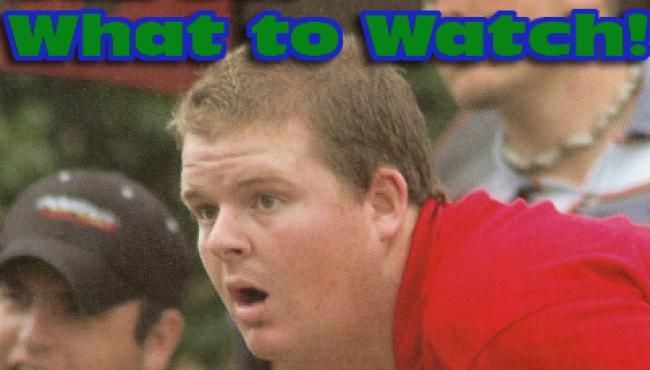 No one can ever really know what storylines will emerge during this year's 2009 USDGC.

  But here is a guide for you to consider, as we bring you LIVE IPTV Coverage of this event October 7-10 from Rock Hill.

 
(Part 1 of 3)
As the United States Disc Golf Championship now enters into its second decade, great anticipation is building to see how the 2009 edition of disc golf's most prestigious event will unfold.  The talent pool is as big as it has ever been, which makes predicting the tournament's outcome difficult, at best. 
But that will not keep us from drawing upon ten years of lessons from Rock Hill to provide guidance on what is most intriguing about the Championship, and what may determine the storyline in 2009. 
Here is the first of a three part series of what we will be watching out for as our Live IPTV broadcast of the 2009 USDGC unfolds. 
 >>>>>>>>>>>>>>>>>>>>>>>>>>>>>>>>>>>>>>>>>>>>>>>>>>>>>> 
Make sure to Register to Watch Live IPTV Coverage of the USDGC October 7-10. 
It's time for the disc golf world to step up and show the world that, after a great foundation being laid by the Vibram Open and their Webcasts for the last two years, we care enough about growing our great sport to support this historic IPTV broadcast.  You can REGISTER WITH DONATION at http://www.todocast.tv/pdga. 
You can also register to watch the event for free at http://www.todocast.tv/pdga/nodonation. 
>>>>>>>>>>>>>>>>>>>>>>>>>>>>>>>>>>>>>>>>>>>>>>>>>>>>>>  
The Risk-takers
The Winthrop Gold course is fraught with hazards and penalties throughout it's nearly 9800 feet layout.  Besides the lake that especially comes into play on holes 5 and 17, the USDGC staff has been quite innovative by installing thousands of feet of string around the course creating narrower fairways and hazards that the players have to consider at almost every turn.  Many of the top pros will tell you that their primary objective is to avoid any OBs during the round, but that is clearly easier said than done. 
Yet, many of the young guns play such a fearless brand of disc golf, they almost always will go for shots that more experienced veterans may shy away from.  Nikko Locastro and Matt Orum and a growing number of others often defy conventional wisdom with their "diesel" style of disc golf.  These are the players that may be generally categorized as "risk-takers."  They emanate supreme confidence and a "take no prisoners" approach to almost every shot.  Indeed, their talent levels may warrant very aggressive play on most courses in America, but the Winthrop Gold challenge is a far cry from most other courses in America. 
One thing we will be watching are the "risk-takers" at this year's USDGC.  It may come down to a single throw, or it may be exemplified throughout an entire round.  But what will be most intriguing is whether the aggressive, risky disc golfer will be rewarded with a US Championship this year, or whether the player with one foot on the accelerator and one foot on the brake, when needed, will find their way into the winners circle. 
"888"
For some the number 13 is a lucky one.  But for players at the USDGC, the number 13 adds up to another number…888.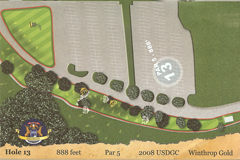 The legendary hole 13 at Winthrop Gold is where good rounds frequently go to die during the USDGC.  Located along the furthest part of the property around the Winthrop University Coliseum, hole 13 has been approached from more angles than a protractor during geometry class.  Hyzers.  Skip shots. Straight shots.  They have all been tried to gain "888's" sliver-like, tree-lined fairway along the parking lot.  Yet even if players do manage to get their first tee-shot (or third-one) in play, they are then faced with the dilemma of throwing another, shorter fairway drive and again landing in play.  For our best disc golfers, the third shot is then the one where they go for the basket located on a triangle of grass disconnected from the stretch of green they have just navigated.  Many are thrilled with a par-saving five, but it is not uncommon to see cards inked-up with double-digit scores on this hole. 
What we will be watching for is how our top USDGC competitors drive, approach, and putt on "888."  With five holes remaining after this extreme challenge, it is important for any hiccups to be quelled quickly.  How players cope with success (or failure) on hole 13 could make all the difference to whomever is going to be crowned champion of the 2009 USDGC.