Gurthie Leads SSS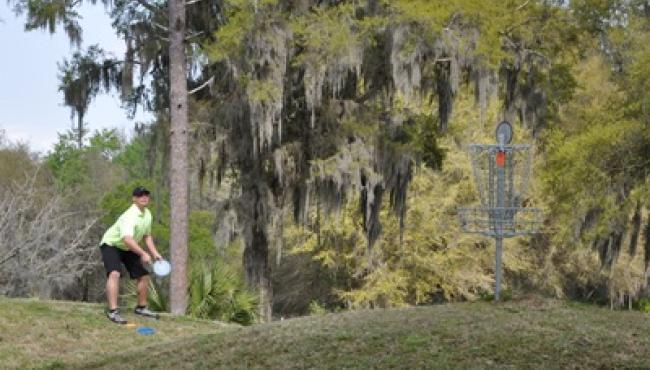 Gurthie Finds a Balance between Work and Disc Golf; Grabs Lead at Shootout
by Dr. John G. Duesler, Jr.
The Sunshine State Shootout is living up to its name, as Garrett Gurthie will carry a tenuous lead into the final 24-hole round tomorrow at the Pine Oaks course in Ocala, Florida.  Gurthie has five of the top disc golfers in the world all within two throws of him, but does not seem to mind.
"I'm really out here to have a good time and show some good sportsmanship," Gurthie said after his second round best score of 71 put him in the lead.  "Living only 30 minutes away from the course has helped too, since all my friends and family are rooting for me when I go home each night."
But having the world's best disc golfers come so close to his home to compete in a sport he loves is a motivating factor for Gurthie too, who admitted that he has only played about 7 or 8 rounds throughout the entire year so far.  Gurthie did take advantage of the one thing that he is known for in disc golf; his distance throws.
"The difference today was my driving most of the holes," Gurthie explained.  "I was throwing 80-100 feet further than most of the people in my group, which helped me get to the holes easier.  I did have a putting error on hole one, but I'm finding that keeping a positive attitude has helped me more than getting upset, like I did when I was a younger player," Gurthie said.
Unlike most of the other players chasing him, Gurthie is not a touring pro.  Indeed, he spends most of his time as a postal center worker near Gainesville, where he works full-time handling packages.  Gurthie believes that combining his work and play helps him stay positive on the course.
"I think having a job helps me keep a balance, so that I don't have the same pressures as most of the great players on tour," Gurthie smiled.
Those great players include Nate Doss, who is only one throw off Gurthie's pace, and four other players, including Nikko Locastro, David Feldberg, Ken Climo, and first round leader, Michael Johansen, who are all only two throws out.  He knows that tomorrow will still be a challenge, but the Pine Oak course they will play again tomorrow feeds into his strength.
"I'm approaching tomorrow the same way I did today; with my drives," Gurthie predicted.  "That will help me keep my putting down, which is the hardest thing to regain when you haven't played too much."
If Gurthie can continue to airmail the disc as close the basket as he did today, then he will reach First-class status in the disc golf world by winning the PDGA's second National Tour event of the 2010 season.  And that is a prize he would be glad to deliver personally to his home town fans right up the road. 
Tune in tomorrow at 12:30pm ET for live scoring and see who wins the Sunshine State Shootout!
---
Links

Sunshine State Shootout Leader Board
Sunshine State Shootout Photo Galleries
Sunshine State Shootout Official Website