Major Battle
A trans-Atlantic battle royale is taking shape at the halfway point of the Stockholm Discgolf Open presented by Latitude 64. USA's Cale Leiviska shot the low round today in windier conditions, a 6 down 57 and he will have the box when the lead group tees off tomorrow afternoon.
Tied with Cale for first at minus 10 are Sweden's Anders Swärd and American southpaw Devan Owens, both of whom delivered their 2nd straight round of 58 today. Rounding out the top card will be another Swede, Markus Kallström. He sits a mere one stroke off the pace as does 1st round leader Will Schusterick. All the other top USA and Euro contenders have more work to do, with 3 time World Champ Nate Doss next best at 6 down and 4 back.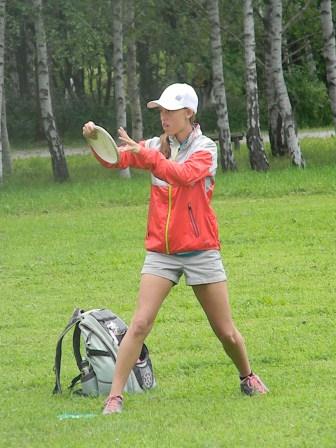 Among the ladies, Paige Pierce continues to dominate, having shot her 2nd straight better than World Class rated round today, a +2 65. At plus 1 overall, Paige is ahead of 85% of the deep Open Men's field. She holds a commanding 9 throw advantage over Val Jenkins, who has played solid 978 rated golf herself, with local favorite Ragna Bygde a further 6 strokes off of Ms. Pierce's torrid pace.
The tightness of the men's battle – there are 16 players within 7 shots of the lead – is testimony to the design of the Major Course at the Järva Discgolf Park. With the bulk of the holes being tough par 3s and long challenging par 4s and 5s, birdies are at a premium and bogeys or worse are always only a heartbeat away.
With 36 holes and a smorgåsbord of shots to be played, be sure to join us tomorrow as the battle for the titles of 2012 PDGA Euro Major men's and women's champions intensifies. You'll find USDGC style "every 6 holes" live scoring at the event website www.sdgo.se in addition to our coverage at www.pdga.com.