Small Town, Big Impact
Small Town, Big Impact
Glass Blown Open brings economic, cultural prosperity to Emporia, Kansas
Tuesday, April 24, 2018 - 21:33
What started out a decade and a half ago as an 88-person B-Tier is now the biggest event in disc golf history. And with that distinction comes another accolade for the Dynamic Discs Glass Blown Open, which takes place this week in Emporia, Kansas: It has a nearly $2 million impact on the city it calls home.
According to Emporia Convention and Visitors Bureau Director Susan Rathke, that figure factors in lodging, entertainment, food, and transportation for the throng of sports tourists that descend upon the Central Kansas town. The GBO's continued growth – the tournament is now a week-long affair, headlined by the three-day PDGA National Tour event from Thursday through Saturday – has put it on par with the city's other main outdoor attraction: June's Dirty Kanza bike race.
"This is not just a baseball game," Rathke said. "There's the block party and so much more involved in all the extra events. So it's really, to me – I think it's gonna be pushing close to 2 million."
Emporia hotels, and their 700 beds, have been sold out for months. Campgrounds are ripe with tents and RVs. The Airbnb market is dried up, forcing some players to stay an hour outside of town. For a city whose population normally sits just under 25,000, the influx of participants stands out.
"It's crazy the amount of people that you can tell the difference from when the GBO and the Dirty Kanza are here," said Saundra Hays, director of sales for the Avasté Hotel Suites & Convention Center. "The difference in our population just doubles." The Avasté, specifically, fills up all 90 of its rooms, which is outside the norm.
"It triples our occupancy, which is great for us because we're a newly renovated hotel," Hays said. "So it's perfect."
The increase in population isn't just noteworthy for the impact to the bottom line, though. With participants hailing from 44 states – only Hawaii, Maryland, Montana, Rhode Island, Vermont, and Wyoming are not represented – and 10 countries, the opportunity to meet new people and embrace diversity was appealing to Hays.
"There's people from Sweden, Estonia – they're from all over, and that's great because Emporia's definitely – we have culture, different cultures," Hays said. "But we don't have those type of cultures, and it's nice to see that."
Indeed, Emporians have opened their doors, and their hearts, to make everyone feel welcome. Rathke recalled the story of a Swedish player who showed up in Kansas after being pickpocketed while on a layover in England. He arrived with enough money to pay for the first night of his hotel stay, but after that he was connected with a local church, who set him up with a host family for the rest of his journey.
"We kind of came to the rescue of this guy, and how awesome is that that we could help him?" Rathke said. "He's here to live out his dream, and we're thrilled to pieces…We all just about needed a Kleenex."
An Emporia local who has shepherded the tournament to its current level, meanwhile, is grateful for the city's partnership. 2010 PDGA World Champion Eric McCabe, who took over the GBO in 2003 after a successful run as the Emporia Open, called the evolution of the event "mindblowing." The Convention and Visitors Bureau now has a dedicated section for disc golf on its website, and town authorities were the ones behind the two billboards that greet visitors driving in on Interstate 35.
"What I respect is that the city is not just…taking the money in and not doing anything for disc golf," he said. "They are doing everything in their power for disc golf in this community."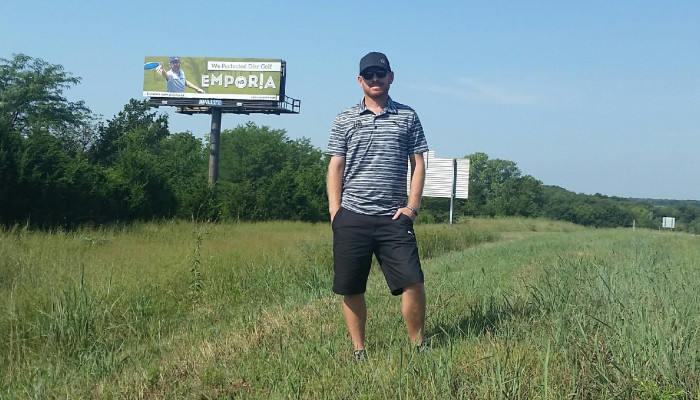 And it seems as if the event has not reached its peak. Jeremy Rusco, who started Emporia's Dynamic Discs from his college attic in 2005 and began supporting the GBO in 2008, said more hotels are in the works, and that the potential to add another course in 2019 would mean another 184 players can flock to America's heartland. "It absolutely can keep growing," he said.
Emporia has proven that it can handle the increased traffic without losing its charm. "It's a place where everybody feels comfortable," Rathke said. "This is our town."
But the door is always open to disc golf.