Setting the Stage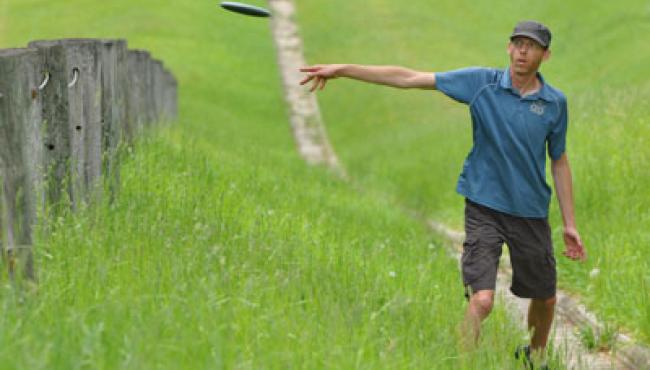 The Toboggan Course, located in beautiful Kensington Metropark in Milford, Michigan is one of the game's most challenging. Because it is temporary and usually only available for play once a year for the US Amateur Disc Golf Championships, the rough is rough and the holes are long.  This complex doubles as an actual toboggan run and ski area in the winter, hence the dramatic elevation changes.  At a modest par 62, sometimes breaking par is difficult enough.  Add in the occasional light rain shower, and it could be a recipe for disaster.  But not today.
The last time the pros had a chance to tackle this monstrous track was in 2007, and the game was entirely different.  So many new manufacturers and disc models have been released, and with discs getting faster and longer, it is no surprise that the course was a little friendly.  The holes become a little shorter and more manageable, putts get shorter, and all of a sudden, you've just shot the course record.  At least that's what Ricky Wysocki did today.  Shooting an incredible 51, 11 strokes below par, Ricky continued his impressive play this year by playing smart and taking chances when he was supposed to.  Right behind Ricky at -10 (tying the previous course record) sits Devan Owens, who recently took second in the Copenhagen Open, a PDGA Major in Copenhagen, Denmark.  Will Schusterick is two back, and Alabama's Matt Orum and Garrett Gurthie are also in the chase at -8.  With a star-studded field nipping at their heels, it's still anyone's game, especially at the Toboggan course.
The Open Men's division is actually the only group that has a single leader.  All of the other three divisions have a tie for the lead.  In the Women's division, Sarah Hokom and Paige Pierce are knotted up at the top of the leaderboard.  Lurking behind them and only two strokes back is the dangerous Catrina Ulibarri.  In the Master's, a four-way tie at three under par between George Smith, Phil "the Natural" Arthur, Jon Baldwin, and Jeff Bauman surely calls for some Sunday afternoon drama.  And in the Grandmaster's groupings, a pair of Michael's stand above the rest.  Michael Cloyes and Michael Sullivan were on top of their game today, tackling the Toboggan run at even par.
With every division this close, it's still way too early to decipher who will come out on top of the 2013 Discraft Great Lakes Open.  A win will certainly bring with it a charge in the standings for the National Tour Drive for the Championship presented by Vibram.  Be sure to check in throughout the weekend for live scores on pdga.com.  For a complete listing of the current scores, click here.  And to see photos of today's disc golf action, check out the PDGA Tour Flickr page.  Stay tuned; this will be a close one!