Schusterick Wins Second U.S. Title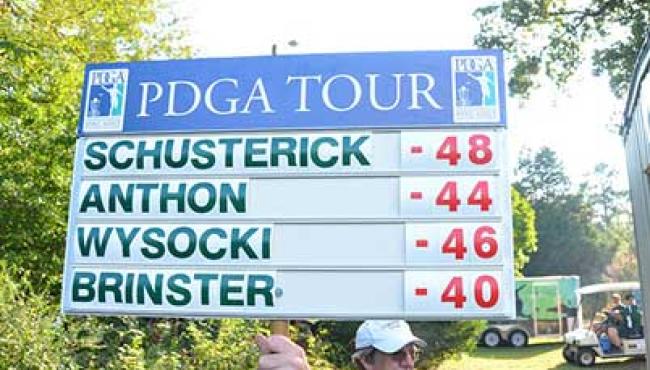 For the first time since 2007, the USDGC has a repeat champion. Will Schusterick of Nashville, TN, can boast Championship crowns from 2010 and now 2012 after outlasting Ricky Wysocki by two strokes on Saturday.
This time Schusterick had several members of his family in attendance including his mother, sisters and grandparents. "There's no better feeling in the world than to have family there as I succeed," said Schusterick.
Tied with Monday Qualifier Josh Anthon at the start of the day, the round ended up becoming a battle between Schusterick and Wysocki, who tied Schusterick for Saturday's round with a 55 (-13).
Others finishing well included third place Anthon (-44), fourth place Paul Ulibarri (-41), and tied for fifth at (-40) were 2009 US Champion Nikko Locastro and Steve Brinster.
This week Anthon turned a lot of heads with his play, which was impressive from a guy who has only played two PDGA tournaments this year.
Going into Hole 17, Schusterick had a two stroke lead over Wysocki, however the Stockholm Open Champion left himself a lengthy putt after landing safely on the treacherous island green.
When Schusterick missed his birdie putt, Wysocki had the chance to narrow the lead to one going into the last hole after his side arm landed within makeable range.
However, Wysocki missed, hitting the chains wide left to the shock of the crowd.
Wysocki was devastated. He took extended moments by himself on 17 green, and then again on the tee of 18 to think things over and regroup. "I definitely wasn't done yet. I still wanted to birdie (Hole) 18 to put the pressure on," said Wysocki after the round, adding that he'd battled all day and he planned on continuing.
Looking similar to 2010, Schusterick then threw four safe shots as Wysocki could only score par.
It didn't take long for Schusterick to get going on Saturday. After a birdie on the first hole, he made a spectacular fairway ace for eagle on Hole 2 that gave the crowd a hint of the show that was in store.
Wysocki steadily climbed his way back, though. Past the midway point, on the par 5 Hole 13 (888'), Wysocki threw a laser of a third shot across the parking lot bordering the green and nailed the eagle to tie it up.
Wysocki said prior to that throw he had the momentum in his favor and had just seen Schusterick land close for a likely birdie. "He parked it, so I had to do something," said Wysocki and he certainly did.
But Schusterick was just too much. After Hole 15, Schusterick was up by one and took another stroke on the following hole to face Hole 17 with a two stroke lead.
It appears Schusterick just knows how to play Winthrop Gold.
"Feels like my home course. I've said that since the second year I came here," said Schusterick.
Performance Flight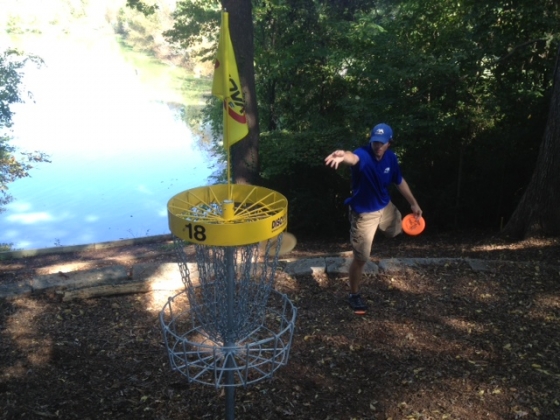 Four rounds of Jared Neal of Alabama was just too much for the rest of the Performance Flight field as the 963-rated Neal cruised to a seven stroke victory during Saturday's final round.
When asked how his win felt Neal replied, "It feels really good. I don't think it has set in yet."
Roman Korol of Illinois and Kevin Tritten of N.C. both ended up beating their projected by 30 strokes for the tournament. Second went to Korol since he beat his projected more than Tritten did for the final round.
Kyle Maute of Colorado finished fourth beating his projected by 25 strokes for the tournament.
Korol, a first-time USDGC competitor, who was able to calm himself after a shaky start on Saturday, is ready to come back next year after soaking in all of the USDGC's amenities and playing on the same course as so many big names.
"I tell my friends that this is like going on a cruise for disc golf," said a smiling Korol, who beat his projected 78 by 9 on Saturday.
Tritten, who wasn't able to find the same sweet stroke from Friday, still enjoyed himself and was sad to see the tournament end as the lead group played the final holes.
"Do we have to throw this hole? I don't want to quit," said Tritten prior to Hole 18.
Tritten beat his projected score of 82 by 4 strokes on Saturday.
Univ. of Alabama Huntsville disc golf coach Lavone Wolfe, who coaches Neal, had high praise for him.
"Just a great kid. Truly an inspiration to me. His work ethic is just incredible," said Wolfe.
His aggressive yet relaxed playing style never changed throughout the week, even during the last round when some players may have dialed it down to preserve a lead.
"If what I'm doing is working then there's no point in changing it," said Neal.
For many instances the shots that Neal pulled out of his bag looked just as good as the shots coming from the Open Flight – a Flight we may see Neal play in the near future.
"The most exciting thing was when they (Open Flight competitors) asked me what I shot for the round. That's definitely the biggest highlight of the tournament, second to winning," said Neal.
Written by: Todd Harrell