Save Jarva DG Park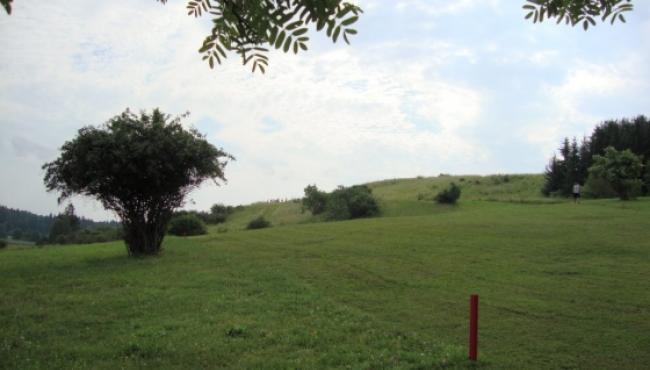 A Cemetery at Europe's Premier Disc Golf Course?
Burial Ground Threatens to Destroy Spectacular Järva DiscGolf Park - Stockholm, Sweden
By K.C. Dermody


Would you want your grandmother buried in a land fill? That is the question asked by brothers Mats and Jonas Löf who painstakingly transformed an area that was a dumping ground for rubbish, and a place where drug addicts indulged their habits, and turned it into a work of art. Through their efforts, all of the debris and tall weeds were cleared and it was transformed into a beautiful eco-friendly environment for sports and other recreation.
Järva DiscGolf Park has become one of the most important disc golf courses on the planet, and yet its future is threatened by potential plans to build a cemetery on the land where the park is located. The course has been the home of the Stockholm Open for the last 16 years, the largest disc golf event in Europe, with players coming from around the world to play here.
This spectacular park will likely suffer from substantial deterioration due to the planned cemetery. An architectural competition is going on for the new cemetery and the area of Järva DGP is a part of the competition area. In the worst case there will be bad implications in the near future and even risk for closing the course in the long term.
If the area becomes a burial ground, the people who are laid to rest would actually be entombed in garbage and filth. That is not the place I would want my loved ones to go when they are gone. As it is now, the park offers the opportunity for those who come, to enjoy outdoor recreation and a chance to play one of the fastest growing sports in the world, disc golf.
Disc golf is one of the few inexpensive and accessible sports that also fits well into the culture by combining the activity with nature in a unique and environmentally friendly way, and thousands of people come to Järva DiscGolf park each year.
Disc golfer Erik Gustafsson says, "I have played at three courses in Stockholm and Järva is the best one to bring friends to whom have not played before. It's such an easy course for beginners, and I've seen entire families come to play, but it's also a very versatile and tricky course for people who have played for a while. It has something for everyone. I have played for about 9 years and JDGP is far the best course in all categories combined. It's a really beautiful landscape with lots of variations... it's really accessible both by car and by walking distance from public transportation as well."
Disc golf is a great way to keep kids focused on a healthy activity, instead of getting into trouble. If this park is destroyed, what will happen to the teens who played here, and the children who couldn't afford to play more expensive sports? They are far more likely to turn to unhealthy activities that so often happens when teens are bored.
Disc golf is also a sport that is easy to learn, inexpensive, and offers a wealth of physical and social benefits to those who participate, and it's a physical activity that people of all ages can take part in.
The Järva DiscGolf Park was the realizations of a dream come true for Mats and Jonas Löf. They had the idea for the course after spending time at disc golf courses all over the world, and saw that many were not well maintained. The park is located in northern Stockholm on a hill that was made of land fill in the 1970s. The new area had potential to be transformed, but they were also well aware of the hard work and money that it would take to do it.
Through the efforts of the Löf brothers, in addition to a monetary contribution from the state and the Swedish Frisbee Association, the course became a reality in 1995.
In 2011, the Stockholm Open was played there, and as every year for the past 16 years, top professional disc golf players came from all corners of the world to compete on the Järva DiscGolf Park course, including Americans Nikko Locastro, Paul Ulibarri, David Feldberg, Paul McBeth, Will Schusterick, Paige Pierce, and many others.
Top European professionals, Sweden's own Markus Källstöm and Emil Dahlgren, and Finland's Seppo Paju were also in the competition this year.
The disc golf course and park are the best use for this magnificent land that is certainly not fit as a burial ground. If you haven't had a chance to experience it, I encourage you to watch this video produced by Jonas Löf. Here, you'll see for yourself what a tragedy it would be if the course was allowed to deteriorate and ultimately be destroyed forever.
Mats and Jonas have begun an effort to save the course along with the Professional Disc Golf Association (PDGA), and disc golfers from around the world. You can join their efforts to save the course through facebook. Erik Gustafsson has also started a Google+ page to save the park, and more information can be found on "Save Järva Discgolf Park Sweden."
Let's all work together to save this one of a kind park and disc golf course. It may take people from all over the world to prevent its destruction, but I believe it can be done.



The first time K.C. Dermody played disc golf was in the spectacular Black Hills of South Dakota. She has since become addicted to the sport, and enjoys playing in the beautiful Pacific Northwest, and promoting the great sport of disc golf throughout the world. She is freelance writer published on Yahoo! Sports, Yahoo! News, and is working on a historical fiction novel based in ancient Ireland.