Pierce, Allen Ready For Familiar Final Round Scenario
Pierce, Allen Ready For Familiar Final Round Scenario
Top pair again tied heading into Sunday
Sunday, February 25, 2018 - 09:25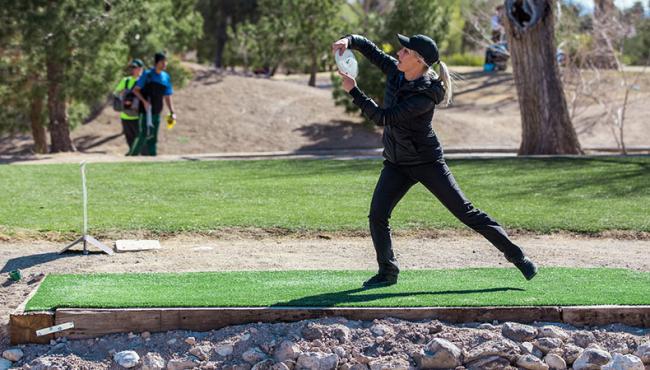 HENDERSON, Nev – An inconsistent day of scoring here at the Adidas Terrex course led to a familiar scenario for the final round of the Las Vegas Challenge: Like so many times before, Paige Pierce and Catrina Allen are tied atop the leaderboard and headed for a Sunday showdown.
Pierce's 2-over par 64 and Allen's 4-over par 66 brought them to a dead heat at 4-over after three days in the desert, while Sarah Hokom lobbed her own 2-over par to remain in third place with a 6-over par 187 overall. Jennifer Allen's even-par Saturday was the best in the field and represented the biggest moving day climb in the standings, as she jumped up four places to secure the last spot on today's final round lead card.
Pierce, who was outdriving her cardmates by more than 50 feet at times, could not take advantage of her distance on the longest of the three tracks here at Wildhorse Golf Club: Though she landed in the fairway on 63 percent of her shots, she two-putted six times and three-putted on hole 16 after her hillside bid rolled away. That misfortune saw her slip from a possible birdie all the way to a bogey, one of four she carded on the day.
The defending Las Vegas champion couldn't pin her performance down to one area of improvement. Instead, she experienced a mix of hiccups throughout the round.
"For me, it wasn't like my putting or my driving – every hole it was one of the shots, so I couldn't just put a good hole together," Pierce said. "I'd have a good drive and bad approach, or vice versa, and so that doesn't translate very well as far as birdies go. It was easy to find the pars and just kinda maintain."
Catrina Allen managed to find Terrex's out-of-bounds on five occasions, as numerous sand bunker hazards and OB golf greens protected baskets from aggressive approaches. Though she was frustrated with carding a triple-bogey 6 on the 378-foot 10th, she took it all in stride.
"It's kind of like a tweener course. Fortunately, I was scoring where I should have been, then I took a hundred that one time," Allen joked. "…I feel really fortunate to be where I am because I don't think I've played good. I don't feel like I played horrible [either]."
Jennifer Allen, too, lamented the range of distances on the track. With many holes falling between 450 and 500 feet, she felt that any advantages she had off the tee were negated by her approach shots only being shorter than those of her fellow throwers. Add in the OB golf greens, and she felt that many players were simply laying up.
Still, that practice may line up well for the final today at the Innova course: Allen said she would have to back off her preferred powerful style and instead be wise about biting off more than she can chew.
"Stay in bounds, find confidence in putting, play smart," Allen said. "Don't be aggressive, don't be aggressive. Don't try to play Jennifer golf, which is fun – not fun. Aggressive. My style is to go out and love to just rip shots…It's very difficult to say, 'OK, don't throw a driver on a 400-foot shot' and lay up."
Hokom, on the other hand, was less focused on laying up off the tee and instead played it safe around the basket.
"One of my goals is to take more risks this year, but I'm also like, man, an uphill putt inside the circle, I can't jump it, death roll-aways on the back side," she said. "It's not worth – I'm probably only like 35 percent on that putt anyway."
The top 40 percent of the field takes one more crack at the event this morning, leaving only three cards to traverse Innova's long fairways. Lisa Fajkus is tied for fourth place entering play, while Jessica Weese, Kona Panis, and Sai Ananda (+6) are knotted up in sixth place. Madison Walker (+13) made the cut in her first National Tour event back from injury, while Melody Waibel was the last to see Sunday with her 15-over par total.
With only three shots separating those on the top card, each of the four women had a different mental approach heading into the final. Jennifer Allen's aforementioned safe play was offset by Pierce, who said she planned to open things up down the stretch.
"I'm definitely gonna start fresh, but yeah, I think I'm gonna be a little more aggressive," Pierce said. "There's a lot more room for error over there – the fairways are bigger, less ropes – and I know that course better than the other two. So yeah, I'm excited."
Hokom looked down at the blurred messages she Sharpied on her hand and repeated them back. A fresh application of those motivations will help keep her in the right mindset.
"Be present, be effective," she said. "And the other part of that – be effective, not affected."
Catrina Allen took a similar approach. Recalling that triple bogey, she vowed to stay strong and let today's round come to her naturally.
"I'm trying to look at the positives of, like – I took that six, and obviously I didn't let it affect my round," Allen said. "So I'm trying to focus on that and know that it's probably gonna come down to the last couple holes and just keep on trucking. Keep on going."
The Open Women's lead card tees off at 8 a.m. local time, with real-time scoring and statistics available on UDisc Live.