PDGA Rings In 2018 With Staff Changes, Additions
PDGA Rings In 2018 With Staff Changes, Additions
Monday, January 22, 2018 - 10:39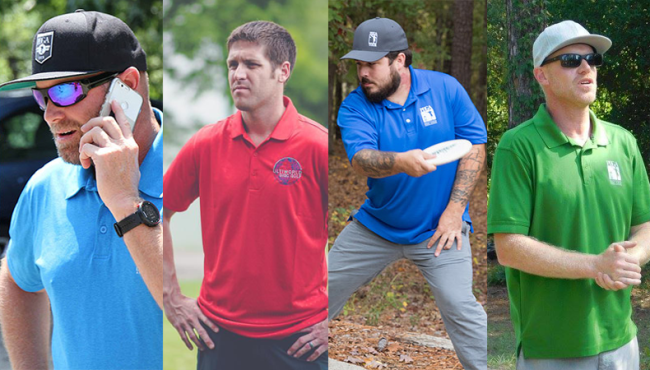 Just as disc golf continues to grow, so do we: The Professional Disc Golf Association is ringing in the new year with some changes and additions to its staff.
These new positions will help us adapt to the increased mission requirements and changing priorities of the PDGA as the sport continues to evolve. Please give everyone a warm welcome!
Director of Operations: Mike Downes
In his nearly five years as Events Manager, Downes, along with PDGA Media Manager Matt Gregoire, has become one of the on-the-ground faces of the organization at its biggest events. He's respected by both tournament directors and players and has been a force behind the scenes who has managed the PDGA trailer and assets, the bid process for Majors, execution of National Tour events, and coordinated event details in advance with the Local Organizing Staff.
As a result of his tireless work ethic, Downes' previous role has been restructured into the PDGA Director of Operations position. The Director of Operations is responsible for managing the day-to-day operations necessary to ensure the organization achieves its objectives. This position works directly for the Executive Director and accomplishes duties designed to keep operations functioning efficiently. His key responsibilities will include planning, resource management, event oversight and execution, and ensuring overall organizational efficiency. (Effective January 9, 2018)
Media Coordinator: Steve Hill
Hill comes to the organization after nearly two years as the editor for Ultiworld Disc Golf, a news site covering the professional disc golf scene. He will support Gregoire by assisting with the management of the PDGA's social media channels and will produce and edit online content, including more coverage of the various professional circuits and the re-launch of PDGA Radio in an hour-long podcast format. He will also work to develop interactive marketing and public relations programs associated with the sport of disc golf and the organization as a whole.
Hill has a long background in journalism, earning his degree from Cal Poly, San Luis Obispo, before a career as an elementary school teacher. He has written about disc golf on various online platforms since 2012 and served as the co-host of Ultiworld Disc Golf's weekly podcast, The Upshot. He will work remotely from Southern California. (Effective February 1, 2018)
International Disc Golf Center Assistant & Marketing Support: Dalton Slantis
Slantis officially joins the PDGA after working on a part-time basis since June 2017. He'll wear two hats: First, he'll support maintenance and other daily operations on the ground at the IDGC. Additionally, he'll produce graphics and video content to support the media team in marketing and public relations endeavors and in its coverage of PDGA Tour events.
In addition to being an avid disc golfer, Slantis is a veteran of the United States Army, having served in both Germany and Afghanistan. His role in the service was geared toward information technology services and satellite communications. (Effective January 13, 2018)
Event Support: Shawn Sinclair
Sinclair brings a wealth of knowledge and experience to this new Event Support position, where he'll serve as the primary assistant to Downes. This contracted role will find Sinclair traveling to PDGA Major and National Tour events, where he will conduct site reviews, serve as Chief Marshall at assigned events, and manage PDGA assets. Additionally, Sinclair will assist and advise local organizing committees and work to solicit and select PDGA event bid packages.
Sinclair performed many of these duties over the past several years as a PDGA volunteer before accepting a more dedicated position within the organization. He is most known in the sport for his role on the PDGA Board of Directors, but, because PDGA bylaws prohibit Board members from serving on the BOD while also being a paid contractor, he has decided to resign from the Board effective February 1, 2018. In his departure, Sinclair shared the following statement: 
"I am extremely excited for the 2018 season and the next phase of my disc golf journey. Growing the sport has always been a passion of mine as a player, teacher, TD, official, marshal, and a PDGA Board member. The last four and a half years on the Board have been instrumental in fueling my passion, but I feel that I can serve the members in this new role by taking PDGA events to the next level. I will continue to dedicate time to several of the committees I currently serve on and will continue to be a marshal for the World Championship events this year. I look forward to seeing you out on the course."
Sinclair's position will not be backfilled, as the move brings the Board back to seven members, which is the minimum size for the PDGA Board of Directors in accordance with our bylaws. (Effective February 1-December 31, 2018)
The PDGA is excited about these changes and looks forward to each member's contributions as we continue to support our membership and the sport.
Comments
Bravo, team! Excellent moves, all.