Paige Pierce Leading BSF After Back-To-Back 1000+ Rated Rounds
Paige Pierce Leading BSF After Back-To-Back 1000+ Rated Rounds
Saturday, June 10, 2017 - 13:53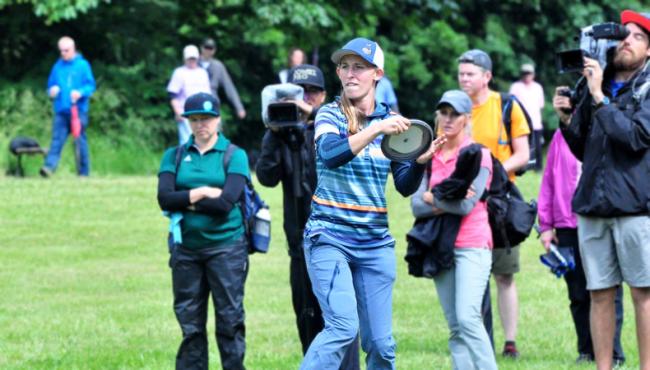 On a day that switched from warm to cold to rainy to sunny to windy to calm and everything in between a dozen or more times, only a handful of competitors at the 2017 Beaver State Fling presented by KEEN Footwear seemed unaffected. Paul McBeth #27523 and Eagle McMahon #37817 emerged as the leaders in the Open division at 16 under par and 14 under par by the end of round 2, respectively, but it was Paige Pierce #29190 in the Open Women's division that would pull off the most impressive scores of the day.
The opening day of the Beaver State Fling (BSF) sees the competitors play both the Milo McIver East and Milo McIver West courses. The courses are as beautiful as they are challenging featuring towering pines, moss-covered trees, tight lines, and tricky fairways. With each course measuring at roughly 8500 feet with pars of 61, they are considered by many as two of the best courses in the sport today.
Eagle McMahon's second throw on the same hole. Plays a crazy spike anhyzer route. You know...cause he can do that. #BeaverStateFling pic.twitter.com/f4WciaAPoL

— PDGA Live Scoring (@pdgalive) June 10, 2017
The Open and Open Women's division played on opposing courses each round, with the women playing Milo East in the morning and Milo West in the afternoon. Paige Pierce and Catrina Allen both played amazing golf in the opening round, finishing as the only two women under par for the morning with scores of 58 (-3) and 59 (-2), rated 1009 and 1001, respectively.
The Genius. 585' downhill at Milo East (hole 9). Catrina plays it perfectly. #BeaverStateFling #discgolf pic.twitter.com/x7SfyqGake

— PDGA Live Scoring (@pdgalive) June 9, 2017
Their morning round scores were story-worthy on their own, but it was Paige's second round where she finished under par yet again on the slightly more difficult Milo West that was truly headline-worthy. The afternoon round saw far worse conditions on the course. The temperature took a dive down into the lower 50s, the wind picked up, and the back and forth of drizzle and sunshine that made the opening round manageable took a turn for the worse. Halfway through the round it began to rain, and it didn't stop until almost all of the players were off the course.
Paige still managed to pull off five birdies to finish the second round at 60 (-1), earning her a round rating of 1007. She now leads the field by six or more, with 12 strokes separating her at the top of the lead card from Sarah Hokom at the bottom of the lead card. Had she for some reason opted to compete in the Open division, she'd be tied for 19th with none other than Philo Brathwaite.
Paul McBeth and Ricky Wysocki #38008 went into round 2 as the co-leaders after shooting opening round scores of 52 (-9) on Milo West, but Ricky's second round of 60 on Milo East saw him dropping from 1st to a three-way tie for 5th place as we head into round 3 this afternoon. Nate Doss's opening round of 53 left him one off the lead and he held his own in the weather that he has become used to as an Oregon resident. With a strong second round to match his first, Nate held on to his 3rd place position with two rounds completed.
Jumping up from the chase card during round 2 to now sitting tied for 3rd place with Nate Doss #11794 on the lead card this afternoon is none other than 2015 Amateur World Champion Anthony Barela #44382. At just 17 years old, he has a frightening amount of talent, power, and poise. Both Anthony and Nate are four strokes off the lead, and it will be interesting to see if Anthony can make a move on his mentor, Paul McBeth.
Can the student surpass the teacher? We'll find out in just a few hours as round 3 of the 2017 Beaver State Fling presented by KEEN Footwear is set to tee off at 12:30pm PDT here in Estacada, Oregon at Milo McIver State Park!
Tee Times/Results: pdga.com/bsf
Hole-By-Hole Scores: pdgalive.com