NT Series Winners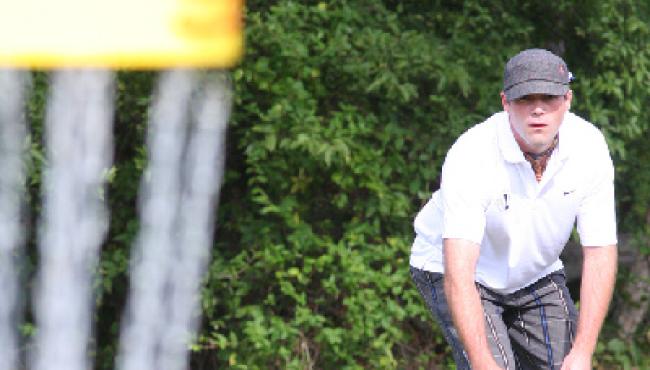 Feldberg Finishes On Top of Woodchuck Cider Drive for the Championship Disc Golf Points Series

Rock Hill, South Carolina--When David Feldberg stepped up to the 254th throw of his grueling four day encounter with one of disc golf's most renowned courses at Winthrop Gold, he believed that this single putt would determine whether his incredible accomplishments during the 2010 season would be fulfilling or a flop.

Standing over his 40 to 50 feet putt left on hole 18, Feldberg faced a treacherous downhill pin placement where plenty of disc golfers had already doinked the basket and rolled away into the open arms of Winthrop Lake.  But in his mind, it was a putt he had to make...not for another USDGC title; not to even finish in the top three; but to make this putt would secure the 2010 PDGA National Tour Woodchuck Cider Drive for the Championship points series that he had worked so hard to win.

Invoking the pre-putt ritual that has become Feldberg's trademark, he cocked the disc back towards his body one last time before letting it fly.  And as if time slowed, he watched his reliable putter glide slowly and steadily down the hill towards the target.  Would it hit chains and fall out?  Would it hit the basket and roll?  Or would it miss everything and continue to take the gravity train down far, far down the hill?

The answer is, "None of the above!"  Feldberg's disc found the heart of the chains and created that unique chinging sound that disc golfers love oh so much.  And to Feldberg's ears on this one shot, that ching was like hitting the disc golf jackpot.  As with so many clutch putts previously in his career, Feldberg's disc found its home nestled in the basket of hole 18, where it came to rest.  And with it, at least in the mind of the NT Points series winner, this clutch shot made the difference in punctuating an incredible 2010 PDGA National Tour season, where he captured an unprecedented four NT titles.

Would Feldberg have won the Woodchuck Cider Drive for the Championship points series if he missed the putt?  Would his season have been just as fulfilling finishing with four NT titles and the world's number one ranking?  These questions are moot for Feldberg.  With the greatness that he showed on that 254th throw last week in Rock Hill, he now knows that he did what he needed to do...he made the putt, he finished where he needed to, and he is the 2010 Woodchuck Cider Drive for the Championship points series winner.  All the rest is just people wondering.


Place 
First 
Last 
PDGA# 
Total 
Payout
1
David

 

Feldberg

 

12626
570
$2,000
2
Nikko

 

Locastro

 

11534
558
$1,500
3
Ken

 

Climo

 

4297
515
$1,000
4
Paul

 

Ulibarri

 

27171
503
$750
5
Matt

 

Orum

 

18330
501
$600
6
Nathan

 

Doss

 

11794
493
$500
7
Eric

 

McCabe

 

11674
473
$400
8
Josh

 

Anthon

 

17946
424
$350
9
Devan

 

Owens

 

25168
396
$275
9
GreGory

 

Barsby

 

15857
396
$275
On the women's side of the Drive for the Championship, Valarie Jenkins captured her third consecutive National Tour Points Championship, with Liz Carr finishing second.


Place 
First 
Last 
PDGA# 
Total 
Payout
1
Valarie

 

Jenkins

 

17495
591
$1,000
2
Liz

 

Carr

 

31068
552
$600
3
Desiree

 

Reading

 

15863
543
$400
4
Liz

 

Lopez

 

31162
529
$250
5
Paige

 

Pierce

 

29190
525
$100
For a complete list of the season-ending Woodchuck Cider Drive for the Championship points totals, make sure to visit www.pdga.com/national-tour.  A special thanks to Woodchuck Hard Cider for completing their fourth year as the National Tour points series Title sponsor.

Credits: Feldberg photo by Lauren Lakeberg