Scores Tighten Up After USJDGC's Second Round
Scores Tighten Up After USJDGC's Second Round
Sunday, August 4, 2019 - 16:01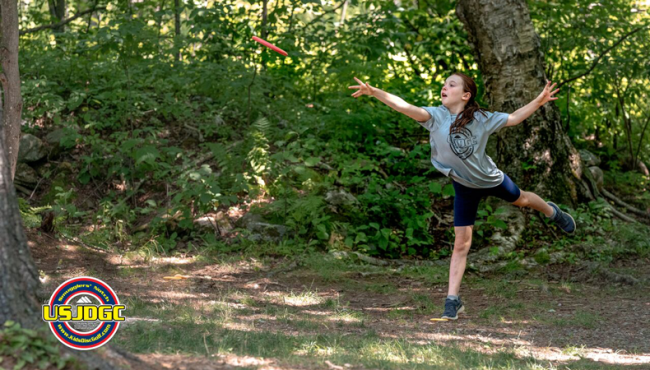 Aubrey Violet leads the Junior Girls 10 & Under division heading into the final round. Photo: Alyssa Van Lanen
Saturday at the United States Junior Disc Golf Championships brought competitors back to Brewster Ridge Disc Golf Course. This, the second of three rounds, were the juniors last shot at the wooded course before moving out to the longer Fox Run Meadows for round 3. Fox Run requires a different strategy and well-placed shots if competitors want to avoid penalty strokes, as out of bounds is lining the fairways of many holes. For those more comfortable in the woods, Saturday was their last chance to stake themselves a lead before heading to Fox Run!
While Saturday's action on the course was truly fantastic, the off-course action kept the families participating in the USJDGC busy off the course too. Thanks to Disc Golf Vermont, the kids got to compete in a full 18 hole mini disc golf championship after round two concluded. Set up in the village at Smugglers' Notch Resort, Chris Young set up a custom design. Long drive qualifying also took place making the USJDGC an event that goes the extra mile to award not only US Championships on the course, but also in the field with each division having the chance to win putting, mini, and distance US Championships as well!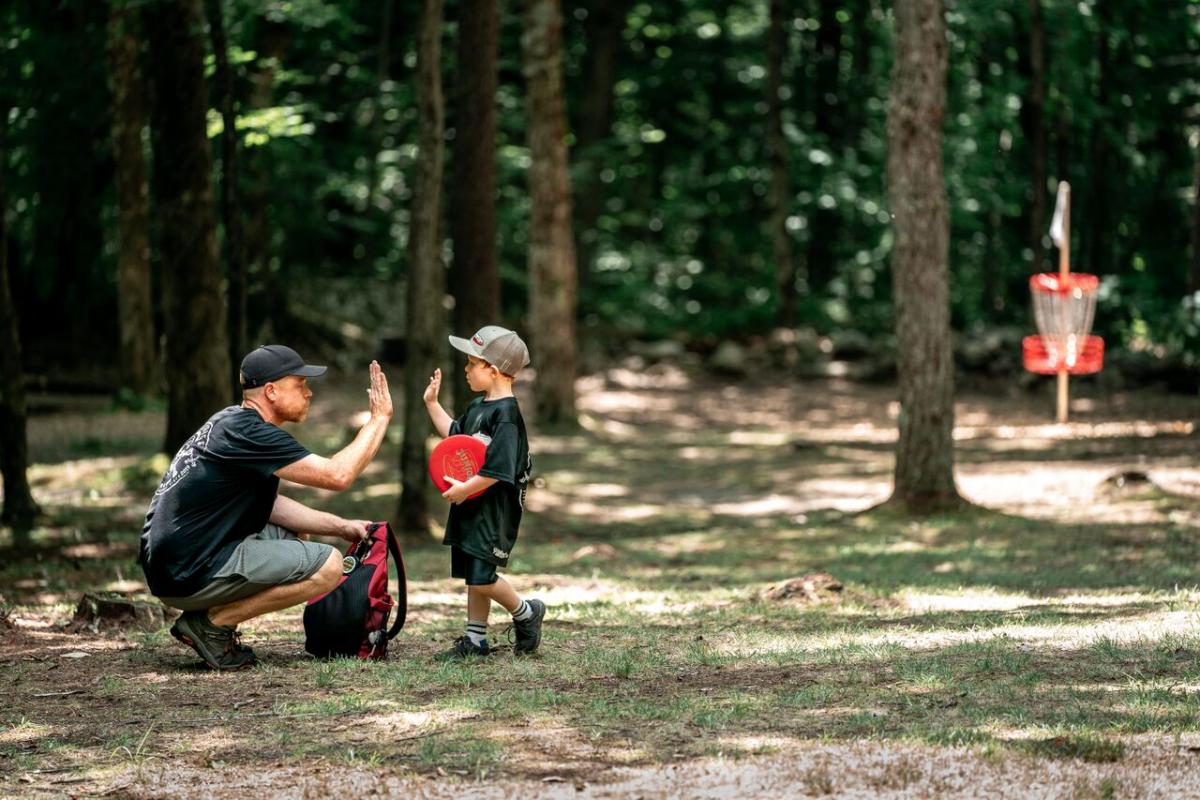 Divisional Recaps
Back to the action on the course! In MJ18 first day leader Timothy Lutz found trouble in day two, falling from first to third, after a seven-over par 68, eleven strokes worse than his round one effort. While Lutz is still in the running, Elijah Bickel took advantage, throwing the best score from Brewster Gold for the entire weekend, a 1016 rated 56 (-5). Vermont's own Tom Shanley made another big move on the day, shooting a 58 (-3) and vaulting into second place with his own 1000 rated round! Going into Sunday, it looks like a three-horse race for the title, with Bickel, Shanley, and Lutz all in the Mix. In the FJ18 division, Lily Marr is coasting to victory after a great second round score, improving six strokes from her day one effort.
The fifteen and under divisions both have drama! The FJ15s have seen a change at the top! Lilly Ruthen shot the hot round of the event on Brewster, a 63, to leapfrog Emma Partee. Lilly sits three strokes ahead going into the final round. The MJ15 battle is even tighter. After round one, it was by far the closest division. After round 2, that hasn't changed a bit, though the leaders have shuffled. Benjamin Lutz now leads after his second straight 60 (-1). Ravel Tary and yesterday's co-leader Lucas Oberholtzer Hess are right on his heels, just one off the lead with seven more players within one stroke. Heading to Fox Run on Sunday means that there are, incredibly, still ten players in the mix to win!
In MJ12, the top three juniors have created some separation from the group. We have a tie at the top, with Pete Kozlowski and Griffin Swinburne sitting at 6-over par, but Miles Sayer can't be counted out as he is only three strokes back. FJ12, while not quite as close, still has some intrigue with Sklyar Poquette holding eight strokes on Alexis-Julia Craveiro. You never know what can happen on a long round on Fox Run!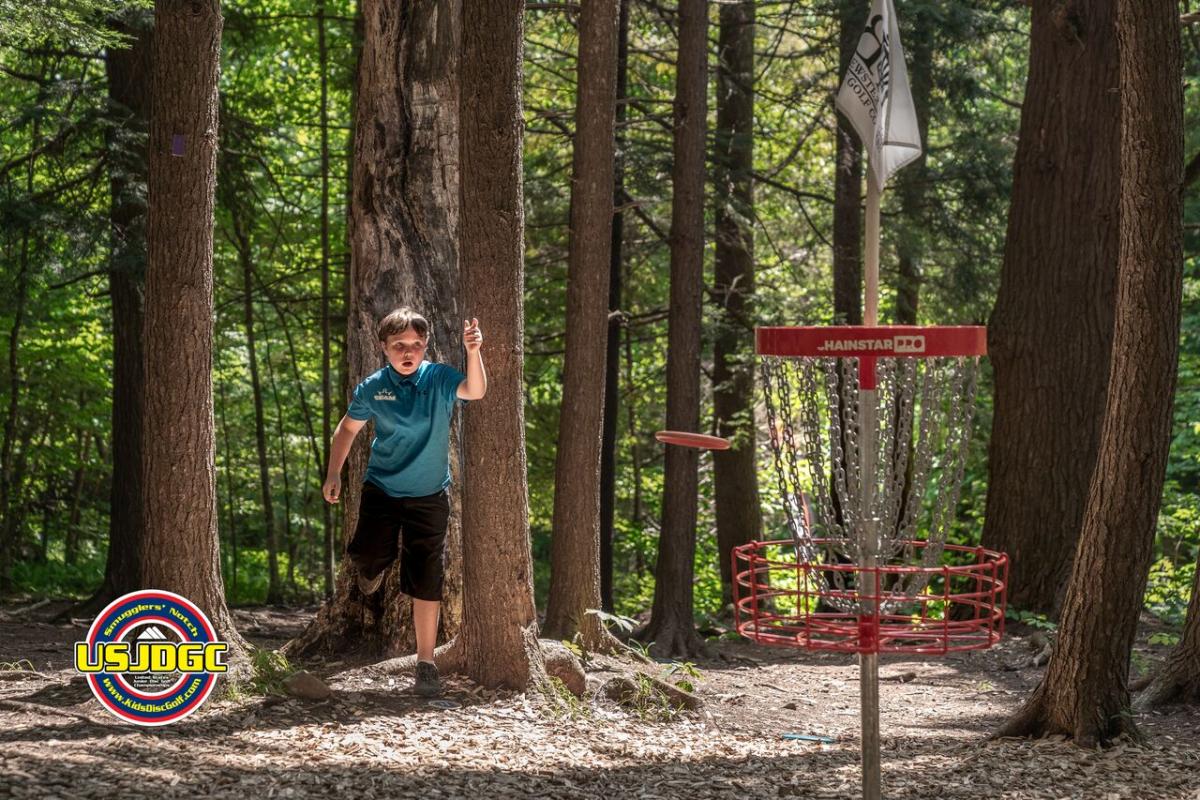 One of the best battles of the weekend continues between Wyatt Mahoney and Uriyah Kelley in MJ10! Both shooting great scores, Wyatt increased his lead to 2-strokes after an 891-rated 53 on Saturday. Uriyah should have a great chance to catch him on Fox Run. In FJ12 Aubrey Violet continues to hold off Rosemary Marr by four strokes after shooting the same scores in round two. In our 8 and under divisions, we may lack drama, but we do not lack great performances! Kaidin Bell (MJ8)  is cruising after opening up an 11-stroke leader on Carter Grayum, and Cascade Rief Mahoney, while the lone competitor in FJ8, bested her first round score by eleven strokes in round 2! In our youngest division, Rivers Reese holds a healthy thirteen stroke lead over Asa Fonseca in MJ6, and Katherine Nunn-Gage is marching to victory in FJ6!
Sunday is for crowning champs! Check back for full results and to see who we crowned as 2019 US Junior Champions at Smugglers' Notch Resort!