US Junior Disc Golf Championships Underway in Vermont
US Junior Disc Golf Championships Underway in Vermont
Saturday, August 3, 2019 - 15:49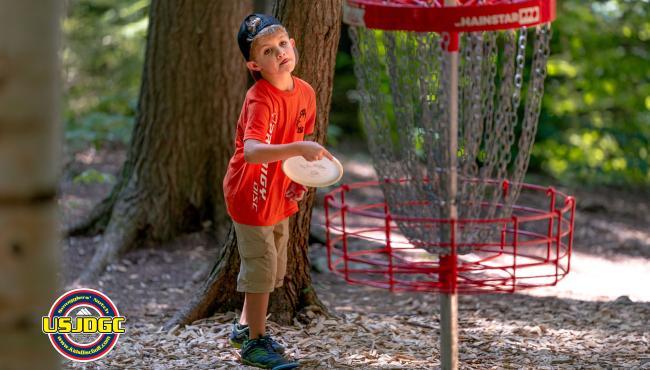 Day one is in the books in Vermont at Kid DIsc Golf's second annual US Junior Disc Golf Championships.
The on-course play has been impressive as several divisions have seen highly rated scores and close competition. Starting with the MJ18 division, two players are under par after a round on Brewster Ridge Golds, the same layout played by the Open division during the 2019 PDGA Professional World Championships and the Pro Masters 40+ division in this June's Pro Masters World Championships. Leading the pack is Timothy Lutz, who shot a 1013- rated 57 (-4). Right behind Tim is Robert Burridge who shot a 60 (-1), rate 989. On the FP18 side, Lily Marr shot a 72 and is leading.
The MP15 division has to be the tightest division in the event, with 10 competitors within 5 strokes of the lead! Tied atop the leaderboard are Lucas Oberholtzer Hess and Gil Rowe, after shooting matching 59s (-2) from Brewster Ridge Blues. The FP15 division has a great battle going on as well, with Emma Partee leading last year's FP12 Champ Lilly Ruthen. They sit at +3 and +5 respectively after their first round.
Pete Kozlowski is leading the MP12 division by two after shooting a 63 (+2) giving him a two stroke cushion over Griffin Swinburne and a three stroke cushion over Griffin Swinburne. There are two more competitors within striking distance after round one in MP12 as well with Miles Sayer and Jacob Liss just 4 back of the leader Kozlowski. On the FP12 side of things, its a two-girl race with Alexis-Julia Craveiro leading Skylar Poquette after round 1.
3-time Junior World Champion and last year's runner up in the MJ10 division at the inaugural USJDGC, Wyatt Mahoney, has gotten off to a hot start with an eight under par 53! However, hot on his tail is Uriyah Kelley who is just one off the pace. This will be a battle to watch all weekend as Wyatt tried to a US Title to his impressive list of accomplishments before his tenth birthday! Sitting in third and fourth place are Hunter Grayum and Finn Etter, respectively. Etter was last year's MJ8 Champ! On the FJ10  side, Aubrey Violet is off to a four stroke lead over Rosemary Marr. Aubrey is back again after a solid showing last year and will try to hang on for this year!
After a fourth place finish last year, Kaidin Bell holds an eight stroke lead in MJ8 after day one! Kaidin will look to hold off Carter Grayum this weekend, who currently sits in second place. MJ6 leader Rivers Reese also holds a solid lead with 9 strokes to play with over Asa Fonseca. Day one also showcased some great performances from FJ8 and FJ6 leaders Cascade Reif Matoney and Katherine Nunn-Gage!
In addition to the on-course action, the juniors are being treated to a world class experience at Smugglers Notch Resort as Kids Disc GOlf and the Smuggs Disc Golf Center have lined up some great off course activities. After opening ceremonies and the distribution of fantastic player packs, the event was again kicked off in style with a fireworks show in the Village Green! After round one, the kids were treated to a free clinic from 4-time world Champ Paige Pierce! That was followed up by the Fun Zone 2.0 takeover where kids could play in Smugglers' New state of the art family fun center where there was a pizza party and the annual US Junior putting championships!
The Juniors are back out on the course for day two! Follow along and support show your support from home!