Scorched earth policy as Jones tears through Fox Run
Scorched earth policy as Jones tears through Fox Run
2020 DGPT – Green Mountain Championship Round Two Recap
Saturday, September 5, 2020 - 10:46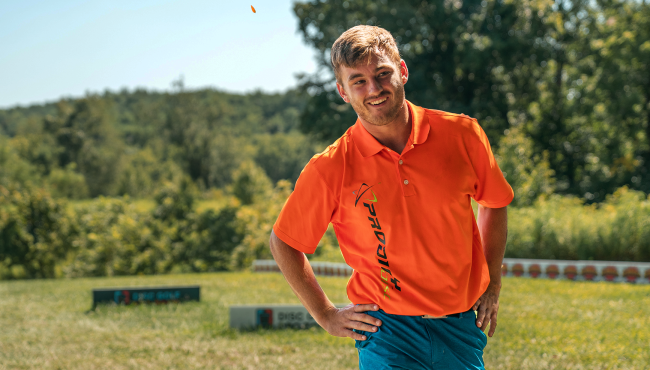 Five holes into Friday's round at Fox Run Meadows, Kevin Jones had nothing to show but pars on the scorecard and had fallen out of the top ten at the 2020 DGPT – Green Mountain Championship. 13 holes and 11 birdies later he found himself with the hot round— a 1081-rated (unofficial) 10-under—and the outright lead at 17-under heading into Saturday's round at Brewster Ridge.
"I wouldn't say a ton changed after hole five," Jones told DGPT CEO and Tour Director Jeff Spring. "The holes before that I was really close to getting my birdies, but a couple of lazy errors kept me from getting those. And then I was fortunate enough to start picking it up on the really hard holes."
That may be putting it mildly. He was one of only 7% of the MPO field to birdie the monstrous 1230-foot par-5 seventh, one of only 16% to nab the second-hardest birdie of the day on hole 18, and the only player in the field to get them both.
One shot behind Jones is Eagle McMahon, who—notably— has never finished in the top-30 in four career events held at the Fox Meadows / Brewster Ridge venues. But McMahon is well-rested, having skipped the DGPT – Ledgestone Insurance Open, and full of confidence coming off back-to-back wins at DGLO and Idlewild.
"I'm feeling good so far," McMahon said after his second 8-under round of the tournament.  "I just want to play within myself. You know, I'm re-writing the playbook, and I'm throwing some shots on a few of the hole that not many people throw. I had two weeks to practice here, so I'm just doing what works for me."
Rounding out the lead card on Saturday will be James Conrad, who struggled to keep his drivers in-bounds during round two and settled for a modest 3-under following his blistering 13-under opening round, and Calvin Heimburg, who has quietly put together two solid rounds to jump one spot onto Saturday's top billing.
Pierce and King Pace The Field
On the FPO side it was a story of youth meets experience as all-time great Paige Pierce and young gun Hailey King outpaced the field by five, making it feel like something of a two-horse race heading into Saturday.
Pierce shook off a double bogey on hole 3—the fifth easiest hole of the day— by carding the field's lone eagle on the 470-foot hole 4. She would go on finish with the hot round at 6-under, three better than her closest competitor.
"On hole 3 I was kind of scared walking up to that tee pad," Pierce recounted. "It's a short gap and also very narrow, so it's just kind of I my head, so that is the one I was thinking about and today I scored a double bogey on that one. But I followed it up with an Eagle, so that would be the most exciting part of my round today. It's one in practice that I played all my practice rounds with James Conrad and Nate Perkins and they told me not to go for that one and I told them 'I got it, I got it!' And they shot me a text message and said 'You did it, we're watching!' So it was cool to finally get that one under my belt. I've thrown some good drives on it, but never capitalized on the eagle so that was definitely a highlight for me out there today."
King, for her part, showed equal resiliency—perhaps even more impressive coming from the younger player—after bouncing back from a double bogey on the 1085-foot par-5 seventh to post a bogey-free 4-under on the back nine to finish with a share of the lead.
Joining Pierce and King on Saturday's FPO lead card will be Sarah Hokom (-1), who dropped her round one lead after struggling with the approach game and the putter, and Catrina Allen (+1), who continued to look strong with the putter following up on her win at the DGPT – Ledgestone Insurance Open.
Moving day coverage kicks-off Saturday on the Disc Golf Network at 12:35pm EST. Visit our 2020 DGPT – Green Mountain Championship Scores and Coverage Page for more.