Ohn Battles Through; Schick Rises as Action Picks Up in Missouri
Ohn Battles Through; Schick Rises as Action Picks Up in Missouri
2021 Tim Selinske U.S. Masters - Day 2 Recap
Saturday, September 11, 2021 - 01:15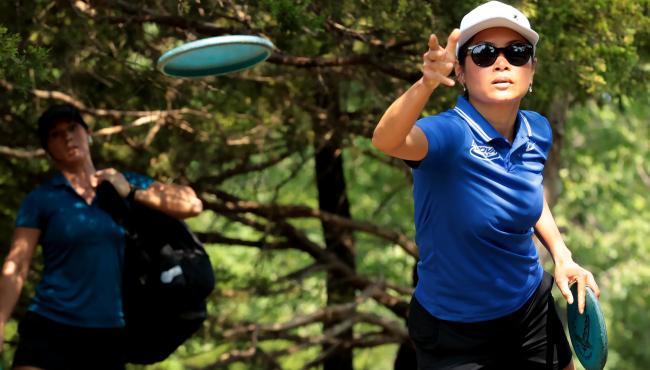 Ohn Scoggins suffered an injury setback early in the round, but she powered through and her competitors, who are vying for a PDGA Major title like her, were there to help each step of the way.
Literally.
"It was painful, but there's nothing I can do but play through it," said Scoggins, who maintained her one-stroke lead in FP40 at the 2021 PDGA Tim Selinske U.S. Masters Championships. "It bothered me so much, sidearm, backhand or just standing there. This is the first time I've gone through something like this, so I hope tomorrow is better."
Jennifer Allen carried Scoggins' bag and helped her stretch her back. Jenny Umstead – in the middle of the round – gave Scoggins her cart to use.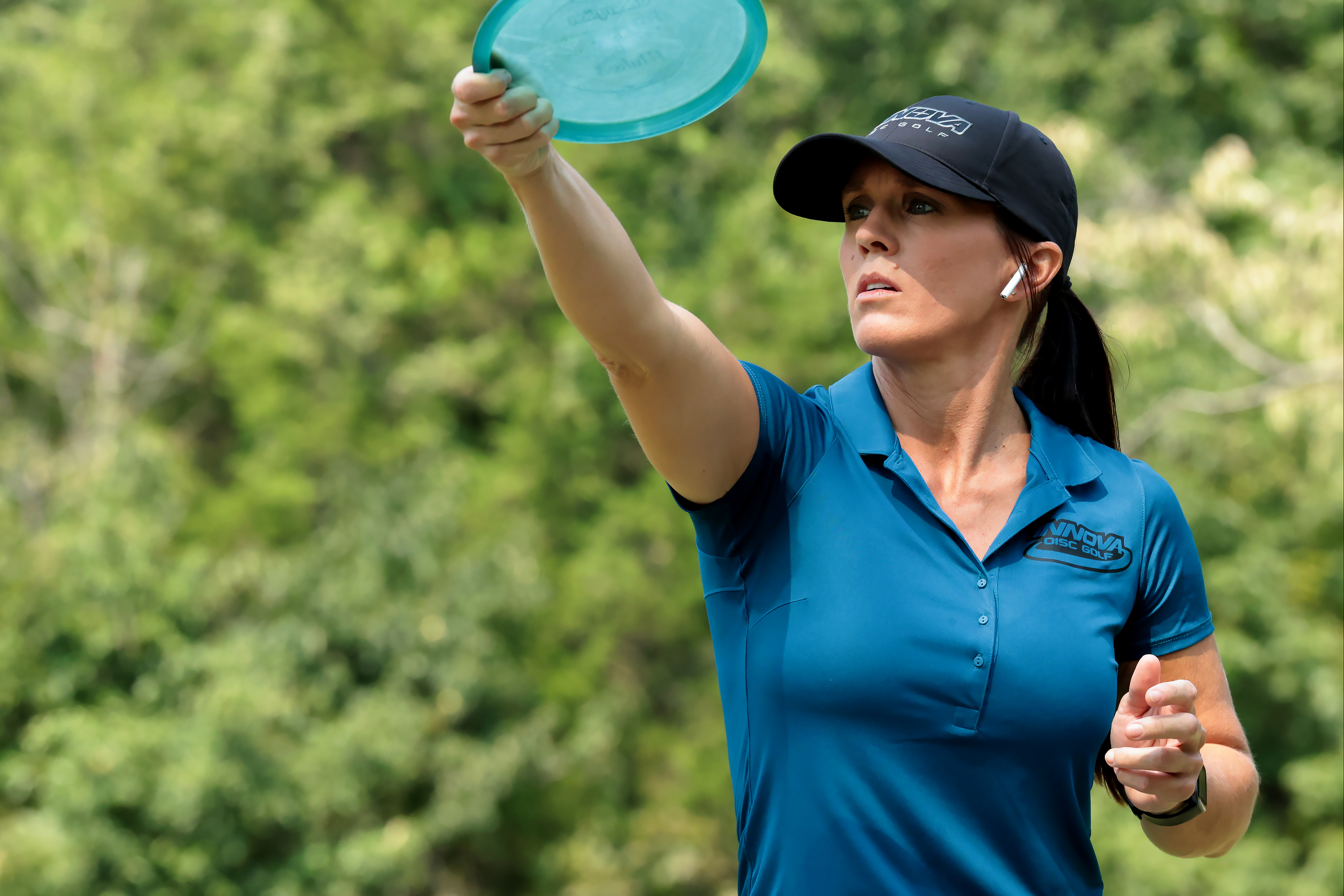 Disc golf is just like that.
"That's what I love about disc golf," Scoggins said. "You don't just play with your competitors, but you play with your friends. Jen tried to stretch it out, fix me and carried my bag. Jenny let me borrow her cart. I love them. Those are my friends. They look up to me, I look up to them. That's why I love disc golf."
Scoggins leads Allen by one stroke and has a narrow four-stroke cushion over Des Reading and Melinda Ring as action shifts to Albert Oakland Park for round three on Saturday.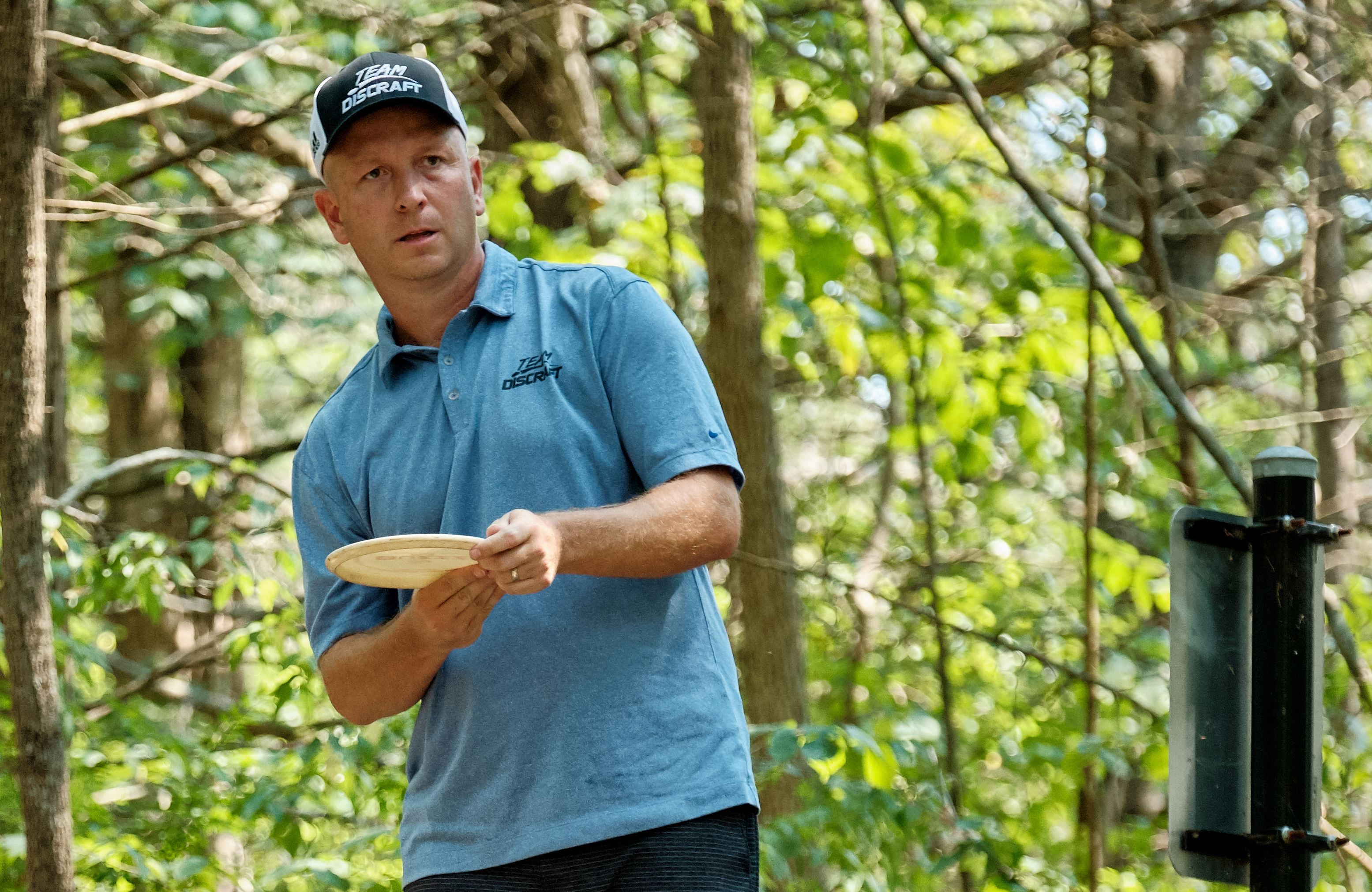 Schick Jumps to Tie for Lead
Give yourself a chance and see what happens. That's what Brad Schick was aiming for entering this week.
Well, Schick did just that during Friday's second round in Columbia, Missouri and now is tied atop the leader board in MP50.
Complete coverage of the 2021 PDGA Tim Selinske U.S. Masters Championships »
"I'm right where I was hoping to be," said Schick, who first played disc golf with his father and brother when he was 13 years old. "I knew it was going to be tight – Dave (Feldberg), Dutch (Napier), Kevin (McCoy), all of those guys, Geoff (Bennett). The list goes on in this division and there are so many good players.
"I was just hoping to give myself a chance and see what happens."
Schick fired off one of two of the hot rounds of the day at The Dam Course to pull to a tie with Feldberg at 17-under par. Schick and Chris Farnham carded 10-under 53s in Jefferson City. Geoff Bennett is one stroke back at 16-under and Kevin McCoy will round out Saturday's lead card at 15-under par.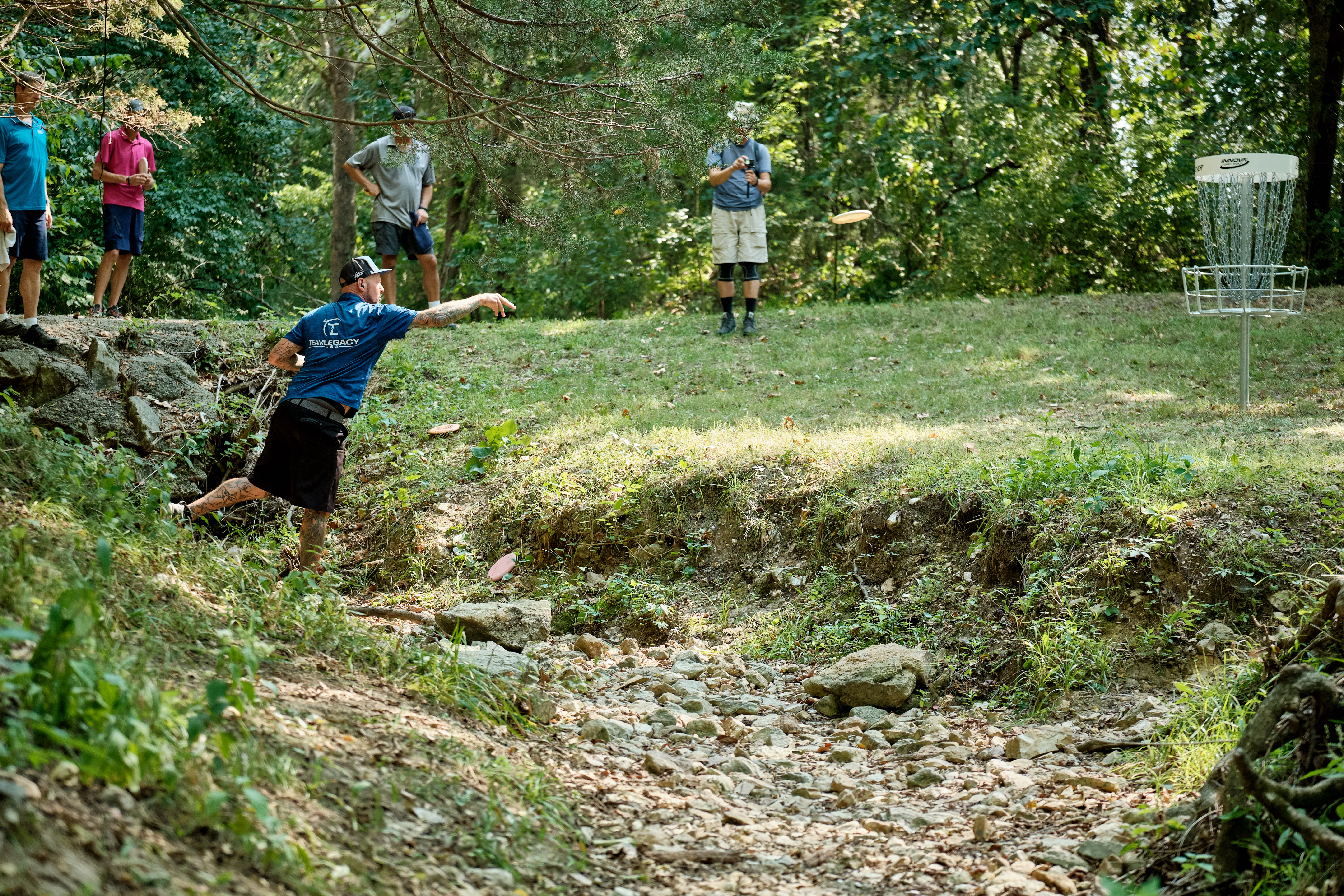 23 through 36
In MP50, there were some big moves near the top of the leaderboard.
Just not the very top.
Patrick Brown grew his lead to eight strokes with another hot round at Albert Oakland Park with a 1050-rated 44, giving him a 95 – 23-under par – total through 36 holes.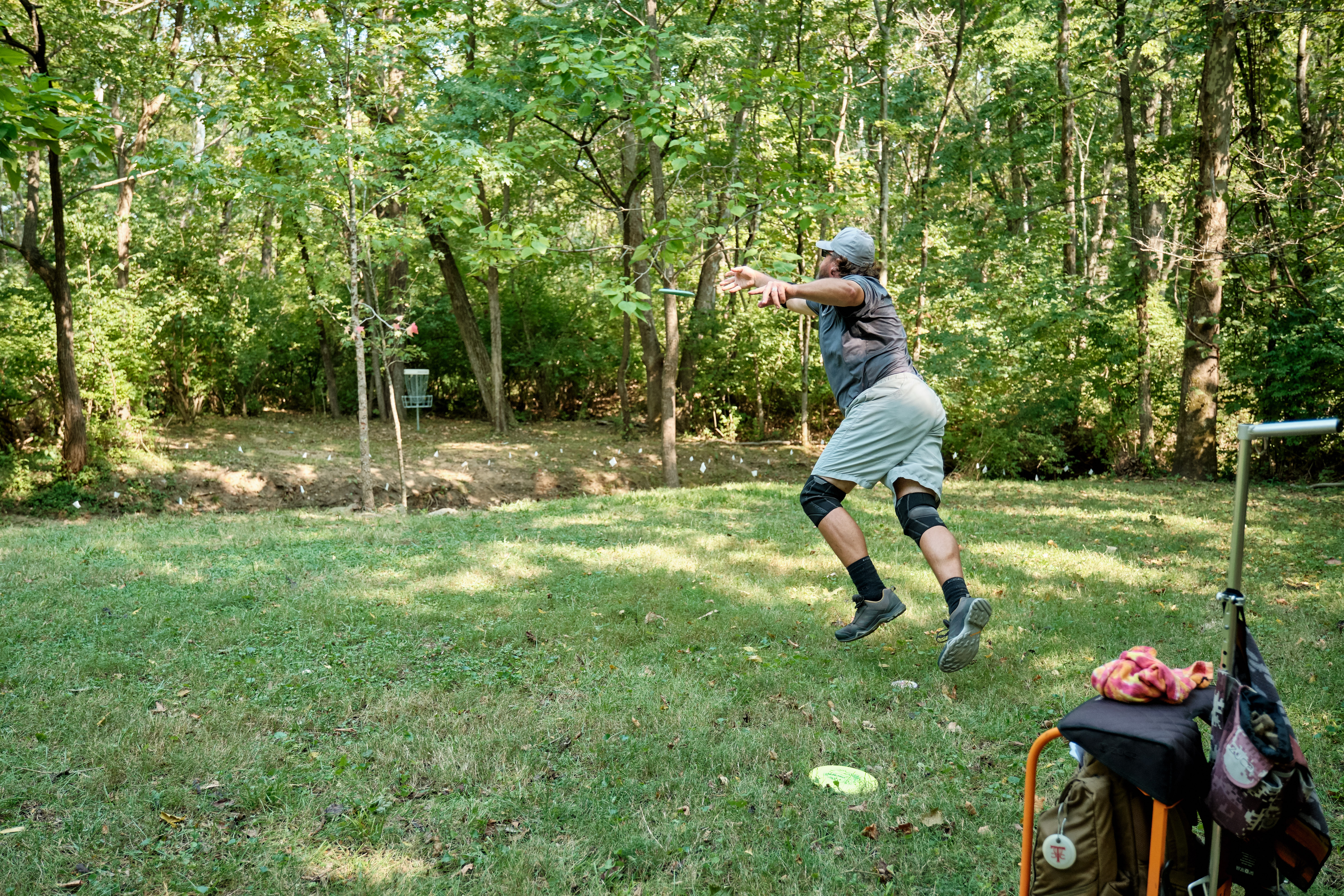 Blake Needles sits in second at 15-under and it was Jay Reading and Barry Schultz jumping to the lead card on Saturday as the division heads to the daunting, anything-can-happen Harmony Bends track.
Here's a look at the rest of the field heading into moving day at Selinske Masters:
In FP50, Nova Politte grew her lead to two strokes over Barrett White.
In MP55, Doug Williams fired off a 1017-rated round to surge to a one-stroke lead over Dean Tannock and Hank Kirwan.
Bill Rohe kept his lead in MP60 but Gregg Hosfeld closed the gap to one stroke along with LaRon Harris in a battle from the start. Eric Rainey matched Hosfeld's 50 to join a three-way tie at 9-under.
In MP65, Geoff Hungerford added a stroke to his lead with the hot round of 52. He leads Randy Beers by two strokes. Mark Ehlert matched the 52 to jump to the lead card.
Dr. Rick Voakes pulled away in MP70, clearing the field by five strokes to build an eight-stroke lead.
In MP75, Pete May bested the rest of the field by four strokes and leads Barry Fischer by five.
Daniel Whitlock maintained his three-stroke margin in MA40. Scott Houska is in second at 3-under.
Sarah Hibbs closed the gap to a single stroke behind Meg Sapp in FA40.
Jay Greenwood had the hot round in MA50 and pulled to within one of the leader, Sam Dodd.
Debbie Polkinghome added one to her lead in FA50.
In MA55, Jerry Dobbins held on to his two-stroke lead over James Elkins.
For the second-straight day, Mark Hauser and Joe Jaegers are tied at the top in MA60. Don Krueger is two strokes back.
Don Altmyer broke a tie at the top with the hot round of 56 in MA65. He now leads Dan Thompson by one.
In MA70, Donald Parker kept his one-shot lead over Gene Kouba.
Once again, the scores are tight in Columbia and the pressure is picking up heading into moving day at the Selinske Masters.