Pierce Perseveres at Winthrop for Title
Pierce Perseveres at Winthrop for Title
2020 Women's National Championship Final Recap
Saturday, October 10, 2020 - 23:52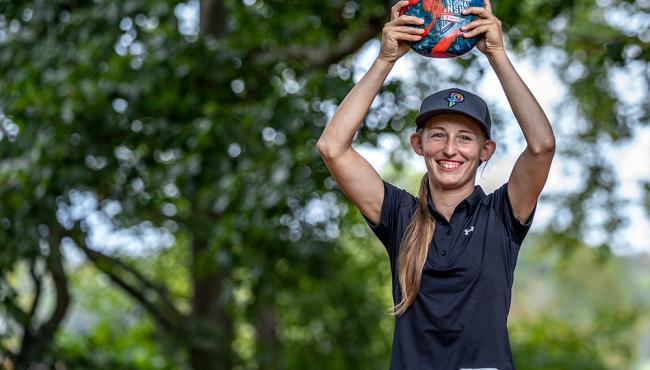 Paige Pierce attacked, golfed and responded when Winthrop showed why it's such a challenge in every sense of the word.
Simply, she just kept fighting her way to her 15th PDGA Major championship
Pierce capped off a wire-to-wire win with both a fierce and calculated approach every step off the way at the 2020 Women's National Championship on Saturday in Rock Hill, South Carolina.
"The first word that comes to mind is perseverance," Pierce told Jamie Thomas and Terry Miller of the Disc Golf Network. "There are so many things that you face as an athlete and as a golfer -- mentally, physically, emotionally, all kinds of things – that try to creep in and stomp you so I feel like I just persevered and I feel very happy."
Pierce attacked on Wednesday in the opening round, firing off a 1039-rated 60 to build an early four-stroke cushion, if there is such a thing at Winthrop. She followed with a 65, a 66 and then, on championship Saturday, a 68 – no just scorching rounds but what proved more than enough to ultimately grab a four-stroke win.
The swings came --  a four-stroke one at the end of the second round on Thursday, and then a battle as the conditions at Winthrop changed on moving day Friday.
That set the stage for finale and Pierce played chess.
She picked her spots to attack and lay up as Catrina Allen narrowed the deficit to a few strokes throughout the round. Allen fired off six-under stretch through the middle, including her third eagle of the event on Hole 10.
But a calculated Pierce persevered.
Experience at the course, she said, played a factor.
"I allowed (Catrina) to put pressure on me," Pierce told the DGN. "As you can see, my scorecard has almost no blue (representing birdies). I laid up on almost every hole. Even Hole 15, I laid up short of the mando, laid up on 14's putt.
"It paid off really well to just play smart, play safe and I think all of my years playing here in the men's USDGC definitely helped me."
Allen was lurking every step of the way, leading the tournament in fairway hits (87%), parked percentage (19%) and Circle 1 in regulation (50%) for a second-place finish at 17-under par, averaging 997 golf over four rounds.
Sarah Hokom fired off the second-hottest round of the event on Saturday with a 63 to jump two spots into a tie for third with Heather Young, the young phenom who drained a birdie putt on the 18th for a podium finish at the Women's National Championship.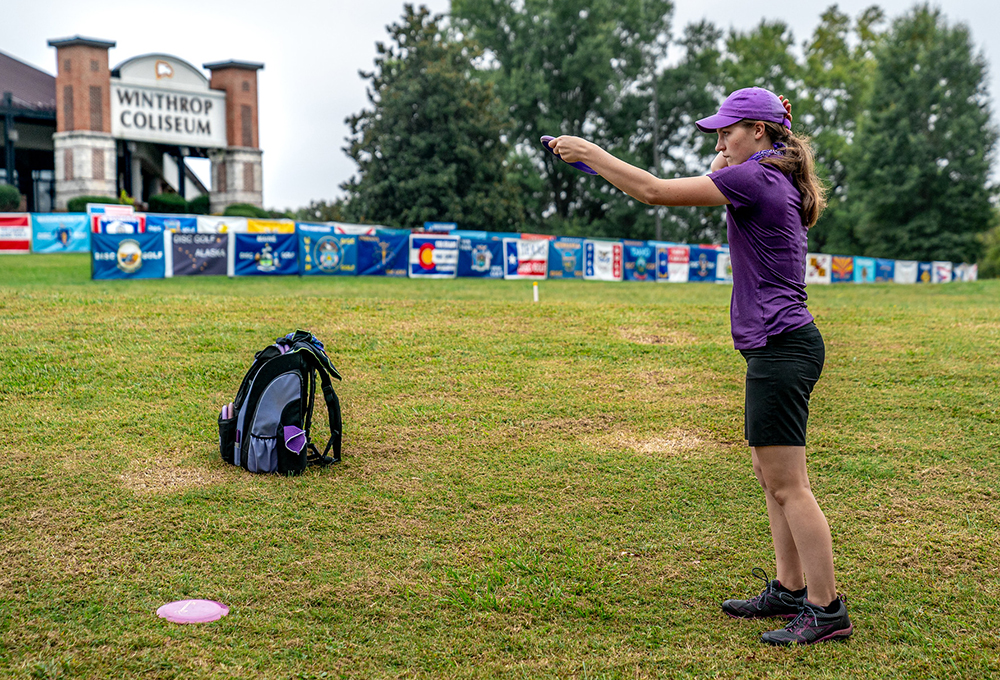 Ohn Scoggins, in a marvelous return to competitive disc golf, finished one shot back at 8-under for fifth place.
The event, in namesake, returned for the first time since 2000 when the WNC served as a precursor for the USWDGC. Due to the worldwide COVID-19 pandemic, the USWDGC was canceled this season and the WNC was reinstated as a Major. The name change was to honor 2019 USWDGC Champion Kristian Tattar, of Estonia, who was not able to attend due to travel restrictions caused by the pandemic.
In a year of uncertainty, Pierce, winner of seven of the 10 stops on the Disc Golf Pro Tour and the only Major of the year, has preserved throughout.
Now, she heads to the DGPT Championship looking to close out a dominant year.