Pierce Cements Legacy with Fifth World Championship Victory
Pierce Cements Legacy with Fifth World Championship Victory
Putting game helps Pierce pull away from Allen, Salonen in final round
Sunday, August 18, 2019 - 15:22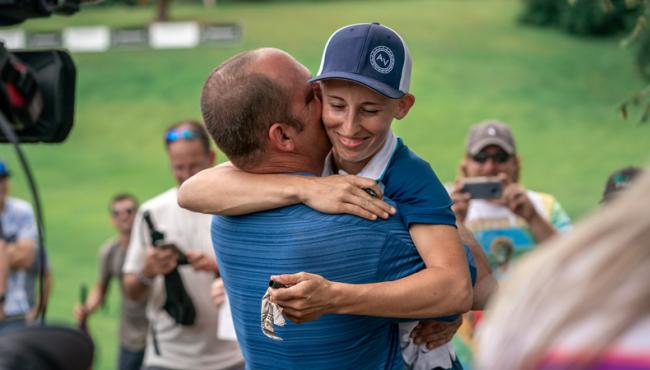 Since the Open Women's division was first included in the PDGA Professional Disc Golf World Championships in 1983, only two women have been dominant enough to have taken down the world title five times. Elaine King ran off four in a row from 1991-1994 and added her fifth in 1997. Juliana Korver took over and ran off four in a row herself from 1998-2001, adding her fifth in 2003. And now, 16 years later, Paige Pierce has added her name to the list, cementing her legacy as one of the greatest of all time as the world champion in 2011, 2013, 2015, 2017, and now, 2019.
When the final round at Sunset Hills began on Saturday morning after an hour of lightning delays, Pierce sat at the top of the leaderboard in a three-way tie with Finland's Eveliina Salonen and 2014 world champion Catrina Allen, joined by 2012 world champion Sarah Hokom, six strokes back. Pierce would eventually pull away from the field to finish comfortably at 25-under par overall, five ahead of Salonen (-20) and nine ahead of Allen (-15), but her journey to her fifth title was anything but comfortable throughout the week.
Pierce's opening round on Tuesday at Northwood Park left her sitting in ninth place with eight strokes separating herself from the then leader, Salonen. At Sunset Hills the following day, Pierce's 4-under par round moved her up to the bottom of the lead card, to her surprise, as she didn't feel she played well enough to make such a big jump. Back at Northwood once again for round three on Thursday, Pierce continued to play below her expectations, finishing the day tied for fourth place with another 19-year-old from Finland, Henna Blomroos, still six strokes shy of the leader, Allen.
"You really have to focus on every shot," Pierce said. "And that's something that I struggled with for the first three days."
With only two rounds remaining, both scheduled for Sunset Hills, Pierce knew she would need to shoot close to 10-under par on Friday to put herself in striking range to take down the title on Saturday. She knew it would come down to putting, stating several times that "It's going to be a putt-off." Her prediction was dead on, and she was well prepared for the putt-off that took place.
"I've been playing for 20-something years and this week I had my favorite practice round I've ever played with Zoe [Andyke] and Missy Gannon," Pierce said. "Zoe was the world champion in putting last year. Missy was world champion in putting this year. We just fueled each other and vocalized every single thought that we had on the course."
"Like, 'If I park it, I'm probably gonna be on this side of the green' or 'If I'm outside the circle on this one I probably need to lay up'. So we would putt from everywhere we thought was a potential to land. I think that was crucial in these last two rounds, just knowing every inch of the green. I think it's the most prepared I've ever been and it's good to see that it paid off."
While Pierce was consistently hitting Circle 1X putts (3.3-10 meters) throughout the week, nailing 48 out of the 59 attempts (81.36%), Allen's putting game was off, to say the least. By the end of the week, Allen had attempted 48 putts from the Circle 1X range and was only able to put 23 away, meaning she missed two more of them than she made (47.92%). Putting troubles aside, Allen teed off on the lead card for all four rounds after round one, meaning the rest of her game kept her not only in the mix, but often in the lead.
With five holes to go, Pierce had already amassed a fairly comfortable lead of four, which she followed up with a solo birdie on 15 to give herself a five-stroke cushion with only three holes remaining. Despite taking another birdie on 16, Pierce still hadn't fully accepted the notion that she was about to win her fifth world championship.
"After my drive landed inbounds on 17, I mean, the worst I'm gonna do really is get a five on it and the best somebody is gonna do is get a three on it," said Pierce. "So I kind of knew at that point, but you never know. "I've won and lost tournaments on the last hole so many times, on the last putt, and so it's hard to get too comfortable until it's over."
Finishing with a par on 17 and laying up her upshot to under the basket on 18, Pierce dropped her putter into the basket for an emotional victory in front of a roaring gallery, her family, and friends.  
"It's something I've been dreaming about since I got the first one," said Pierce. "And then the second and the third. When I joined Val [Jenkins] at three and then we both moved to four it was awesome, because she was in my time period and even still, if she was out here she'd be on this podium. And now to join Juliana and Elaine, I, I don't even know if I really have the words for it."
With Ken Climo being the exception, having earned a mind-boggling 12 titles in the Open division (1990-1998, 2000, 2002, 2006), five has thus far been the limit as far as world titles in the Open or Open Women's division. With Paul McBeth and Pierce joining King and Korver in the 5-time category this weekend, neither of which being anywhere close to the end of their careers, it's hard to imagine the 5-time limit not being broken in the years to come.
Blomroos (-12) went on to take the fourth place position from Hokom (-11), with Kristin Tattar (-9), Lisa Fajkus (-4), Holly Finley (-2), Rebecca Cox (-1), and Valerie Mandujano (E) rounding out the top 10.