One member of original cast survives as Hornet's Nest claims more victims.
One member of original cast survives as Hornet's Nest claims more victims.
Disc Golf Pro Tour Championship Day 2 Recap
Saturday, October 17, 2020 - 10:00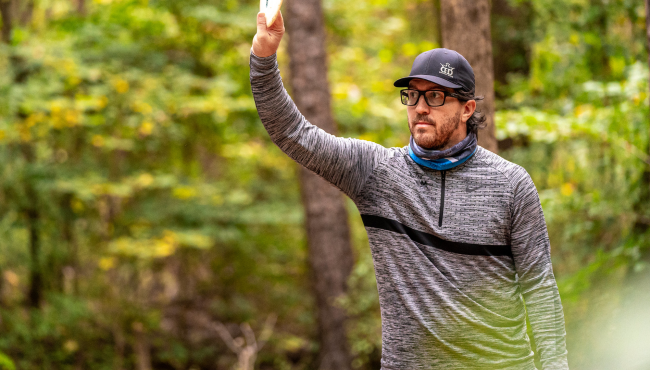 Conventional wisdom has it that players advancing from early rounds at the Disc Golf Pro Tour Championship carry an advantage over those who, by virtue of their higher seeding and according to the Championship's unique format, are thrust into the fray mid battle.
Such has been the case, at least on the MPO side, since 2018 when Chris Dickerson won the first of his two consecutive titles, both times coming through all four rounds of elimination play.
That tide, however, may be turning this year as only Eric Oakley managed to break through from the opening round to get through to Saturday's semifinal, and he required a heroic effort to do it.
Putting from the outer edge of Circle 2 on the 18th green, Oakley saw a group of players bunched up at 5-under and knew that a birdie would give him the cushion he needed. Make it, and he would likely move on. Miss it, and his fate would rest in the hands of others.
"I looked [at the scores] after I threw my drive," he told DGN's Terry Miller. "I knew that I was putting up at least a good score that would give me an opportunity to move on. If I need to run the putt I did. I thought, running it feels good and I'm going to make the comeback if I miss. Giving myself an opportunity to solidify a spot with a 6-under, I thought there'd be a really good chance."
Matching his hot round of 6-under, Kyle Klein and Austin Hannum fought back after early struggles. Klein had back-to-back bogies to go two-up after three holes before catching fire, and Hannum shook off a double bogey on hole five and recovered to break through to the semifinal round.
They'll be joined by the ninth seed, James Conrad, along with the top 8 seeds from the MPO field.
Earlier in the day, 12 of the 16 top women took to the course to play their way into the final 8, and it was Jessica Weese who set the pace with a steady 982-rated (unofficial) 2-under par.
Weese did most of her damage with the driver, leading the field in Fairway Hits (79%), as well Circle 1 in Regulation (56%) Circle 2 in Regulation (60%). She had little to no stress on the putting green, finishing most holes from well within Circle 1 and averaging only 11 feet on her Throw in Distance.
The same can be said for Lisa Fajkus, Missy Gannon, and Holly Finley, who also advanced Friday, each of whom was also in the top four for Fairway Hits and required only two Circle 2 putts between them.
Saturday's competition figures to require even more from players hoping to move on to Sunday's finale and a chance to be featured on the sport's breakthrough ESPN2 broadcast as the top four women and the top eight men enter the tournament bracket.
Live coverage begins at 9:25 am (Eastern) for FPO and 2:35 pm (Eastern) for MPO, only on the Disc Golf Network.