Minimal Margins, Misplay Make Up Utah Open Moving Day
Minimal Margins, Misplay Make Up Utah Open Moving Day
Wysocki, Allen each hold one-shot lead before final round
Sunday, June 24, 2018 - 00:49
Another tournament, another moving day that lived up to its name.
A breezy Saturday brought nothing but tumult to the Utah Open: Only one player on the Open lead card shot under par; the Open Women's field saw a hefty shuffle in the top 5; and Eagle McMahon was dinged two strokes for a misplay penalty during round one. When all was said and done, each division's leader – Ricky Wysocki and Catrina Allen – held a tenuous lead heading into Sunday's final.
Wysocki's 2-under par 56 at Mulligan's Creekside was a far cry from his 9-under par opener but was still good enough to put him in position to vie for his second straight Utah title with an 11-under par 105 total. Joel Freeman tossed a 3-under par 55 to move to 10-under for the weekend, while McMahon's 7-under par hot round moved him 12 spots up the leaderboard and into a third-place tie with Austin Hannum, who shot a 6-under par 52 to move to a 9-under par 107 total.
Paul McBeth, who led after a 10-under par showing in round one, fell to fifth place after a 973-rated showing that dropped him to an 8-under par 108.
Allen was able to gain her one-shot margin via a 4-over par 62 Saturday, while Paige Bjerkaas' 2-over par 60 was the field's best and moved her into a second-place tie with Jessica Weese at a 7-over par 123. Lisa Fajkus' 3-over par 61 saw her losing one slot on the leaderboard, as she sits in fourth place at 8-over par.
The OB monster sank its teeth deep into the heart of the Open division, and those who escaped its grasp were the most fortunate in the scoring department. Wysocki and McBeth combined for 11 penalty strokes, with McBeth's seven stray shots coming in bunches. He carded three straight bogeys on the front nine as he hit sand traps and shot long into ponds, and the hot putter that he held Friday failed him: He two-putted four times to drop his 36-hole circle 1 putting rate to 89 percent. Wysocki, meanwhile, was only able to save par once in the four times he painted outside the lines.
Those performances stood in stark contrast to that of Freeman. The 23-year-old Coloradan has the lowest OB rate for the tournament thus far (.083) and leads the field in scrambling at 89 percent. He's only carded two shots over par through two rounds, and that ability to stop the bleeding has offset a birdie percentage that is only 12th in the division.
Speaking of bogeys, McMahon was the only competitor in the 88-player field to card precisely zero of them in round two. He's also carving up Mulligan's with trademark accuracy, as his 75 percent fairway hit rate is tied for tops in the tournament. McMahon was actually sitting in position to be tied for the lead heading into the final, but was informed after the second round that he was assessed a two-shot penalty due to a misplay in round one.
As McMahon explained it, the error came Friday on the 453-foot 4th, when he played his drive wide right and he thought he landed safely with a putt for birdie. As it turns out, though, the shot skipped into the pond deep of the pin, and McMahon was so surprised by the spot that he forgot that he had to go to the hole's drop zone. Per a release from the Disc Golf Pro Tour, a cardmate noticed the error after a Saturday conversation with the tournament director, and McMahon said he was informed of the penalty after he finished his round.
"I kind of completely forgot there was a drop zone on the hole," McMahon admitted. "I just marked it, putted, and we moved forward. None of the other guys questioned it…I knew there was a drop zone, they clearly told us about it before the round. It was just a weird circumstance."
Though the mental lapse cost him a share of the lead, McMahon took the misfortune in stride and was relishing the opportunity to make the most of the final. "I have my game plan, as always, and I just need to stick to that to the best of my ability and see what happens tomorrow," he said. "I'm feeling more and more comfortable in these final rounds, and all I can say is that I'm excited to have the opportunity once again."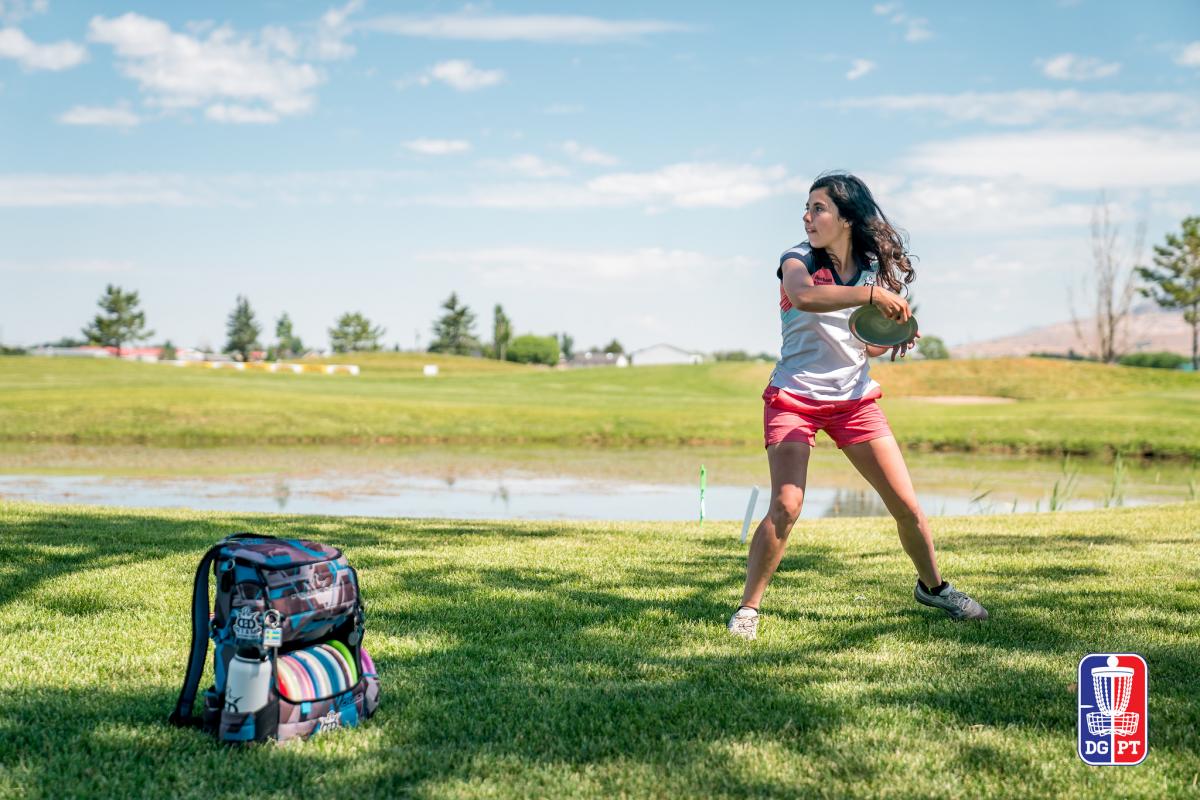 A morning jaunt through Mulligan's for the Open Women's division saw Allen fall off her round one pace as she cobbled together five OB strokes. Still, she has been the best at making the most of errant shots, as her scramble rate of 74 percent leads the pack.
For Bjerkaas, her three-shot improvement over round one came due to increased accuracy. She was dialed in on the fairways (56 percent) and amped her circle 2 landings up to 39 percent, and she continues to close her rounds with authority: Bjerkaas is one of only two women's players to birdie the 207-foot island 18th in both rounds.
A final tilt with Mulligan's is on tap for both divisions on Sunday, with the Open Women teeing off at 9:15 a.m. and the Open division doing battle at 3:15 p.m.