Locastro Logs Season-Best Showing To Take MVP Open Lead
Locastro Logs Season-Best Showing To Take MVP Open Lead
Six tied for second place at 6-under
Saturday, August 25, 2018 - 01:55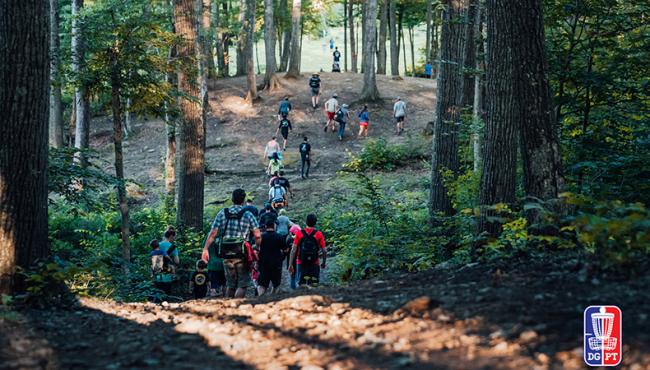 Nikko Locastro has played five Disc Golf Pro Tour events in 2018. In four of those, he's placed in double digits in the final standings.
The Missouri native took a big step toward bucking that trend Friday afternoon at the MVP Open, firing off a 1073-rated, 8-under par 51 to take an early advantage at Maple Hill Disc Golf Course. The effort was his highest rated of the 2018 season, besting his trio of 1067-rated rounds at February's Las Vegas Challenge PDGA National Tour kickoff.
Six players started the event with 6-under par 53s to make up a second place stalemate, with Ledgestone Insurance Open Champion Nate Sexton and 2013 Maple Hill winner Paul McBeth headlining the group. Joel Freeman slid into eighth place with a 5-under par 54, and a four-player logjam makes up ninth place at 4-down.
Locastro, who is coming off a 25th place showing at Ledgestone, feasted on Maple Hill's par 3s, landing in circle 1 in regulation on holes 3, 4, and 5 en route to three consecutive birdies. Even on the shorter holes where he came up against the hallowed track's wooded gauntlet, he scrambled effectively, saving par on 88 percent of his attempts and tossing in an 85-foot jumper on 16 for good measure. He was perfect from inside the circle and left his only blemish on the scorecard for the par-4, 680-foot 18th.
Sexton avoided any possible hangover from his Ledgestone victory in fairly workmanlike fashion. He also connected on 100 percent of his attempts from 10 meters and in, but he didn't mention any particular shots that stood out.
"I feel like it was pretty standard Maple Hill for me, just kinda playing it how – making a couple putts," Sexton said. "…Didn't hit a whole lot of trees. That's kinda the name of the game."     
The reigning United States Disc Golf Champion said he thought the week off between MVP and Ledgestone may have helped him recover mentally, but he also admitted that the second signature win of his career came with less emotion than the first.
"It felt a little different the second time around, I guess, if you want to count USDGC as the first one and Ledgesone as the second one," Sexton said. "…I think that letdown did kinda get me after USDGC."
As opposed to the Open Women's division, where much of round one's scoring occurred on the back nine, the players at the top did much of their damage on the front half. Steve Brinster and Matt Dollar led the way with five birdies in the first nine holes, while McBeth started play with four in a row before cooling off. The lone exception to the trend among the current runner-up group was Calvin Heimburg: The Florida pro made like Paige Pierce and closed with a 4-under par run highlighted by tap-in 3s on holes 17 and 18.
While scores are tight at the top, there are some notable players who have their work cut out for them for the rest of the event. Simon Lizotte, who said earlier this week that he'd be playing with a home-field advantage, went over par on the front nine and only managed a 2-under par 57 to slip to 21st place, where he is knotted up with eight others. Defending champion Ricky Wysocki and 2017 runner-up Eagle McMahon – the latter of whom has not competed since winning the Konopiště Open six weeks ago – slumped to 1-under par performances that put them in a 10-way tie for 30th.
The Open lead card tees off for Maple Hill moving day at 3:15 p.m. ET, with live coverage on the Disc Golf Pro Tour's YouTube channel. Real-time scoring and stats will be available for all competitors at UDisc Live.