King Takes One Shot Lead Over Allen
King Takes One Shot Lead Over Allen
National Tour - Dynamic Discs Open Day 3 FPO Recap
Saturday, May 1, 2021 - 01:28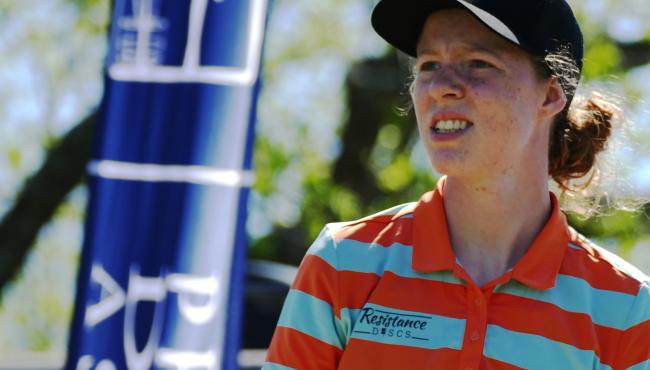 EMPORIA, Kansas – Camaraderie accompanied competition during moving day at the Dynamic Discs Open.
But don't get it twisted, there will be another battle between Hailey King and Catrina Allen on Championship Saturday.
After exchanging blows throughout the second stop of the PDGA National Tour, it was King getting the upper hand on Friday at the Emporia Country Club, erasing a three-stroke deficit to Allen with a 5-under 62 to take a one-shot lead into the finale.
"I'm feeling really good," King said. "I missed a lot of putts out there so to come out with the lead feels really good."
The duo, who pulled away from the rest of the field at Jones Gold in Round 2, have endured the elements – weather delays, wind, no wind – while matching each other's step throughout the tournament.
It took until the 13th hole for King to finally catch Allen and the 14th for her to take the outright lead.
Like the previous two rounds, they matched one another through the finish.
"It's a huge confidence booster," King said. "Cat really knows how to throw a disc. She is one of the top talents in the sport, arguably one of the best in the sport, so being able to keep up with her means a lot."
The entire card, which included Macie Walker and Kona Panis, was talkative throughout the round. They shared tips, fished out their discs on the island 16th and laughed.
"It's been awesome," Allen said. "We have the same card (Saturday) and we're pretty stoked about that."
The unpredictable Kansas weather, a staple of this spring event, has had an impact this week. Practice rounds early in the week featured heavy winds that were traded for wet weather and then ideal scoring conditions once the tournament kicked off.
"My practice rounds out here were extremely windy and I think I was letting that get in my head a little bit instead of making the adjustment," Allen said. "I felt like I was just off a by a little bit here and there."
King displayed her prowess off the tee, with a 91% fairway hit mark, as well as her aggressiveness, highlighted by a big OB-carrying upshot on hole 17.
The missed putts she referred to were from Circle 2 but King nailed 88% of her putts from C1X, including a 27-footer to tie things up on 12 and another from similar distance on 18 to maintain her slim, one-stroke lead.
That doesn't mean too much at the Country Club and with the Kansas wind forecasted to make another appearance, this battle is set for one final chapter.
"I think just trust a little more," Allen said of her plan for Saturday. "I was trying to be too safe and a little in between on some shots. I just need to be more decisive in the final round."
In the race for a podium finish, Walker continued her steady play with a 2-under 64 for a 4-under total on the week. Panis fired off a 3-under round and is one shot back in fourth.
Heather Young carded a 2-under round on Saturday and is one under overall, ahead of Maria Oliva in sixth at three over par.
Live coverage of the final round of the Dynamic Discs Open kicks off at 10 a.m. CT on the Disc Golf Network with the MPO division. The FPO lead card tees off at 12:20 p.m.