King, Pierce Set For Shootout; Jones Builds Lead Heading Into Finale
King, Pierce Set For Shootout; Jones Builds Lead Heading Into Finale
2020 DGPT - Green Mountain Championship Round Three Recap
Sunday, September 6, 2020 - 10:42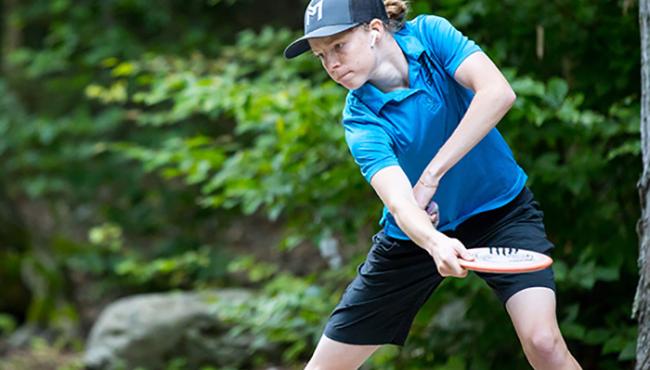 They've battled now for three-straight days, trading blows and moves step-for-step.
Sunday is the war.
Hailey King bounced back from every misstep even stronger on Saturday at Brewster Ridge to take a two-stroke lead over Paige Pierce into the finale of the Disc Golf Pro Tour's 2020 Green Mountain Championship at Smugglers' Notch.
The two entered moving day in Vermont all tied up after Pierce's scorching day at Fox Run on Friday.
King, on Saturday, moved on from bogey stronger – bouncing back with birdies after a bogey or worse five occasions.
The two matched birdie twos on holes 1, 3, 5, and 12. King hit five birdies through the first seven with two bogeys. After a double on nine, she responded with an 8-foot throw-in on 11.
There were three two-stroke swings between the pair with King grabbing birdie threes to Pierce's bogey fives on 7 and 11 as well as a three-stroke swing in favor of King on 6.
Simply, it was a shootout and that looks to continue as action shifts back to the meadows.
"I'm going to have my foot on the gas," Pierce told the Disc Golf Network.
Pierce returns to Fox Run after a course-record 6-under 57 on Friday.
But this is Sunday in Vermont that pits a steady King against a run-and-gun Pierce.
Catrina Allen and Sarah Hokom round out the lead card at even par.
On the MPO side, Kevin Jones continued a blistering tear with eight-straight birdies to start on the way to joining the 13-under, course-record club at Brewster Ridge. It was a six-shot improvement from Thursday's opening round for Jones.
Going back to Friday, Jones birdied 16-of-18 holes with one bogey and one par.
Now, it's time to finish and Jones has a 6-stroke lead ahead of Paul McBeth and Eagle McMahon entering Sunday at Fox Run.
Calvin Heimburg is seven back at 23-under par for the event.
Jones was lethal off the tee on Saturday, finishing with three parked holes and 72% C1 in regulation. He added a 99-foot throw-in on 17 for good measure.
McBeth fired off a bogey-free 10-down. Tim Barhman shot a bogey-free 11-under to jump nine spots and Philo Brathwaite's 10-under spring boarded him 11 spots.
The stage is set for drama all day with coverage on the Disc Golf Network starting at 12:35 p.m. ET.