King James
King James
Conrad crowned U.S. Champion after overcoming hole 17 headache
Sunday, October 6, 2019 - 01:53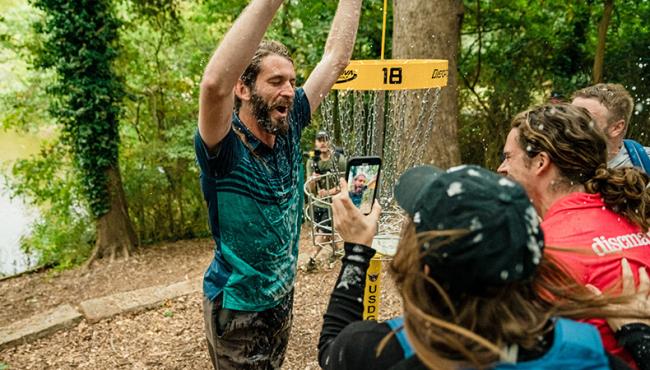 ROCK HILL, S.C. -- The putts weren't falling. The drives were sailing out of bounds. And, of course, hole 17 tried to derail James Conrad's attempt at summiting the United States Disc Golf Championship mountain.
All that mattered, though, was that the Virginia pro had one insurance stroke and one hole standing between him and history. That was all he needed.
Conrad played Saturday's 18th hole to perfection, then was showered with champagne and mobbed by friends and family as he celebrated his first career PDGA Major victory here in front of Winthrop Lake. His 2-over par 69 finish brought him to a 19-under par 249 after a harrowing final tilt in South Carolina and netted him a $12,000 payday.
"I'm a little bit in disbelief," Conrad said, his sticky hair draped over his shoulder. "It hasn't quite settled in yet. I'm super proud to have been able to take home the title today at the U.S. Championships. I join such an amazing crowd of past champions. Just honored and ecstatic."
2016 U.S. Champion Jeremy Koling's final round 6-under par 61 moved him up nine places and into a tie for second place with 2009 winner Nikko Locastro, who valiantly attempted a chase card comeback but was thwarted by a double bogey-bogey finish. The pair of past champs finished the week at 18-under and each took home $7,000, while Chris Clemons -- who also nearly charged from the second group before falling on 17 -- finished in fourth place with a 17-under par 251 that gave him his highest career finish at a Major and $3,000 in cash.
As autumn finally showed up in Rock Hill and temperatures dipped into the high 60s, a dark cloud cover was the first clue that Saturday would be fueled by drama. The second indication it wasn't going to be an average final came when Eagle McMahon, who lurked two shots behind Conrad, revealed that he had broken his hand after punching the ground on Friday but that he would play through the injury. 
Limited to throwing only forehands, though, the 21-year-old quickly fell off the pace -- as did the rest of Conrad's lead card competition. Nathan Queen, who had battled so hard throughout the week as the local hero, went out of bounds twice on hole 3 and cobbled together three straight bogeys in the middle of the course to effectively end his run. Estonian upstart Albert Tamm hung tough until hole 12, when he missed the green twice from the fairway and ended up with a quadruple-bogey 8. 
That left Conrad open to run away with the title, but he struggled to convert for many shots under par. Sure, he connected on a backhand-backhand birdie -- the first of his tournament -- on the par-4 2nd, but he was unable to knock down several putts that are normally in his range. He missed high on 5 for a birdie, then hit the flagstick on 9. On hole 10 he lobbed his bid for birdie up over the top band, and then he lost control of his drives: into the hazard on 11, OB on 12, and OB again on 13. 
"Just wasn't quite feeling as dialed in as I had been throughout the week," Conrad said. "I'm not sure if it was like some pressure on a subconscious level or something getting to me, but I think the wind also was a lot breezier today...I was flipping [tee shots] over too much and wasn't getting the putt dialed in with a bit of breeze compared to earlier in the week."
That trouble off the tee on 13 was about to give way to a bigger problem: When Conrad missed another putt to save par -- this time from 20 feet -- it left the door open for Clemons and Locastro.
The Missouri products were giving the tournament a run from the chase, with Locastro capping off a string of birdies with a massive connection for deuce on 14's elevated basket. The pair were two back of Conrad after hole 15, and Clemons brought that down to one with a park job on the 391-foot 16th.
Their title hopes, though, were about to be dashed. Clemons was first to tee on hole 17 and had trouble with the wind. His first two forehand attempts came up short of the hay bales, and on his third and final try he threw into the drink and had to proceed to the drop zone.
Locastro, too, couldn't find the line with his forehand and came up short, but was able to hit the green in two and nearly canned a bogey save from 50 feet, but instead clanged off the top band. He carded a 5, while Clemons ended his run with a quintuple-bogey 8.
Despite the adverse finish, Clemons was focusing on the positive after his outstanding week.
"To be honest, I feel really good," Clemons said. "Even after throwing OB on 17 three straight times I couldn't help but smile because I had the opp to win and I played well, and I was just happy with how I was playing."
That gave Conrad a four-stroke cushion over Locastro and five over Clemons. And he would need every one of those shots.
Just as his competitors on the chase melted down on 17, so too did Conrad. He threw his first Aviar shot too high and it clipped a tree before falling short of safety, but he remained composed. When his second shot sailed right but again missed the island, he grabbed at his head in despair, seemingly unable to comprehend what was taking place.
"I considered laying up short and then shooting for the island and playing for a 4, but I hadn't practiced that second shot," Conrad said. "...I figured I'd get on the island in one or two shots at the worst."
When he finally did reach the green, in three, he was still in circle 2. He smartly laid up and walked to hole 18 with a 7. 
"Seventeen had its teeth," Conrad said. "It's done that to plenty of players, including some people who were right in the mix for it today. So it got all of us a bit."
The nerves were high on 18, but Conrad leaned into what he knows: putter drives. He twice placed his Aviar with ease and left himself with a 15-footer that he put into the high end of the chainset before receiving his bubbly shower.
The friends and family that swarmed Conrad were instrumental in his achievement.
"It makes it a lot easier to be out here doing what I'm happy doing, having fun doing what I'm doing when I know there's other people doing the tourney with me and also supporting me," Conrad said. "Even if it's emotionally or just being proud, those kinds of things make it a lot eaiser to do this pro disc golf thing, and it's a lot of fun."
Chris Dickerson finished the tournament in fifth place with a 16-under par 252 total, and Philo Brathwaite climbed to sixth place at 15-down. McMahon tied for seventh with Alex Russell at 14-under par for the week, while Queen improved on his 2018 finish by coming in ninth. Adam Hammes, Nate Sexton, Joel Freeman, and Tamm rounded out the top 10.
After coming close at several Majors the last two seasons, Conrad is hopeful that this USDGC victory will be the first of many in his career.
"I'm gonna keep coming after them and keep doing what I can," Conrad said. "And yeah, I think I'll pick up some more."