'It Makes Playing Disc Golf Worth It'
'It Makes Playing Disc Golf Worth It'
European Open prestige, galleries set to impress Thursday through Sunday
Wednesday, July 17, 2019 - 19:31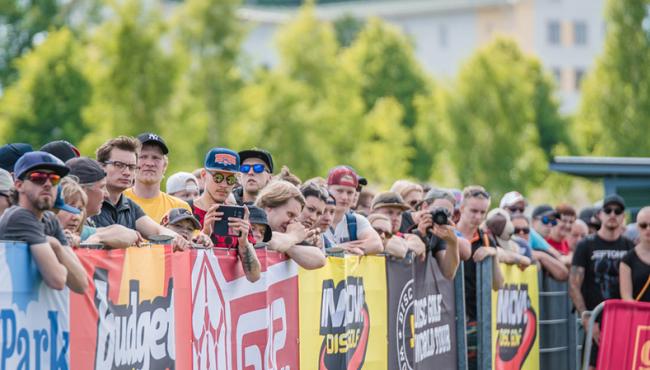 NOKIA, Finland – This Scandinavian outpost replete with coffee, efficiency, and three months of seemingly endless daylight has evolved into one of disc golf's most vital hotbeds, a nation where connecting plastic to metal is becoming as ubiquitous as the ice hockey rinks that serve as the backdrop to tournament central at this week's European Open.
So it's no surprise that, when talking to competitors ahead of this week's PDGA Major, Finnish disc golf culture—and its attendant galleries—are top of mind.
"There's definitely gonna be more people here to watch," reigning PDGA World Champion and 2017 European Open runner-up Gregg Barsby said as he took a brief rest during a practice round here at Nokia DiscGolfPark Tuesday afternoon. "The crowds here are awesome, the disc golf culture is—so many people know about it just through the growth that has happened. All the villages you go to there's people that play. There's a gallery at little events. [The European Open] is really the flagship event for Finland, so it's an amazing vibe out here—especially when it comes to tournament day."
Luckily for Barsby and his fellow 147 competitors, tournament day here lasts nearly all week, as the European Open serves up four rounds today through Sunday roughly two hours north of Helsinki. Played on the iconic par-64, 2,765-meter (9,072-foot) course known as "The Beast," the Open returns as a Major for the first time since 2017 and will now run for three consecutive summers, a testament not only to the efforts of tournament honchos Jukka Teras and Jussi Meresmaa, but also a country that boasts the second most courses in the world and more PDGA members than 48 of the United States.
"They take the disc golfing very serious in Finland," California native Philo Brathwaite said. "Even though they're not quite as established financially as in the states – there's not too many people making a living here—they still put 100 percent effort in and things are pretty serious out here. A lot of dudes are intent on playing well and have their goals set high."
Indeed, it's a culture that has yielded up-and-coming stars like Väinö Mäkelä, Eveliina Salonen, Henna Blomroos, and Niklas Antilla, as well as the nickname "McPeto"—McBeast—for four-time EO Champion Paul McBeth. The crowds fill the parking lots early, pour into the pro shop, fill their bellies at the local food trucks, and revere the sport for the high-level athletic endeavor it is.
"They are very respectful," McMahon said of Finnish spectators. "One thing they don't do is they're not shouting anything before you tee off. They actually wait for the disc to land before clapping, and their whole demeanor here is a lot different than the crowds in the states."
That added level of gravitas may add more pressure to a young pro like McMahon, who is looking to build off of his European Major victory at the 2018 Konopiste Open. But if he was feeling it, he wasn't showing it. Instead, he said one of his rivals should be feeling the heat.
"I think the underlying story here is how Paul's pretty much never lost," McMahon said. "So if anyone's feeling pressure, he is."
McBeth, though, has been his usual cool-as-ice self. He was loose during a Tuesday practice round alongside wife Hannah and teammate Austin Hannum, challenging himself with high drives over stands of towering birch trees and draining 15-meter putts like they were casual tap-ins. The same level of composure could be seen in two-time European Open champ Catrina Allen who, despite some struggles off the tee during Wednesday's Presidents Cup, said she was prepared for the week ahead.
"I love Finland, and I love this course and I love the way Jussi runs tournaments," Allen said. "I feel like I can just show up and play and there's no shenanigans, and there's no 'is this hole in bounds or out of bounds.' Everything runs so smoothly. It's so nice to just show up and play and not have to worry about anything else."
Even though Allen is the highest-rated women's player in the event at 973, she might need to take heed of the bevy of European women who are making their mark this season. Salonen, for example, was the class of the Open Women's field during the Presidents Cup; Blomroos has accurate distance for days and a calm swagger; and Estonian pro Kristin Tattar has won seven of the eight events she's entered in 2019.
"I'm so happy that we have really strong women in Europe, because I think five years ago or four years ago it wasn't that strong," Tattar said. "It's getting stronger, and I feel lucky because we have each other to push. I think it's awesome, and I really hope that all of the European women will do as well as the women from the states."
That sentiment of gratitude permeates every corner of Nokia's expansive grounds. Whether it is for the quality of the course, the tenacity of the competition, or the enthusiasm of the fans, disc golf in Finland brings out emotion reserved for only the most hallowed of locales. McMahon summed it up perfectly as he reflected on the impact of playing in front of spectators who feel the energy as much as the player.
"It legitimizes what we do," he said. "The Tyyni Open a few weeks back—the gallery was massive there, and Eric Oakley put it perfectly: It makes playing disc golf worth it."