'I'm just ready. I wish it was right now.'
'I'm just ready. I wish it was right now.'
Pierce, Allen, Salonen tied for lead heading into 2019 Pro Worlds finals
Saturday, August 17, 2019 - 01:32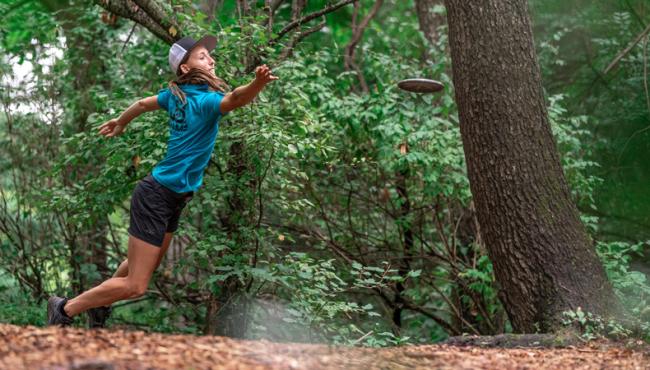 "I have butterflies right now, actually and this is the first round that I've felt the nerves," said Paige Pierce after turning in a 9-under par 52. Starting the fourth round of the 2019 PDGA Professional Disc Golf World Championships six off the lead, Pierce's hot round forced a three-way tie between herself, Catrina Allen, and Eveliina Salonen heading into the finals.
With the goal of earning her fifth world title in the Open Women's division, something that has only been accomplished by Elaine King and Juliana Korver, Pierce focused less on how many strokes behind she was when the round at Sunset Hills began, and more on her game plan.
"I wasn't necessarily thinking about the gap," Pierce said. "I was thinking about a number that I wanted to put down. I wanted to shoot 10-down. I had two air-balled putts and three 4s I shouldn't have taken and other than that I feel happy about it."
Pierce assumed heading into round four that it would all come down to putting and she believes it will be much of the same for the finals, right back at Sunset Hills once again. For the most part, her assumption held true, as Allen's and Salonen's struggle with putts both inside and outside the circle was definitely a factor in Pierce's comeback.
"I knew it was gonna be a putt-off," said Pierce. "I mean, all these holes, all of us could birdie all 18 of them. So, it's just a matter of how many are you gonna get and I think with the nerves and the pressure of it being the second to last day, I knew it was gonna be a putt-off today. I think, same story back here tomorrow. It's gonna be a putt-off."
"I'm just ready," Pierce said, anxiously. "I wish it was right now. I'm ready to go."
Neither Allen nor Salonen nor Henna Blomroos played poorly by any means, finishing at 4-under par 57, 3-under par 58, and 2-under par 59, respectively. They just couldn't get into the zone.
"Today I missed so many putts so I think need to make them tomorrow," said Salonen, who kept a positive mental attitude during the round motivated by her friend, fellow Finn, and cardmate, Henna Blomroos. Salonen and Blomroos spend nearly every weekend either practicing together or competing against each other, and their desire to see each other do well is obvious.
"Henna told me, 'Don't think about double-bogey'," Salonen said, referring to the double-bogey six she took on hole 15. With her friend by her side, Salonen crushed a drive off the tee on 16, a tricky 352' hole with a basket sitting on the edge of a hill.
"I just wanted that birdie," Salonen said. And she got it.
Blomroos's score of 59 wasn't low enough for her to keep her position at the bottom of the lead card for the finals, as another world champion, Sarah Hokom, would eventually tap in on 18 to earn the second-lowest score of the day, a bogey-free 6-under par 55.
Hokom will tee off six strokes behind the knotted-up threesome ahead of her and doesn't plan on changing anything up from how she played the course today. Unlike the other three women on the card, Hokom sees some of the holes as simply out of her range off the tee for birdies. So she has to pick them up where she knows she can, most of which are on the front nine.
"Yeah, that's where I can get them," said Hokom. "It's really not like, I mean, I can only get to 10 and then 14 on a bonus, 16 on a bonus. 17 is like, who knows if that's gonna roll away or not on the putt. Whereas the front, I can throw more standard shots and get the birdies on the sub-600 par 4s. There's a little more opportunity there. That's where I gotta score and then I gotta maintain on the back."     
The women's field of 46 has been cut and only the top 20 will take on Sunset Hills one last time for the finals. Blomroos and Kristin Tattar will tee off at the top of the chase card, eight and nine strokes off the lead, respectively, joined by Rebecca Cox and Lisa Fajkus.