How To Watch Discraft's Great Lakes Open
How To Watch Discraft's Great Lakes Open
Head for the hills this weekend for another Disc Golf Pro Tour stop
Thursday, July 23, 2020 - 12:37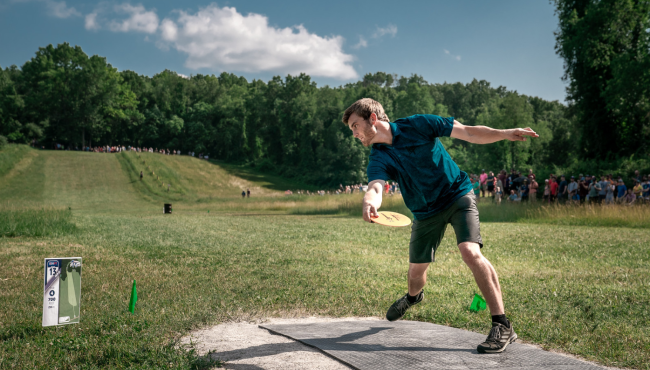 A long-time staple known for its ski-slope elevation and limited time in the ground each summer, Milford, Mich.'s Kensington Toboggan Metropark course was plenty famous before 2018. Indeed, the hallowed track has hosted Discraft's Great Lakes Open for ages, in addition to the annual United States Amateur Disc Golf Championship.
Then the venue joined the Disc Golf Pro Tour and Paul McBeth went nuclear. An already historic venue, amazingly enough, became more historic.
DGLO is back on the docket this weekend, the first of the pre-shutdown DGPT events that is running on schedule. Tournament staff tightened up the course in 2019 to make it tougher for McBeth and his counterparts, but the five-time PDGA World Champion still collected his second straight DGLO title after holding off Kevin Jones. That means we might be in rare three-peat territory this weekend.
Paige Pierce, meanwhile, stormed the tournament in 2019 and won by a paltry 12 strokes (sorry, we forgot to turn on our sarcasm font). She's dominated the DGPT so far this year, but is coming off a rare loss at the Silver Cup two weeks ago, meaning a rebound storyline is one we'll be watching.
And we'll do that watching with another impressive slate of coverage from the Disc Golf Network, several post-production crews, and more. Here's what you need to know to take it all in from Friday through Sunday:
Instant Scoring
With more stats than you can shake a stick at, keep an eye on UDisc Live all week for in-the-moment moves from the tournament's stacked DGPT field. 
Tee Time & Round Ratings
Official scores, tee times, and round ratings can be found at the official event page on PDGA.com
Live Video Coverage 
Disc Golf Network | Subscribe 
The Disc Golf Network (DGN) is the new home of live disc golf. Built by the Disc Golf Pro Tour, the DGN is a subscription streaming and on-demand platform much like Netflix or Disney+. Covering the world's best players competing in the sport's elite tournaments, a subscription includes post-produced coverage of select disc golf tournaments as well as exclusive disc golf shows, touring pro interview series, podcasts, and other segments only available on the Disc Golf Network. The DGN offers a PDGA Member discount of 50% to all active members, bringing the cost down to $4.49/month.
The first two rounds of live coverage for the Great Lakes Open will be streamed on the Disc Golf Network, with Jamie Thomas anchoring coverage and multi-time PDGA World Champions Nate Doss and Valarie Jenkins providing color commentary. The DGN will also stream some content for free on the platform, including the final round of the tournament.
Action kicks off every day at 1:35 p.m. CT. Be there.
In addition to the DGN, Sunday's final will be simulcast on the DGPT Youtube channel. Crave the banter between those watching live? Head over and chat in the comments!
Post Production Video Coverage 
Jomez Productions | Subscribe 
Open lead card 
JomezPro will be on hand at every DGPT event in 2020 to bring their eye-catching stylings to the Open feature and lead card each day, putting post-produced coverage of the world's best disc golfers in front of more than 200,000 subscribers. Yes.
Open Women's lead card 
GK Pro will be covering nearly all of the lead women's cards for the DPGT this season. Paige Pierce popping off again? It'll be on GK Pro. 
Gatekeeper Media | Subscribe 
Open chase card 
Get ready for some Rewinds! Gatekeeper Media has been plenty busy during Offseason 2.0, teaming up with pros like Simon Lizotte and Andrew Fish for intimate mic'd up videos. Now, the Philly-area crew is back on the DGPT for next-coverage of any chase action in Michigan.
Articles
PDGA.com
Yep, we'll have you covered here with daily round recaps and other coverage from the Preserve. So, if you're here already, you might as well stay.
DGPT.com
Or, you can head to the Disc Golf Pro Tour's home on the internet for daily coverage, too. As a famous meme asks, "why not both?"
Photography
Alyssa Van Lanen Images | Follow
Now in her fifth year of touring, Alyssa Van Lanen has become the preeminent photographer when it comes time to get the right disc golf shot. From in-your-face action to candid reactions, Van Lanen will have photo galleries from each day of competition available on the DGPT Flickr page, as well as her website and social media channels.
DGPT & PDGA Social Media
Disc Golf Pro Tour
DGPT Media will be on the ground all week bringing the sights and sounds from the event. Whether it's behind the scenes shenanigans on Instagram stories or photos and interviews on Facebook, they'll be communicating across all of their platforms for the week. Plus, be sure to subscribe to the Disc Golf Network and the DGPT YouTube channel, where the live coverage will be simulcast as well!
PDGA
Be sure to tune in to the PDGA's social media channels for any updates from disc golf's governing body and extra highlights you might have missed. Got headphones? Check out recaps of each tournament on the weekly PDGA Radio podcast!