Hokom's Hot Finish Good For SFO Lead
Hokom's Hot Finish Good For SFO Lead
Jenkins in second; Weese struggles late after strong start
Friday, May 25, 2018 - 08:58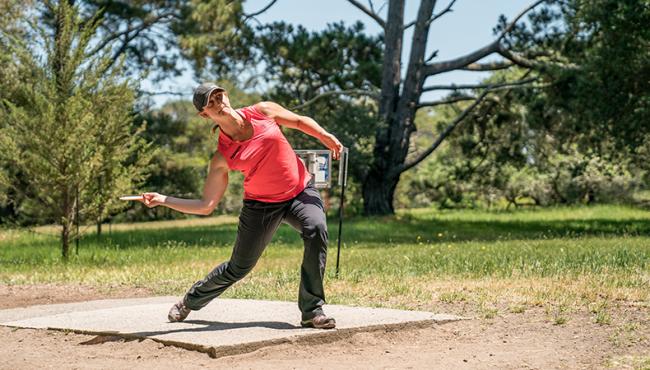 Clocking in at 9,044 feet, the San Francisco Open's Gleneagles Golf Course is the longest the Open Women's field has faced at an Elite Series event in 2018. Count it as an upset, then, that a player who often says she doesn't have the distance to keep up with the rest of the field fared the best during the opening round.
Sarah Hokom slayed the city by the bay with a 3-under par 63 Friday morning to take a one-shot lead at the first-time Disc Golf Pro Tour tournament, overcoming four early bogeys with a turkey to close her round and jump over Valarie Jenkins, who logged a 2-under par 64. Catrina Allen tossed a 1-under par 65 to start in third place, and a three-way tie comprised of Paige Pierce, Jessica Weese, and Madison Walker makes up fourth at even-par.
Though Hokom failed to connect on three par saves from circle 2, she rarely needed her long-range putting skills. Instead, she led the field in parked shots (17 percent) and landing in circle 1 in regulation (50 percent), taking the putter out of the equation and only needing to throw in from 12 feet on average.
She boosted most of those numbers late. The two-time United States Women's Disc Golf Champion carved up Gleneagles' last six holes, landing in circle 1 or parking them all en route to four birdies. She could have had more, arguably, as her only missed putts of the day came on attempts for deuce on the 327-foot 13th and the 383-foot 16th.
Jenkins, meanwhile, rebounded masterfully after she was disqualified from last weekend's Santa Cruz Masters Cup. She led the field in scramble rate (71 percent) and paced the feature card for most of the round. Her putter turned cold late in the round, though, and she two-putted three times on the finishing stretch to cede ground to Hokom.
For Weese, just one hole was enough to knock her from the pole position. She entered hole 18, a 567-foot par 4 with out-of-bounds on either side of the fairway, at 4-under par for the round and in position to take the clubhouse lead. She then went outside the lines twice and could not manage to hole out before carding an 8 and dropping all the way down to Saturday's chase card. Still, Weese can take plenty of positives from her overall performance: Even with the late penalty strokes, she still paced the field by landing in the fairway on 85 percent of her opportunities and is in second place in circle 2 in regulation (72 percent).
The rest of the division's usual contenders found the rest of their round going like Weese's 18th, as Pierce, Walker, and Lisa Fajkus combined for 11 penalty strokes throughout the round. Fajkus made up for her miscues with a 100 percent circle 1 putting rate, but only managed one birdie during the round.
The Open Women's lead card tees off Saturday morning for another run at Gleneagles, and they will receive their own time in the spotlight with an hour-long post-produced presentation at 1:30 p.m. on the Disc Golf Pro Tour's YouTube channel.