History on the line as Klein, Dickerson face-off for first PDGA Pro Major
History on the line as Klein, Dickerson face-off for first PDGA Pro Major
2020 United States Disc Golf Championship Day 3 Recap
Saturday, October 10, 2020 - 12:35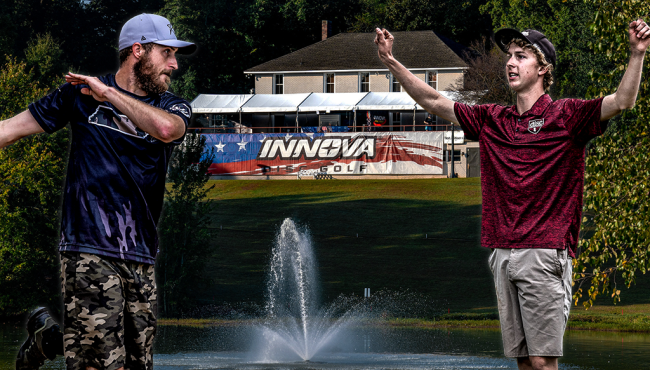 Let's talk about rare company. In 1997, Tiger Woods famously won the Masters in his first year on the professional tour after winning the U.S. Amateur Championships in 1996. The only player in disc golf history to win an MPO pro major the year after winning an amateur major is Ricky Wysocki, who won the 2011 PDGA Championship a year after taking down AM Worlds in the Junior I division.
18-year-old phenom Kyle Klein will have an opportunity to add his name to that list on Saturday as he attempts to overtake tournament leader Chris Dickerson for the 2020 United States Disc Golf Championship title.
For Klein—the 2019 U.S. Amateur Champion—it would be a feat all the more impressive considering the pandemic-shorted season has presented but one precious opportunity to bag a PDGA Major title.
He'll start the final round four back of the leader, Dickerson, after a bogey-free 1074-rated (unofficial) 12-under in which he hit 95% of the fairways, and with plenty of opportunity to make up strokes on the rope-laden hazards of Winthrop Gold.
"I'm kind of speechless right now, to be honest," Klein told the hosts of DGN's Inside the Winthrop Arena. "I was going into the tournament trying to average eight. I did that in the first rounds, and now to come in with a 12? I'll guess I'll take what I can get.
"It's been a great experience for me. I love the feel of being on the pro tour and being around all of the people I've watched and idolized for years. Being here and being around them—it's just a great feeling."
Dickerson, for his part, has been known for producing lights-out performances on championship Saturdays—memorably storming back with 1080-plus-rated performances at DGLO, Idlewild, and Ledgestone. Unfortunately, so far, for Dickerson, he has been trying to make up too much ground on the final day and has come up just short each time.
He'll have a chance to flip the script as he chases what would be by far the biggest win of his career, and anything near his Saturday-best should do the trick.
"It's honestly no different than any other day," Dickerson said about his mindset heading into the final. "I've just got to come out tomorrow and play the course the way I should and just leave it all out there."
Should he falter, Eagle McMahon will be waiting in the wings to try to capitalize as he sits only six-back of the lead. The only PDGA Pro Major title holder in the group, McMahon will likely have a mental edge over his less decorated card mates, as Dickerson, Klein, and Alex Russell, who tied the course record with a 15-under in round 2, will attempt to navigate into uncharted waters.
The lead card is scheduled to tee off at 2:45pm (Eastern), following the Disc Golf Hall of Fame Class of 2020 Induction Ceremony.