Fish, Hokom Start Strong at MVP Open
Fish, Hokom Start Strong at MVP Open
2020 DGPT – MVP Open Round One Recap
Saturday, September 12, 2020 - 01:31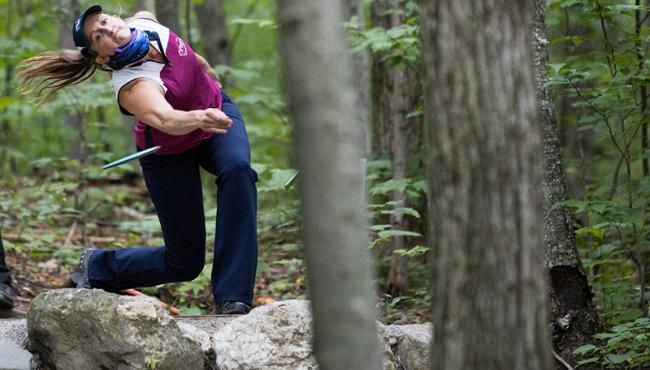 Maple Hill provided a little bit of everything on Friday's first round of the Disc Golf Pro Tour's 2020 MVP Open.
Big numbers, small numbers and everything in between highlighted the first 18 of 54 holes of action, showing that playing steady was going to be a big key.
Andrew Fish and Sarah Hokom fit that bill on the first run through the all-around favorite Maple Hill track.
Fish went 8-under through 13 holes and finished with a 9-under 51 to take a two-stroke lead in the MPO field while Hokom leads an ultra-tight race in FPO with a 4-under 57 on the diamond track at the hallowed grounds.
There were big numbers – double and triple bogies – and perfect shots on Friday, highlighted by aces on the famous Hole 8 by Steve Brinster first and then again by Paul McBeth. Usually packed with spectators behind the basket, the 320-foot, water carry was witnessed by cutouts and a lone volunteer spotter, who brought enough energy after the aces for the rest of us. Both aces were caught on film, Brinster's by Gatekeeper Media and McBeth's live on the Disc Golf Network.
But it was Fish on the MPO side who avoided the large numbers and carded plenty of smaller ones. The Baltimore native started 4-under through five holes and turned in the lone bogey-free round on Friday, finishing first in fairway hits (78%), Circle 2 in regulation (72%) and scramble rate. The Discraft pro and co-tournament director of the Women's Open of Maryland Edition Number 4 finished 100% in C1X putting in a clean day off the teebox.
Kyle Klein, the 2019 National Amateur Disc Golf Tour champion, was the early clubhouse leader with a 7-under 53. Klein, whose 1064-rated round is his second-highest of 2020, was bogey free until an OB drive on the 14th.
He leads Garrett Gurthie, Ricky Wysocki, Kevin Jones and McBeth by a single-stroke. Two others – Terry Rothlisberger and Brinster – are four off the pace at 5-under.
McBeth's ace on the eighth put him 6-under through eight holes before a bogey five and a birdie-bogey exchange over the last five holes.
Hokom raced to a 4-under mark through eight holes before navigating what she called the tricky part of the course – the middle – with two bogeys before snagging birdies on 15 and the island hole 18, another Maple Hill staple.
The FPO race is super tight throughout with Saturday's lead card going 4-under, 3-under, 2-under and 1-under.
Catrina Allen finished two down over the last five holes. Paige Pierce led the field in birdies at 44% and parked percentage (17%) but was fourth in OB rate (.111).
Lisa Fajkus rounds out the lead card with a 1-under 60.
In striking distance on the chase card are Hailey King, Missy Gannon, Heather Young – all at plus-1  -- and Holly Finley at plus-2.
Friday's opening round proved that this weekend is must-see. You can catch all of the Round 2 action beginning at 12:35 ET live on the Disc Golf Network.