Comeback: Korver Learns That She's Still Got It
Comeback: Korver Learns That She's Still Got It
2021 DGPT Championship - FPO Quarterfinal Recap
Saturday, October 16, 2021 - 08:33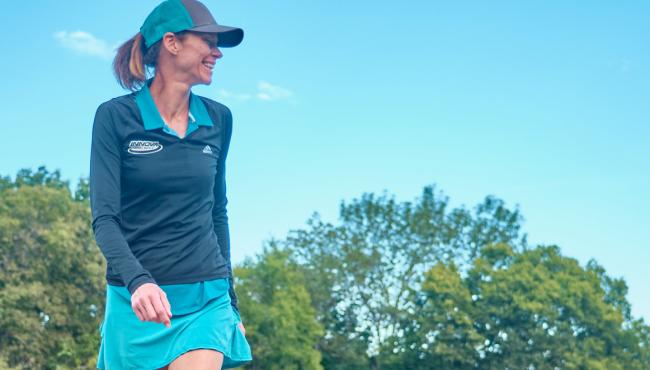 She's still got it.
Juliana Korver stepped away from her desk earlier this season and back onto the disc golf course this year looking to see if she could still compete at the professional level.
The results and the embracement of the community speak for themselves.
One of her goals was to qualify for the Disc Golf Pro Tour Championship.
"Obviously, it's rewarding but also, I didn't know if this was realistic," Korver said on Friday in Charlotte after narrowly missing advancing to the semifinals. "Now, I actually think I can set my goals a little bit higher. I need to believe in myself even more than I did.
"I just stepped away from my computer and came out here."
It was a leap of faith in a way, a test to see if the five-time PDGA World Champion could still hang with the ever-growing and ultra-competitive FPO field.
"I'm just trying to get back to my old level," Korver said. "I really love the fact that if I play well, I can still compete."
Korver started the season in the Masters field, taking down the Memorial and then the United States Women's Disc Golf Championship, the first PDGA Major she entered since 2006 and her eighth PDGA Major title.
"I'm feeling more emotions than I thought I would feel – yeah, I'm thrilled," Korver said back in May in California.
Then Korver moved into FPO competition, taking top 10 finishes at Goat Hill and the OTB Open before a podium finish at the National Tour – Santa Cruz Masters Cup. She had several more top 15 finishes the rest of the year, including a return to her roots at the Des Moines Challenge and then, to close the regular season, a 10th-place finish at the final PDGA National Tour event at the Music City Open in Nashville.
Korver played in, and won, the very first PDGA National Tour tournament in 2003.
What she found in her most competitive season since 2006 is an women's field that's obviously deeper, more competitive and embracing. Players like Paige Pierce and Hailey King often commented how excited they were to get the opportunity to play with JK, who has 229 career wins in 335 PDGA events.
They learned from Korver and in turn, Korver learned about herself.
"I don't necessarily think that my skills were lacking this year, it was just that I didn't believe that I could actually do it," she said. "Now, I do."