A Come-From-Behind Push Results in McBeth Victory
A Come-From-Behind Push Results in McBeth Victory
Pierce Earns Runaway Victory on The Toboggan
Monday, July 8, 2019 - 11:26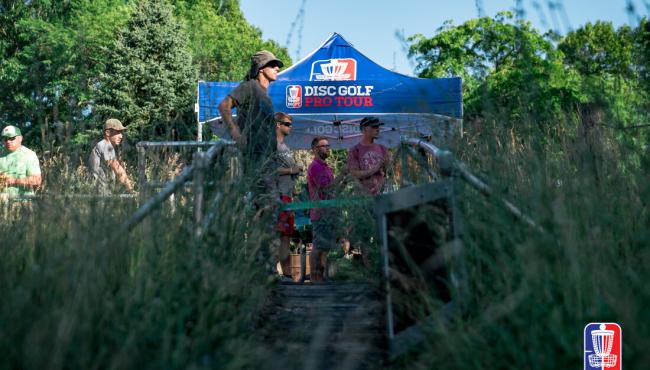 Discraft's Great Lakes Open has come to a close, and Paul McBeth is now a 2x Champion. Kevin Jones started the day with a one throw lead over Paul McBeth, and it shaped to up be a battle throughout the day. Kevin gave Paul a stroke early going OB on his first drive of the day. Kevin would then have to settle for par on hole two while Paul landed a birdie and at that point, his lead was relinquished. Kevin would get back to a tie, grabbing a birdie on hole three to Paul's par and the battle was on. They went shot-for-shot on holes four and five before Paul grabbed two birdies to Kevin's two pars on holes six and seven. Kevin grabbed both of them back on eight and nine, and Paul and Kevin went into the back nine tied with a five throw lead on the rest of the field. On hole 11 Paul would throw his drive past the basket for a birdie two and Kevin would have to settle for a par giving Paul the lead. Paul and Kevin would again go shot-for-shot holes twelve-through the end of the round. Paul's birdie on 11 resulted in his victory, making him a repeat Discraft Great Lakes Open Champion.
Outside of the battle for first, there were several players in the hunt to make a top-five finish. Zackeriath Johnson started the day on the chase card after shooting one of the hotter rounds yesterday and proceeded to move up two spots into a tie for third place after birdieing three of the first five holes, by the time he finished his round he found himself in solo third place. Adam Hammes also battled early to move up ten spots and into a tie for third place for most of his round. When it was all said and done, he ended up moving up seven spots in a tie for seventh place. Also in the mix were Zach Melton and JohnE McCray. JohnE threw the same round at Zackeriath yesterday. JohnE was able to move up four spots into a tie for fifth for most of the day. He would finish tied with Adam for sixth once the lead card finished the round. Zach Melton started the day in third place and was unable to stave off Zackeriath's push, so he settled for fourth place. 
Read the full story on DGPT.com »
Pierce Earns Runaway Victory on The Toboggan
The Discraft Great Lakes Open has come to a close for the FPO division, and the race for first was not even close. Starting the day with a seven throw lead, Paige Pierce was able to seal the win early. 
Paige started the day four down through the first six holes while the rest of the lead card only was able to make two down. Gaining two throws on the field gave Paige a nine throw advantage going into the back nine. At that point, she was able to put her play on autopilot to bring home the victory. When asked about how it felt Paige said she was able to minimize mistakes on the course which was her key to victory. Paige had said earlier in the weekend a -6 was the round players would need to win. When asked how she felt about landing the -5 today and not quite getting to the -6 goal she said that it still felt great and she was glad to bring home the win. With this win Paige was able to increase her Pro Tour Standings lead, she had the following to say "It felt great, I'm really focused on player of the year and this improves my chances. I feel good about my game going into Worlds."