China Disc Golf Center Open A Flying Success
China Disc Golf Center Open A Flying Success
McDowell, Guo win top amateur divisions at country's first PDGA-sanctioned tournament
Monday, October 29, 2018 - 17:27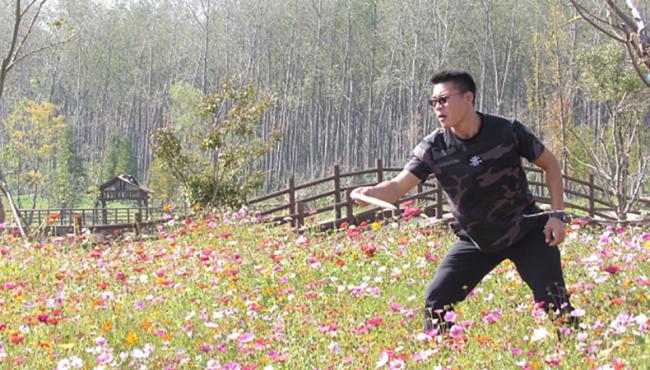 Sunday marked a milestone in the evolution of disc golf, when the first PDGA-sanctioned tour event was held in the People's Republic of China. Surely "Steady" Ed Headrick was smiling down on the proceedings from his eternal flight, knowing that the sport he formalized some 40 years ago was now taking off in the world's most populous nation.
Hosted by Tournament Director Eric Yingfeng Xu – who is also the president of Yikun Discs and director of the China Disc Golf Center, the PDGA's affiliated national association for China – the China Disc Golf Center Open took place in beautiful Huanghai National Forest Park in Jiangsu province. As this was the first competitive experience for most of the players, the layout – designed by Prodigy Disc team members Dave Greenwell, Will Schusterick, and Mike Sullivan – was a short, nine-basket, par-27 recreational loop that featured a modest amount of obstacles and holes that averaged about 200 feet in length.
All told 29 competitors – 24 Chinese nationals and 5 laowai ("foreign devils") journeyed from various urban centers in eastern China, with some traveling several hundred miles for the honor of partaking in the celebration. After the opening ceremony, they tackled the course three times in a stiff breeze that provided a real test of their ability to throw accurate approach shots and find the chains.
Sitting one off the pace after 18 holes, United States expatirate and China-based Prodigy employee Morgan McDowell played the steadiest down the home stretch to take home the MA1 division title. His 9-under par total was four clear of flying Finn Mikko Kallanto in second place and a handful up on Zhuang Liang, a physical education teacher from Ningbo. Among the ladies, ultimate player Yang Guo's superior Frisbee™ skills proved decisive as she won FA1 handily with a 6-over par total that bested more than half of the men's field.
A profound sense of camaraderie prevailed, with the players and organizers reveling in this historic occasion in the development of disc golf. After the final putts nestled in the baskets and the top finishers were fêted, a frenzied autograph session ensued. No doubt the tournament logo discs, signed by the Prodigy and PDGA touring ambassadors, the organizing team, and the top finishers, are already a serious collectors' item.
The event was also videoed by high tech camera and drone, with the footage to form part of the materials that our hosts will now be using to promote disc golf in this industrious and ingenious country.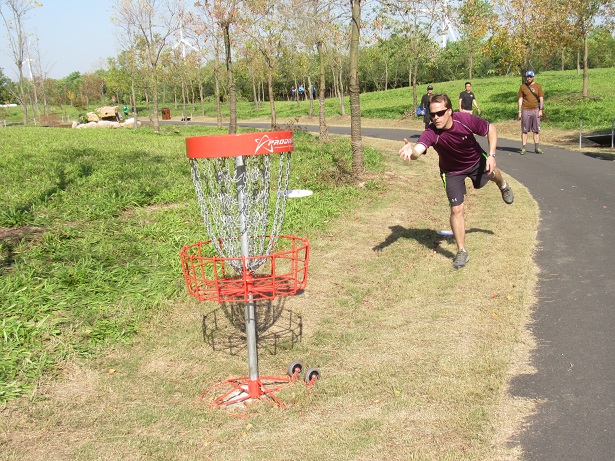 As the sun sets over Huanghai Park, the PDGA would like to extend its congratulations to Yikun Discs and the CDGC, as well as to Eric, Chenran and all their volunteers for the fantastic job they did in putting on the event, and for the superb hospitality they are showing us as our journey across the Middle Kingdom continues.