Bill 'Old Man' Wallis: 1946-2019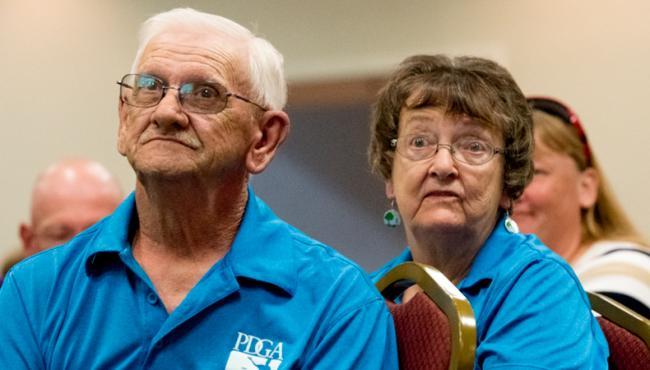 The disc golf world lost a dedicated husband, father, grandfather, great grandfather volunteer, and friend, as Bill "Old Man" Wallis, PDGA #6580, passed away peacefully at his home in Illinois yesterday after a battle with cancer. Wallis was 73.
Known for his welcoming spirit and love for disc golf, Wallis and his wife, Mary Ann ("Mom"), exuded family to anyone who approached them, both on the course and off. Old Man was introduced to the sport by his son Wilbur (#6583) at Bradley Park in Peoria, Illinois, in 1986. He immediately latched on and especially enjoyed meeting other disc golfers. Shortly after that, he began traveling to tournaments not only to play, but also to observe and volunteer, all with the intent to eventually run his own disc golf tournament.
He did that with the Peoria Frisbee Club in 1994, and he succeeded in hosting Illinois' first A-Tier event with the Greater Peoria Open in 1998. When Old Man and Mom brought the United States Women's Disc Golf Championships to Peoria in 2002, it was the first PDGA Major held in the Prairie State. 
Old Man was the tournament director of record for six consecutive USWDGCs through 2008 before again stepping up to run the show at the International Disc Golf Center in 2014. In 2007 he received the Brent Hambrick Tournament Director of the Year Award for his continuous efforts to grow the women's side of the sport. He and Mary Ann received the PDGA's Volunteer of the Year award in 2013, and in 2017 they were awarded honorary Eagle Club (lifetime) memberships. Only one other person, "Steady" Ed Headrick, has received that accolade.
After retirement, Old Man and Mom would often pack up their camper and head out on the road to volunteer at numerous PDGA Major events. This gave Old Man the opportunity to do one of his favorite things while meeting some of his favorite people: disc golfers. Old Man's impact on Illinois and the disc golf world are profound, and in 2019 he and Mary Ann were inducted into the Illinois Disc Golf Hall of Fame alongside John Connelly (#992), Brian Cummings (#1739), and Gary Lewis (#2234). 
More impactful than his contributions to the game, though, was the way he carried himself. He had a selfless, kind, warm demeanor that left a lasting impression on every person he met. He was quick with a hug, and rarely could you find someone who hasn't laughed at his wonderfully terrible jokes. Whenever you spoke with him, even if you'd just met, you were not a stranger. You were a friend. 
Bill is survived by Mary Ann, their sons Wilbur and Chuck, and several grandchildren and great-grandchildren. He was preceded in death by his parents and two children, Jim and Sue Wallis. Per Bill's wishes, memorial contributions may be given to Disc Golf Foundation, IDGC-Wildwood Park, 3828 Dogwood Ln, Appling, GA 30802-3012 or UnityPoint Hospice, 221 NE Glen Oak Ave. Peoria, IL 61636.
The PDGA staff and Board of Directors extend their deepest condolences to the Wallis family. He will be dearly missed.