Announcing the Inaugural PDGA Women's Disc Golf Week
Announcing the Inaugural PDGA Women's Disc Golf Week
May 13 - 21, 2023
Monday, March 27, 2023 - 00:06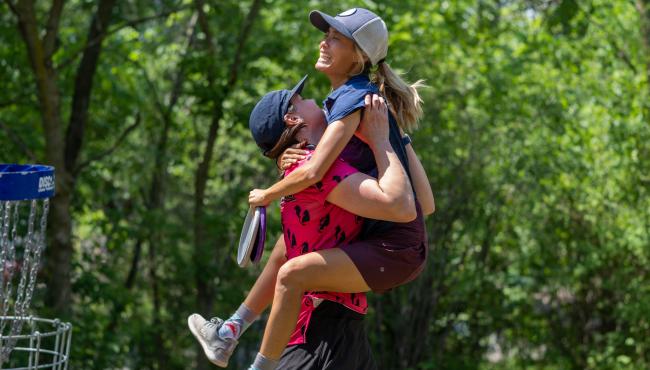 We've been getting a lot of questions about Women's Disc Golf Week, so we're just going to ruin all of the surprises and give all of the details! 
Why Women's Disc Golf Week
PDGA Women's Disc Golf Week was set up to work as a bridge between Women's Global Event years and a way to encourage organizers to keep their WGE events going during the off years. Women's Disc Golf Week is also designed to celebrate women and girls in disc golf and to encourage as many women and girls to participate in the sport as we can.
How we're celebrating
Non-member fee waived for participants in gender-based divisions at C-tier level events from May 13 - 21 (info for TDs below) where applicable
20% off membership for women and girls who join for the first time for the entire month of May
Mystery boxes of goodies sent to 50 women and girls who participate in a PDGA-sanctioned event in the month of May with current PDGA membership. Winners to be determined by a drawing after June's ratings update.
Recognizing women and girls that you nominate during the week of Women's Disc Golf Week*
*Email nominations to: [email protected]. Include: photo, name, PDGA#, brief explanation of what you appreciate about their presence in women's disc golf. Please email before May 12.
The Mystery Boxes
Okay, so we're keeping one surprise…
We will be giving away a total of 50 mystery boxes. Winners will be determined by drawing. To become eligible to win a mystery box:
Play a gender-based division in a PDGA-sanctioned C-tier or higher level event (each event earns you an additional entry,)
Nominate or be nominated to be recognized during WDGW
Winners will be announced after the June ratings update.
Find an Event
Find all events happening May 13 - May 21
Below is a list of C-tier events that have the fee waiver in place for gender based divisions. These are some of the events that non-member women will want to play to get the fee waiver. This list was generated March 23rd.
For Tournament Directors
If you already have an event (or want to add one) during this time period, it is easy to be included in Women's Disc Golf Week. All you have to do is click a little checkbox in your Disc Golf Scene registration settings (see graphic below).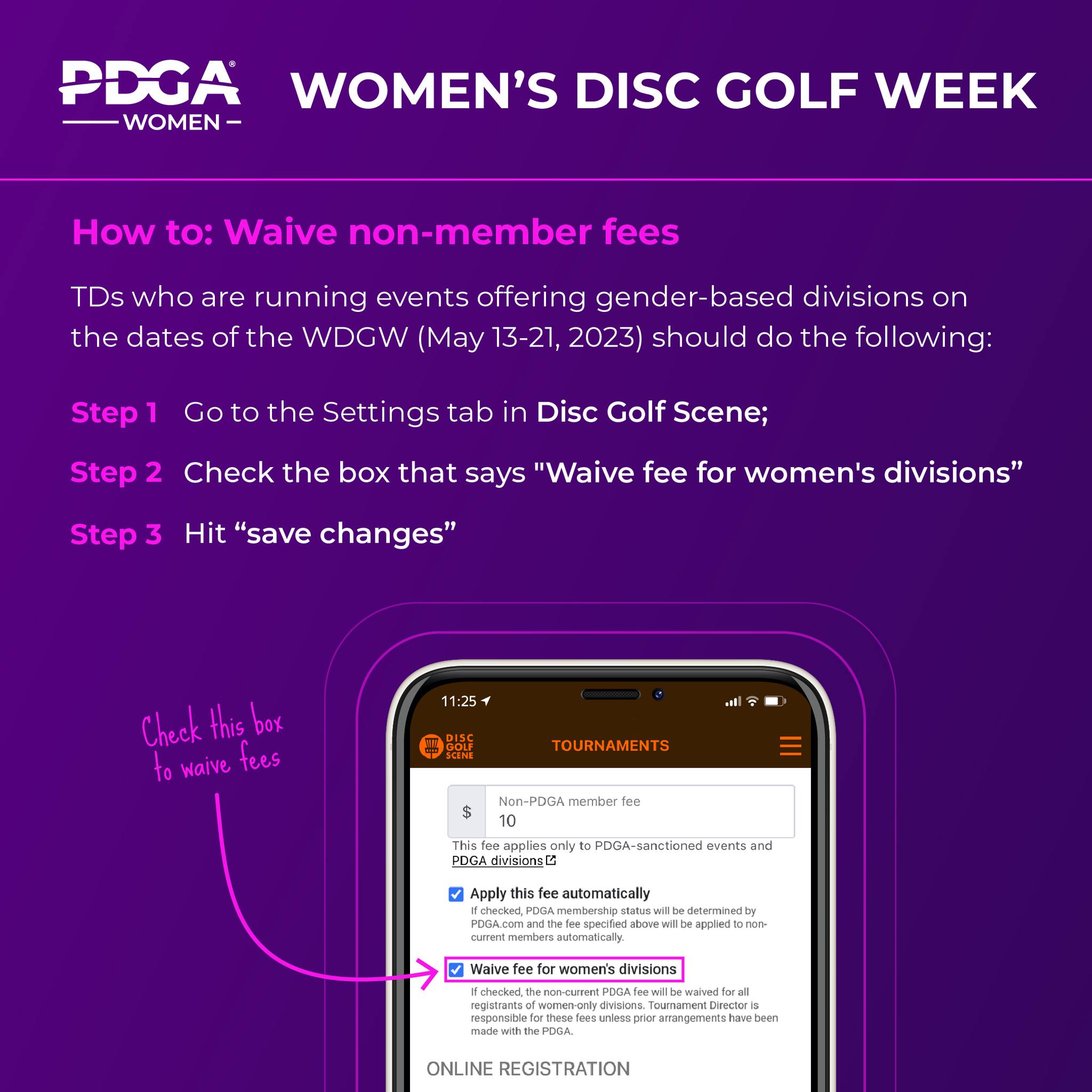 Still not sure if you're doing it correctly? No worries. Contact Event Support
We are super excited for Women's Disc Golf Week and cannot wait to celebrate with all of you!
Comments
Regenerate that list! Let's see some more events!