Allen, Pierce Tied With 36 Holes Left; Ananda Makes Jump
Allen, Pierce Tied With 36 Holes Left; Ananda Makes Jump
2021 PDGA Pro Worlds – Day 3 FPO Recap
Friday, June 25, 2021 - 11:37
OGDEN, Utah — In her own words, Catrina Allen's best putt of the day was the one to end Round 3 of the PDGA Professional Disc Golf World Championships.
That bodes well for what promises to be a thrilling and battle-filled final two days in Utah.
Allen connected on an edge-of-circle putt to cap a rollercoaster day for the FPO lead card and move into a tie with Paige Pierce with two rounds to go at the World Championships.
"I don't know why that was the calmest I felt all round or the most confident," Allen said. "I think I was just like, shut up and just try to make it. That was a great putt to end on. After all the missed ones, I think I'll just take that and enjoy the rest of my day."
That putt capped a wild final nine for the lead card that saw the leaderboard shift dramatically coming down the stretch after another daunting round at The Fort.
Pierce built her lead to as many as six strokes near the turn. By hole 12, the lead was three over Lisa Fajkus after a two-stroke swing. As Pierce and Fajkus found struggles, Allen entered the mix and was two behind Pierce and one ahead of Fajkus on hole 17.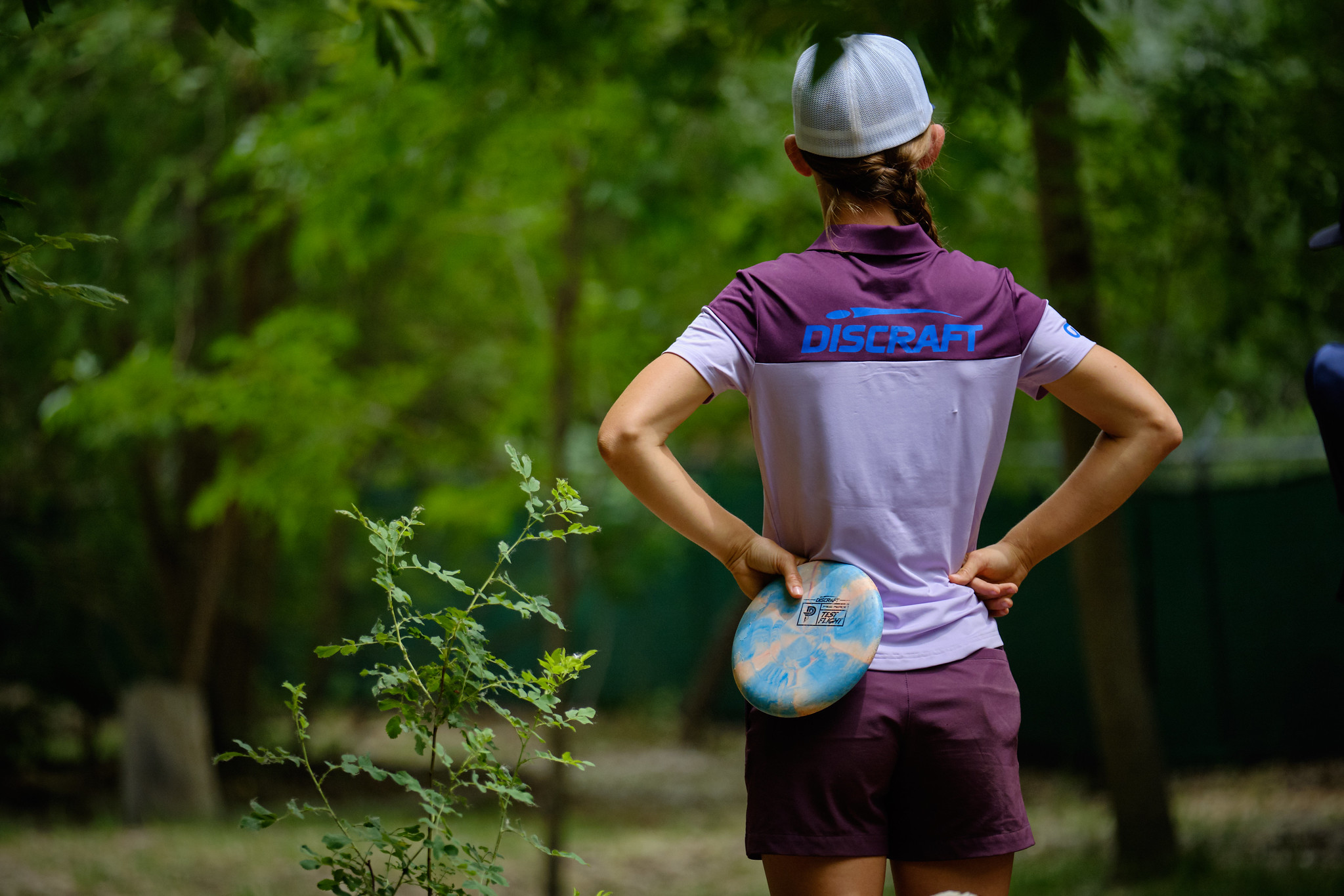 A double bogey from Pierce on the 18th – her second double on the finishing hole at The Fort this week – set up Allen for the par-saving putt to pull into a tie with two rounds to go before a World Champion is crowned.
"That's exactly what I'm trying to do," Allen told the Disc Golf Network's Terry Miller about managing expectations with 36 holes to go. "Would a World Championship be everything? Yes. But if I think about that from now until (Saturday) then I would make myself sick. I try and just enjoy the process and know that win or lose, I've put my heart and soul into it.
"If I win, I know it was all worth it. If not, then I'm just going to go back to the gym the next day, work on my game and try to finish the season great."
Allen and Pierce are knotted at 7-under. Fajkus is two shots back at 5-under and Hailey King rounds out the lead card at 1-under as the FPO field heads to Mulligans for their final shootout through the wide-open but technical golf course.
While Allen's even par round was the hottest from the lead card on Thursday, the best round of the day – and one that matched the best 18 on The Fort this week – belonged to Washington's Sai Ananda.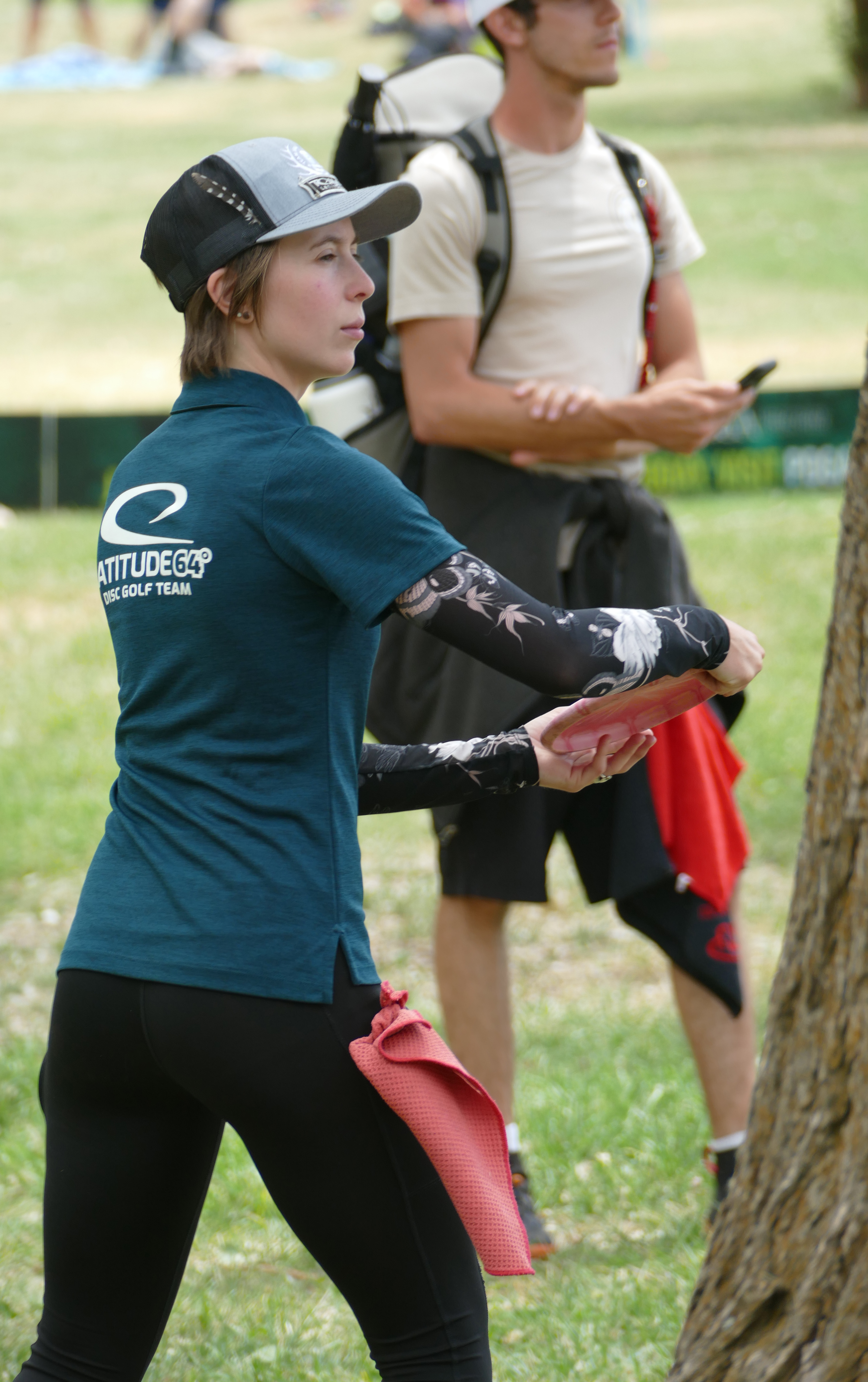 The 25-year-old who has played disc golf since she was 13, including stops at PDGA Junior and Amateur World Championships, used a 95% fairway hit mark and several big putts throughout the round for a 3-under 60, matching Pierce's first-round total. Ananda jumped seven spots to fifth place and will lead the chase card of Alexis Mandujano and Sarah Hokom, who both jumped five spots, as well as Kristin Tattar.
Ananda opened with three-straight birdies before an up-and-down finish to her front nine. She entered the back half at 2-under and grabbed six-straight pars before a birdie on the island hole 16th.
Hole 17 provided a test but Ananda cashed a par-saving, 49-foot putt. The round checked in at an official 1000 rating, 69 points above Ananda's 931 mark.
"I had just gotten a birdie on 16 and I just remember thinking that it was so important to get the strokes under par at the end of the round," she said. "I knew that under par was what I had to do to get to second card or to even move up in position so that was running through my head – I can't let this birdie go."
She didn't and then, after taking a deep breath, pinned a tricky upshot on the dramatic finishing hole for a spot on Friday's chase card.
"My cheeks are probably pretty red — I'm super excited and blushing about it," Ananda said. "This round puts a little bit of confidence in my pocket since the final round we will be playing at The Fort. So hopefully I can hold it together and get as many strokes as I can at Mulligans and we'll see what I can do at The Fort (on Saturday)."
Live coverage of the FPO field kicks off at 10 a.m. MT on the Disc Golf Network.