Kyle Klein Sets Toboggan Course Record at USADGC's Opening Round
Kyle Klein Sets Toboggan Course Record at USADGC's Opening Round
Saturday, June 8, 2019 - 00:08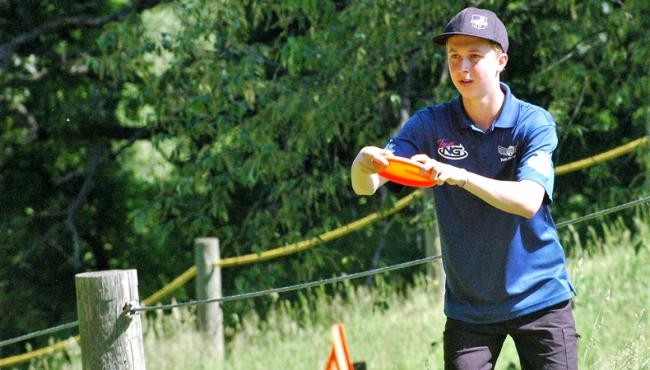 The Kensington Toboggan Disc Golf Course has seen many updates since its creation nearly two decades ago for the 2000 PDGA Pro/Am Disc Golf World Championships. With each passing year, it seems that there's always at least one or two holes that take on a new look and feel for the United States Amateur Disc Golf Championship (USADGC) and/or the Discraft Great Lakes Open. However, the changes made to the amateur track made by Tournament Director John Minicuci and an incredibly hard-working crew of volunteers in 2018 created a nearly flawless layout. Nothing needed to be changed for 2019 USADGC, giving competitors a chance to oust the best scores from the year prior without any feelings of invalidation.
Round two of the 2018 USADGC saw a scorching round of 53 thrown by Illinois' Daniel Fairhurst, a course record that no one would get close to touching for the rest of the weekend. Yesterday's opening round of the 2019 USADGC quickly erased that stat, as the very first card to take to the tee in the morning would finish the round with one competitor that matched and one that bested it.
Michigan's own Kyle Klein is now the king of the course, carding a bogey-free 11-under par 52 to open the event followed closely by cardmate Noah Osbourne who finished with a 10-under par 53 of his own. A 52 on The Toboggan is a tremendous feat, plain and simple. To put that score into perspective, 4X World Champion Paul McBeth, who shot an 18-under-par on The Toboggan's pro layout at the 2018 Discraft Great Lakes Open, played the amateur course on Thursday during his "Beat The Beast" promotional event and finished with a score, you guessed it, 52.
Having just turned 17 years old in May, Klein is keeping with the tradition of young guns grabbing the USADGC's top spot. Klein has been playing in PDGA events since he was 14 and he teed off yesterday as the second highest rated player at the event at 991. Coming off a 15th place finish in 2018, his eyes are on the prize for this year.     
However, with conditions on pace to be equally as ideal as they were on Friday and a vast array of super-talented competitors, another record-breaking day of disc golf isn't out of the question. Follow along on pdgalive.com as the top amateurs in the world take on The Toboggan for round two of the USADGC here in Milford, Michigan. The lead card of Klein, Osbourne, Cody Parsons, and Evan Hughes will take to the tee at approximately 2:55 p.m. EDT.