10 Storylines For The 20th USDGC
10 Storylines For The 20th USDGC
Plenty of news and notes, plus how to follow all the action from Rock Hill
Tuesday, October 2, 2018 - 14:53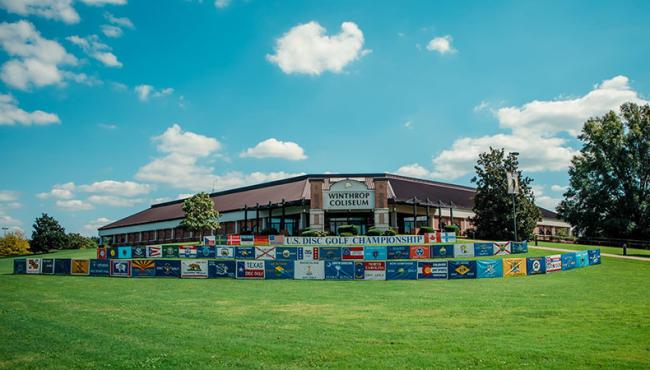 The last PDGA Major of the 2018 season brings a milestone with it, as the United States Disc Golf Championship celebrates its 20th running from Wednesday through Saturday in Rock Hill, South Carolina. Held at the famed Winthrop University Gold course, the qualifier-only event has built itself into one of disc golf's most prestigious titles, with its iconic 17th hole and affinity for red and yellow rope-lined fairways providing for drama and intrigue year in and year out.
With that in mind, where will the drama and intrigue come from this year? Let's take a look at 10 storylines to follow during this week's tournament, with each given a Roman numeral to match the look and feel of what organizers have coined USDGC XX.
I. The (almost) return of Ken Climo
Disc golfers received a pleasant surprise last week when 12-time PDGA World Champion and five-time United States Disc Golf Champion Ken Climo popped up on the USDGC registration docket. The 1024-rated Hall of Famer has been battling a hip injury and has not played in any sanctioned events since March 2017, when he finished in seventh place at the Throw Down The Mountain V. USDGC Event Director Jonathan Poole said that Climo's registration was more than just ceremonial – "It is definitely more than just to make an appearance on the first tee on the first day and get his star," Poole said Sunday – but it seems that plan went awry after a practice round.
Climo said in an email Tuesday morning that he was "leaning toward not" competing, and Ultiworld Disc Golf confirmed the news later that day. Still, Climo plans on sticking around for the week, and Poole said he would likely be one of the guests on the tournament's Hole 17 Live production.
"I am staying for the event," Climo emailed. "Look for me on a bicycle!"
II. A good omen for the defending champ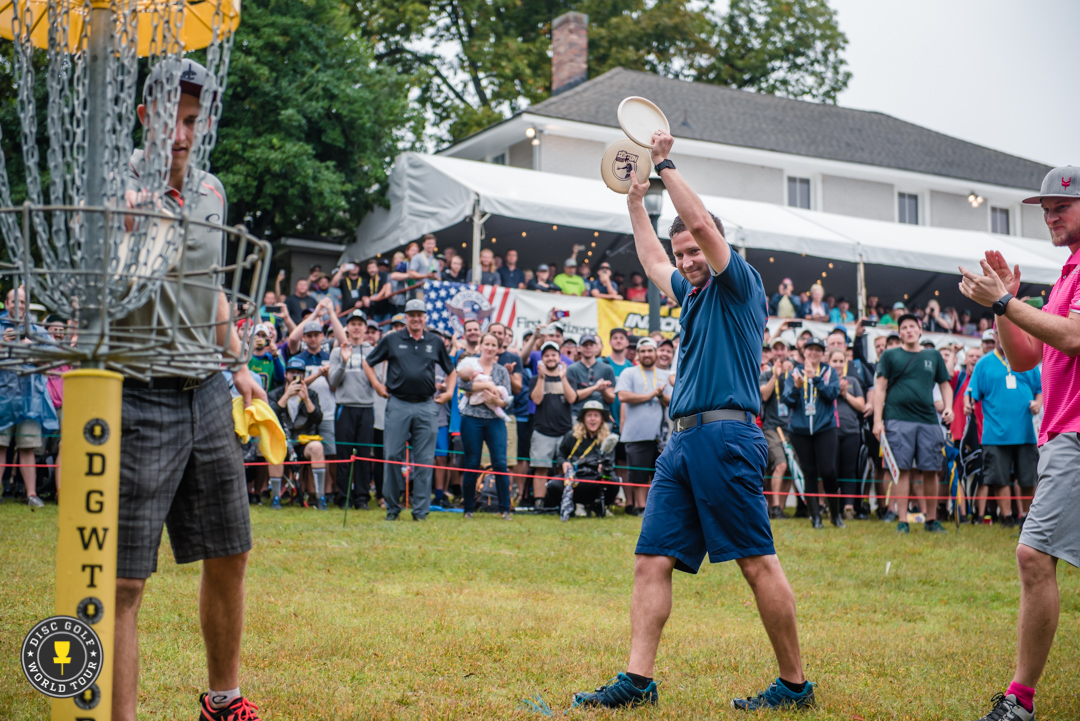 Nate Sexton broke through at the 2017 USDGC for a five-shot victory to take not only his first career Major, but also his first win at anything above the A-Tier level. And if he's going to become the first back-to-back champion since Will Schusterick repeated in 2010 and 2012 (more on 2011 later), his lodging for the week has him off to a good start.
Sexton had just purchased an RV and taken his young family on the road before last year's stop in Rock Hill, and that brought him to a local campground for the week. He's back at the same spot this year, in more ways than one.
"Just by sheer randomness, out of the over 100 sites they have, we're in the exact same one [as last year] with the RV," Sexton said on this week's edition of PDGA Radio. "I'm in the exact same camp spot as I had last year, so it's a similar feeling, for sure."
By the way, the Major title wasn't the only good thing to happen to Sexton in the first week of October 2017. He also said that was the first time his infant daughter laughed. Good memories, for sure.
III. World champions and the USDGC: A not-so love story
Since its inception in 1999, there have only been three players who have simultaneously held PDGA World and United States Championship titles. Climo accomplished the feat twice, in 2000 and 2002; Barry Schultz collected both pieces of hardware in 2003; and Paul McBeth was the last player to do so during his "Grand Slam" season in 2015.
That would mean Vegas oddsmakers aren't likely to favor a USDGC victory for newly minted world champion Gregg Barsby, who notched a career-best fourth-place tie last year in Rock Hill. And Barsby is just fine with that.
"First of all, it's nice to win the world championship, but it doesn't really have anything to do with the USDGC," Barsby said. "I'm not really concerned with any of the stats or whatever. Just focused on getting down to business and doing my best right here, right now."
IV. Can Wysocki get over the hump?
Of all the accolades he's gathered in his 10-year professional career – two world titles, three PDGA Player of the Year awards, and six Major victories – the title of United States Disc Golf Champion has thus far eluded Ricky Wysocki. Thrice a runner-up in Rock Hill (2012, 2015, 2017), the Ohio native has brought a secret weapon to the event the last couple seasons, but has yet to capitalize on it: His family lives in nearby Fort Mill, which means he gets to sleep in his own bed each night.
"It definitely makes me feel comfortable," Wysocki said. "It's kinda like the closest thing to my home course as I can really get."
Still, that home-field advantage can only do so much to stem the mounting stress of being oh so close every year, and Wysocki admitted that he feels it. But he also said he tries to use it productively.
"The more the years go on, it definitely gets more and more frustrating having my family and my dad being, 'Come on, this is your year, this is your year,'" Wysocki admitted. "…But sometimes the pressure's good to keep you focused and keep you motivated."
V. A tale of two Paiges
2018 PDGA World Champion Paige Bjerkaas and 2018 United States Women's Disc Golf Champion Paige Pierce are the only two women to qualify for this year's USDGC, marking a second year in a row that a pair of women will tackle Winthrop Gold. (The most women to play the event in a single year is four, which took place in 2006, 2008, and 2010). This is Pierce's third go-round in Rock Hill – she finished in 87th place in 2017, tossing a 1031-rated third round in the process, and won the 2014 Performance Flight – and she said she wasn't content with simply qualifying.
"I don't want it to stop there – obviously I want to definitely perform as good as I think I can," she said on a recent episode of PDGA Radio. "I think in the past I've tried to play safe and stay in bounds and execute on the putting green, but there's been a  moment where I've messed up and the next hole I tried too hard. So I'm gonna try and keep it 100 percent safe this year and see where it puts me."
Bjerkaas, who participated in the 2011 USDGC that found competitors playing in a non-traditional scoring format, also planned a similar approach.
"My goal is, I guess, just to have the least amount of OBs possible, and I will be playing for par like usual," Bjerkaas said. "That's usually my game plan on a lot of courses. I think it's gonna be pretty hard, but my goal is to stay as close to par as possible."
Still, she also planned to keep her hopes in check as she aimed to handle the pressure that can come with four rounds on Winthrop Gold.
"I'm super lucky to have the opportunity to play, and if I don't play great it's really not a big deal because there are only two women and I haven't been there since 2011," Bjerkaas said. "…I think keeping my expectations not super high and realizing I'm lucky [will lead to success]."
Bjerkaas is ranked lower than nearly 96 percent of participants in terms of ratings, while Pierce is behind 85 percent of the 130-competitor field. Still, that's not necessarily a harbinger of doom: The best women's finish at the USDGC came from Juliana Korver, who tied for 37th in an 82-player field in 2000. The five-time PDGA World Champion entered that event rated lower than 78 percent of the competition.
VI. Which McMahon will make an appearance?
In 2016, Eagle McMahon took a four-shot lead into moving day before a disastrous sequence on hole 13 – the infamous "888" at the time – left him licking his wounds and scrawling a 10 on the scorecard. Still, with the final round canceled due to the remnants of Hurrican Matthew hitting the region, he took home a share of fourth place.
In 2017, though, a burned out McMahon tied for 20th place, and I recall him telling me on the final day of the tournament that he was just excited to go home.
So which McMahon is in Rock Hill this week: the one who lit the lead card on fire two years ago, or the homesick competitor of last October?
"I've thought about this a lot, actually," McMahon said after a practice round on Sunday. "My first year playing the USDGC 2015 – this is gonna be my fourth one. I think in 2015 I finished in 21st or around that area [Editor's note: He tied for 24th]. In 2016 I finished fourth, 2017 I finished 20th.  So you're noticing a trend."
Yes, McMahon is on the San Francisco Giants-style even-year trend, something three-time USDGC winner Schusterick is all too familiar with after taking home the title in 2010, 2012, and 2014.
"We might be cut from the same cloth in that regard," McMahon said of Schusterick.
As for his approach to Winthrop this year, it'll be a shift from 2016, when he went for big went for eagles on hole 2 and went particularly large off the tee on hole 18. Instead, McMahon said he is planning to adhere to the Nate Sexton-inspired game he's employed during a dominant season in which the 20-year-old has won the Konopiste Open Major and three PDGA National Tour events.
"It looked like he threw the easiest shot on every hole, the highest percentage, and picked the course apart and basically made it into a birdie course by finding his landing zones," McMahon said. "That's all I'm trying to do out here."
VII. JomezPro: No sleep til' Augusta
Now boasting more than 86,000 subscribers on YouTube, JomezPro (yes, the company recently dropped the -ductions from its branding) is taking the next step in its continued quest for disc golf video dominance: Lead and chase card coverage in next-day form.
That doesn't just happen with the normal three-man crew of Jonathan Gomez, Jerry Gomez, and Michael Fouche. In order to double the coverage, JomezPro has more than doubled its team for the event, bringing in an eight-person team that includes Brian Guice of Central Coast Disc Golf, Ryan Nyc of NycProductions, and Juan Garcia of Overstable Studios.
"This is our fourth year to be at USDGC," JomezPro honcho Jonathan Gomez said. "Obviously the first three were with The SpinTV, but we're really excited to have the opportunity to do it as Jomez Productions and show what we can do as an independent video producer."
In addition to filming on one of the cards each day, Jonathan Gomez said he'll still be leading the overall post-production machine. So will he get any sleep this week?
"No I'm not planning on it," he said. "That's kinda how Worlds went, but I expect this to be an extension of that."
We'll be sure to take it easy on him when JomezPro follows up USDGC with the Ed Headrick Disc Golf Hall of Fame Classic the following week.
VIII. Live coverage makes its triumphant return
While the last two iterations of USDGC have not featured live-streaming video, that changes for 2018 with the introduction of Hole 17 Live, a four-hour show that will run on Friday and Saturday on the Innova Discs YouTube channel. Anchored by 2009 PDGA World Champion Avery Jenkins and long-time media voice Jamie Thomas, the program will feature hard-wired cameras that will capture every card's journey on the daunting island hole, with the hosts bringing in guests for periodic interviews. In addition, cameras will be strategically placed to catch shots on holes 1, 5, and 18, and production company Fulcrum Media will also have roving wireless cameras to work into the feed.
Poole said the show has been two years in the making, and that there has been an added emphasis on acquiring archival footage to assist in telling the event's story. With the cameras being hardwired and fed to a 10-person production team, he anticipated crystal clear images.
"We never wanted to not do live," Poole said. "We get it. We're fans too, and fans talk about wanting the best live coverage. We get it – we've always wanted that. At the same time, we wanted the very best quality product we could put out there."
In addition to the studio show, UDisc Live will provide instant scoring for all four round of the tournament.
IX. Ch-ch-ch-ch-changes at Winthrop Gold, always
It wouldn't be a USDGC if Winthrop Gold didn't get a few tweaks, but there isn't as much bold change on the track this year as there has been in past tournaments. The most significant augmentations to the 10,381-foot course come in the form of a triple island layout on hole 9 and a return to hole 18's long position for all rounds of play. The former will find McMahon "island hopping," he said, as it looks to be the safer play. As for 18, Poole said it was all about giving the best hole to help decide the competition: "The only reason we ever tried something shorter, really, was to have something that was more spectator-friendly, where that – no matter where you were on the shack lawn or the patio – you could still see how everything, the last putt, shook out."
 X. Don't sleep on the international players…or the Monday qualifiers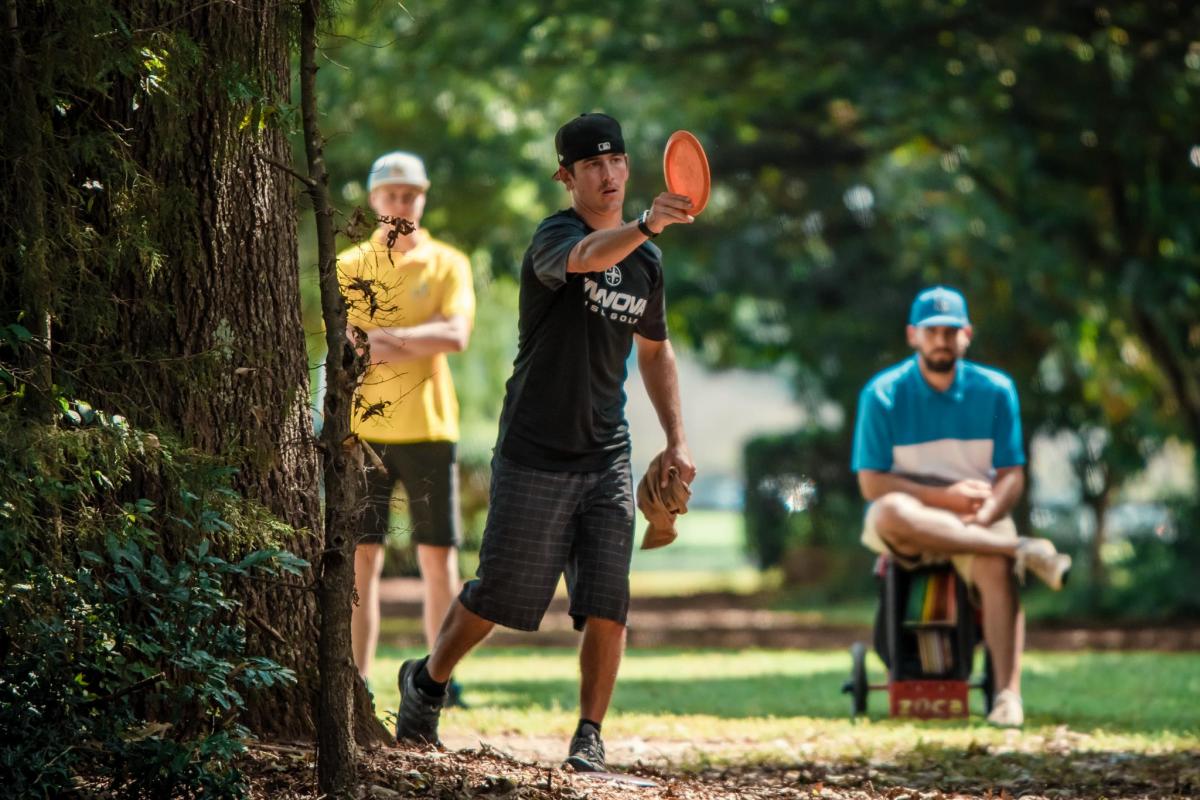 The last time an international competitor cracked the top 5 at the USDGC was in 2010, when Jussi Meresmaa took fourth place. This year, though, seems as good as any for a global competitor to break that dry spell.
As of press time there are 22 international competitors registered, including German star Simon Lizotte, up-and-coming Finnish pro Väinö Mäkelä, and 12-time Danish Champion K.J. Nybo. The best worldwide finisher in 2017, meanwhile, comes into the event on a heater: Seppo Paju took sixth at last year's USDGC and comes off a sixth-place showing at Pro Worlds and a fifth-place finish at the Delaware Disc Golf Challenge.
But it's not only international players who could shake up the mix: Five more people joined the registration list after successfully navigating Winthrop Gold during the traditional Monday qualifying event, where $50 gets you a crack at the course (and $25 gets you another). Leading the pack were brothers Isaac (17) and Ezra (16) Robinson, who got in with a 5-under par 62 and a 4-under par 63, respectively. Bart Kowalewski broke the plane with a 2-under par 65, while Matt Dollar ousted Dustin Perry in a playoff to take the fifth qualifying spot after they both finished at 1-under.
The one qualifier who could do the most damage? Max Nichols, who tossed a 3-under par 64 on Monday. The San Diego-area lefty is no stranger to the USDGC, as he tied for fourth there in 2013.