Nantucket Disc Golf Course Grand Opening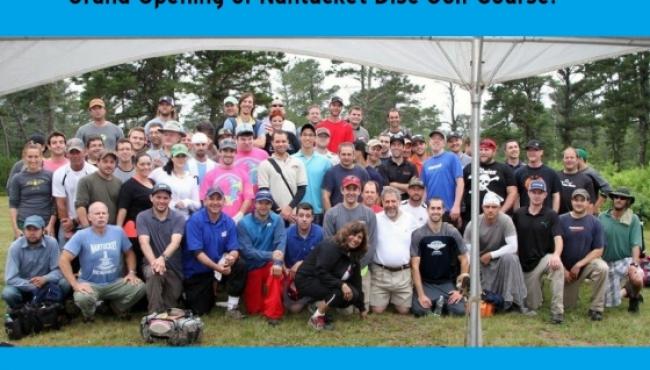 On Sunday, June 30, 2013, the Nantucket Disc Golf Club hosted its first official PDGA-sanctioned tournament following two days of Grand Opening festivities. The B-Tier tournament sold out in 28 hours and players came from seven states including California and Texas. 
Todd Rainwater, founder of the NDGC, a 501(c)(3) non-profit organization stated, "we are so glad to see the local community enjoying this course. People are even traveling hundreds of miles to play here. We are also excited to see people new to disc golf, both children and seniors, learning to enjoy the sport." The installation and approval for this disc golf course took an incredible amount of time, and Rainwater had to work with more than seven state and local agencies over a five-year period.
When asked what inspired him to build a course on Nantucket Island, Todd responded, "day one, it was to build a course I could play on, but eventually I realized it was something that would enormously benefit the entire community. I was fortunate to have the time and resources to commit to this project. I especially wanted to build something for the youth on this island and I was excited to be to offer them this great healthy outdoor activity, which is inexpensive to play and -- because it is in a state forest -- can be free for all to enjoy."
Rainwater, a resident of Texas who spends summers on Nantucket, spent three and half years acquiring all the permits and clearances needed from at least seven different state and local agencies. He then spent another year and half on the development of the course. He personally volunteered thousands of hours of his own time to push lawnmowers, trim tree branches, remove dead trees and organize volunteer efforts to help with the task of building a premier course for the public to enjoy for free. 
"This course has been a labor of love for me and for my whole family," said Todd's wife, Lowisa Rainwater, who enlisted her relatives when they were visiting from Sweden and Germany to help with clearing the land and developing the course. Lowisa's high energy and commitment to this project helped everyone stay positive through the multiple times when Todd encountered challenges. 
At the opening ceremonies on Friday, attendees from the Massachusetts Department of Conservation and Recreation, Priscilla Geigis and Gary Briere, expressed great appreciation for Todd and Lowisa and presented Todd with an award for his efforts. More than 100 attendees enjoyed the opening day festivities, including lunch (catered by local Sherriff) and a clinic by pro disc golfers. 
John Houck, the course designer, and his wife, Dee Leekha-Houck, both travelled from Austin, Texas to attend the 3-day official Grand Opening activities.  John gave a talk to the players who participated, detailing his goals and design process for the Nantucket course.  Rainwater stated, "I hired John Houck because I wanted the best possible design on the island."
Jeff Conant, a player from Maine, thought it was really great to have the designer there and be able to understand more about the thought process on the design and how to best play the course. "I was able to have a candid conversation with John and it was great to have his insights before I went out there and played the tournament", said Jeff. "Everyone shared the enthusiasm of having this course open up in such a special place."