Amateur World Doubles Championships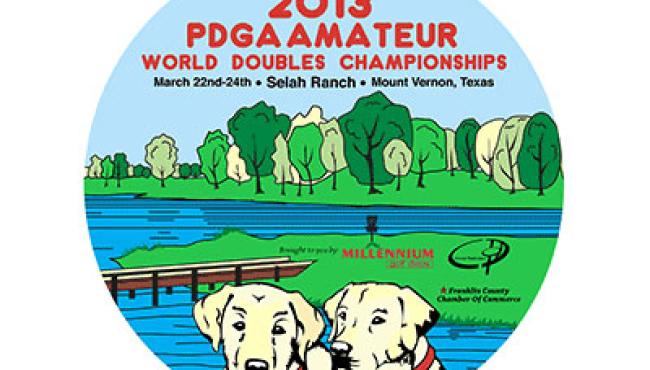 The 2013 PDGA Amateur World Doubles Championship, hosted by Circular Productions and the Franklin County Chamber of Commerce, is one of nine major events sanctioned by the Professional Disc Golf Association. This year's event will include a live internet broadcast provided by DiscGolfPlanet.tv.
Registration is now open to all current PDGA amateur members. There are only a total of 216 spots available for this spectacular event, so don't delay. Thanks to the generous support of the disc golf community and Franklin County the players packs will include discs from Millennium, Innova, Discraft and Gateway. Dynamic Discs is sponsoring the "Hole-in-One".
The event will be held at the Selah Ranch north of Mount Vernon, Texas, March 22-24 with players beginning to arrive on Tuesday, March 19. There will be practice times and a pro-shop available to all players. The competition will start on Saturday at 8 a.m. and continue through Sunday afternoon with the awards ceremony following the final round around 5 p.m.
Texas leads the nation in the number of courses and registered players.  There are more than 1,000 spectators expected at this free event. Numerous prizes will be made available to the public, including a free airline ticket for use within the continental U.S. Visitors can watch the competition from designated viewing areas or participate in planned activities such as, pro-clinics, disc golf putting games, a hole-in-one contest, and kid games. There will also be food and merchandise vendors available.
Of course, with any big event, sponsors and volunteers are being sought. Sponsorship packages ranging from $150 to $2,000 are available. Volunteers to help "spot" along the courses, plus a variety of other tasks, are needed. 
This year, the event will benefit Lake County CASA, one of 946 such nationwide programs that serve children in Franklin, Delta, Hopkins, and Titus counties in Texas. The group works to ensure that every child who needs an advocate to speak for his or her best interests before the courts has a caring, trained adult to help them with this difficult period of his or her life.
Selah Ranch disc golf courses, the creation of John Houck, who is widely recognized as the world's premier course designer, debuted in October 2011. Mr. Houck is from Austin and is a member of the Disc Golf Hall of Fame, the former Commissioner of the Professional Disc Golf Association, a two-time World Champion in freestyle Frisbee, and the co-owner of HouckDesign.com with his wife Dee. Since the courses opened more than 1,000 different players from 35 states and Canada have visited.
For more information contact:
Circular Productions: Phone: 512-426-7722 | Email: [email protected]